What if I told you that you can make this bountiful, leafy green salad for 5 Bucks in just 5 minutes (with some prep work ahead of time)? Wouldn't you jump for joy? Heck yeah you would! Not including a couple pantry staples and depending on whether you buy organic items or not, the produce for 10 servings of this salad (we call it the "Jackie Salad Plate Recipe") costs approximately $55.00. That works out to about $5 Bucks per salad.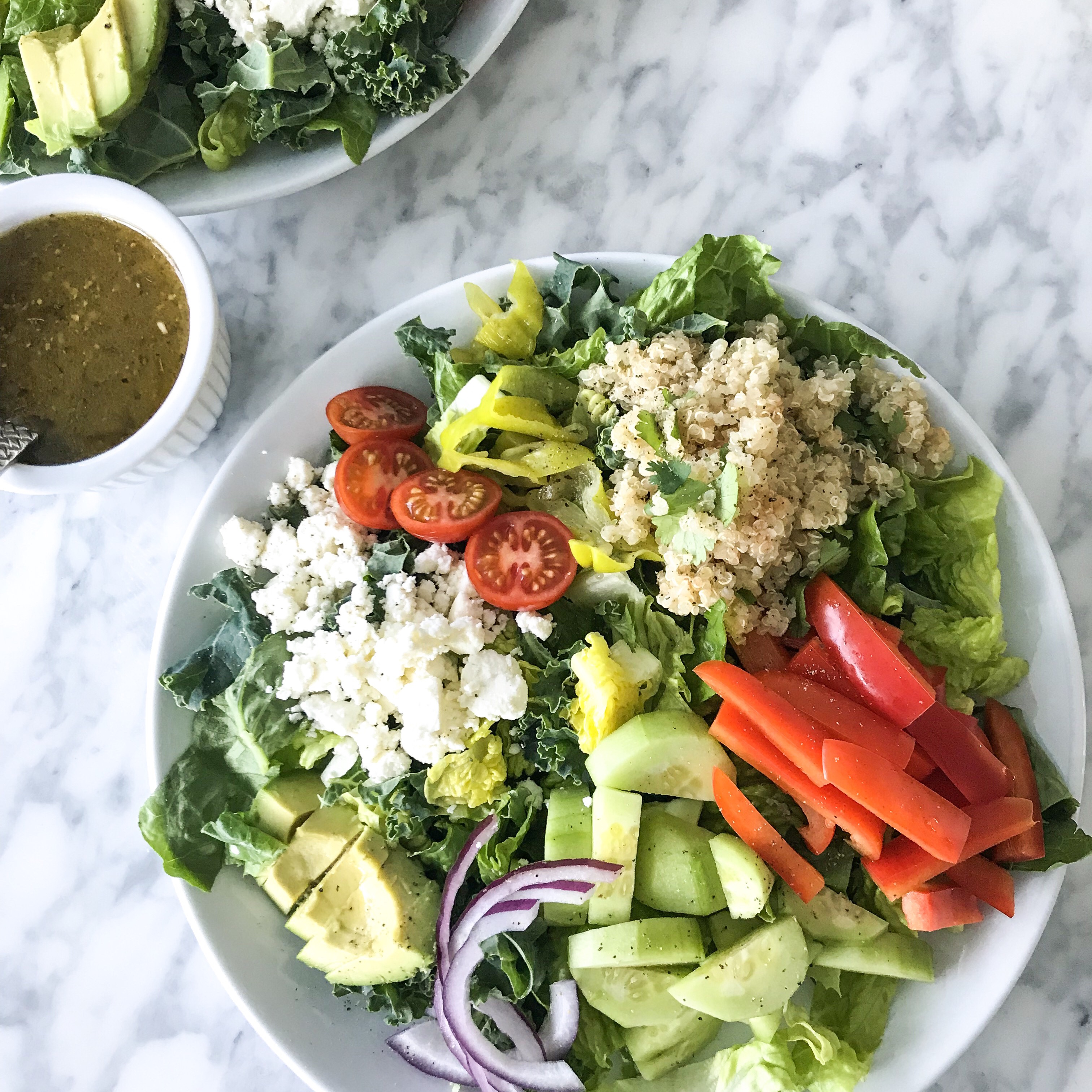 5 bucks per healthy salad is a steal when you consider that the nutritionally wrong Bacon Ranch Salad with Buttermilk Crispy Fried Chicken from the Golden Arches will cost you $4.79. (Let's set aside the question of whether lettuce with fried chicken, bacon, cheese and ranch is really a salad or merely a deconstructed fried chicken sandwich.) Similarly, a healthier salad option from one of those popular soup chain restaurants will run you $4.50 to $8.00. Given these savings, the "Jackie Salad Plate Recipe" is about to become your kitchen's best friend and your waistline's secret weapon.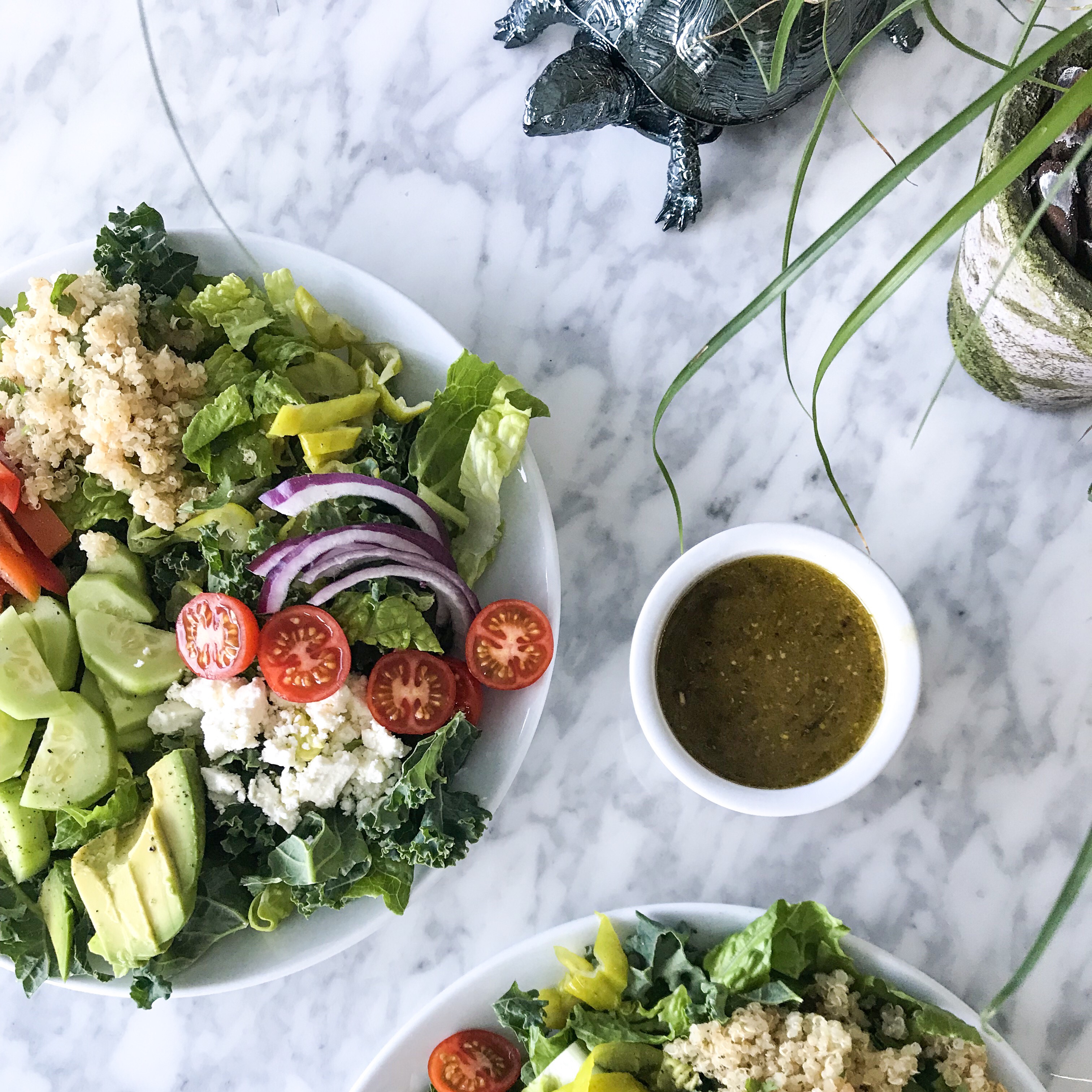 When I tell folks they need to eat more vegetables like we are doing this month in the #4x4FitnessChallenge, they often respond with some version of the following: veggies are time consuming to prepare (usually spoiling from lack of use), expensive to purchase and hard to find on menus. My new answer for the veggies excuses are, "Have you tried the "Jackie Salad Plate Recipe" which makes it super easy for you and your family to eat homemade salad on a moment's notice for 5 bucks a serving?"
To make this salad, buy the produce (or do as I do and order through a delivery service like Instacart or Amazon Fresh), set aside 45 minutes one day to prep your salad ingredients and then store the prepped ingredients in airtight containers neatly in the refrigerator. When you are ready to eat a salad, pull your meal prep containers out of the refrigerator, grab a little from each one and then toss everything with the salad dressing. Yep, you're going make the salad dressing too. Don't worry. I got you.
I wrote an entire blog post on the containers I use below to store food. Click HERE to read and purchase what you need!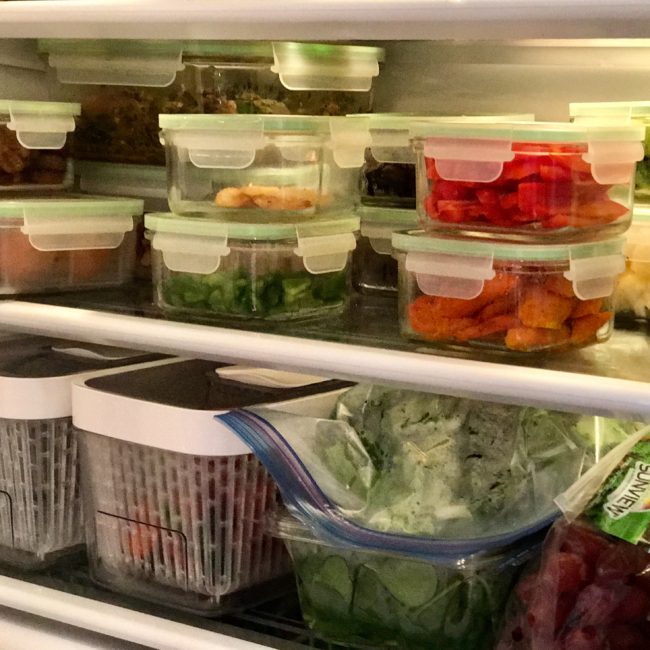 The "Jackie Salad Plate" is faster than takeout, quicker than jumping in the car and grabbing fast food and will likely make you live longer with better energy. As we say, what's not to love?!?!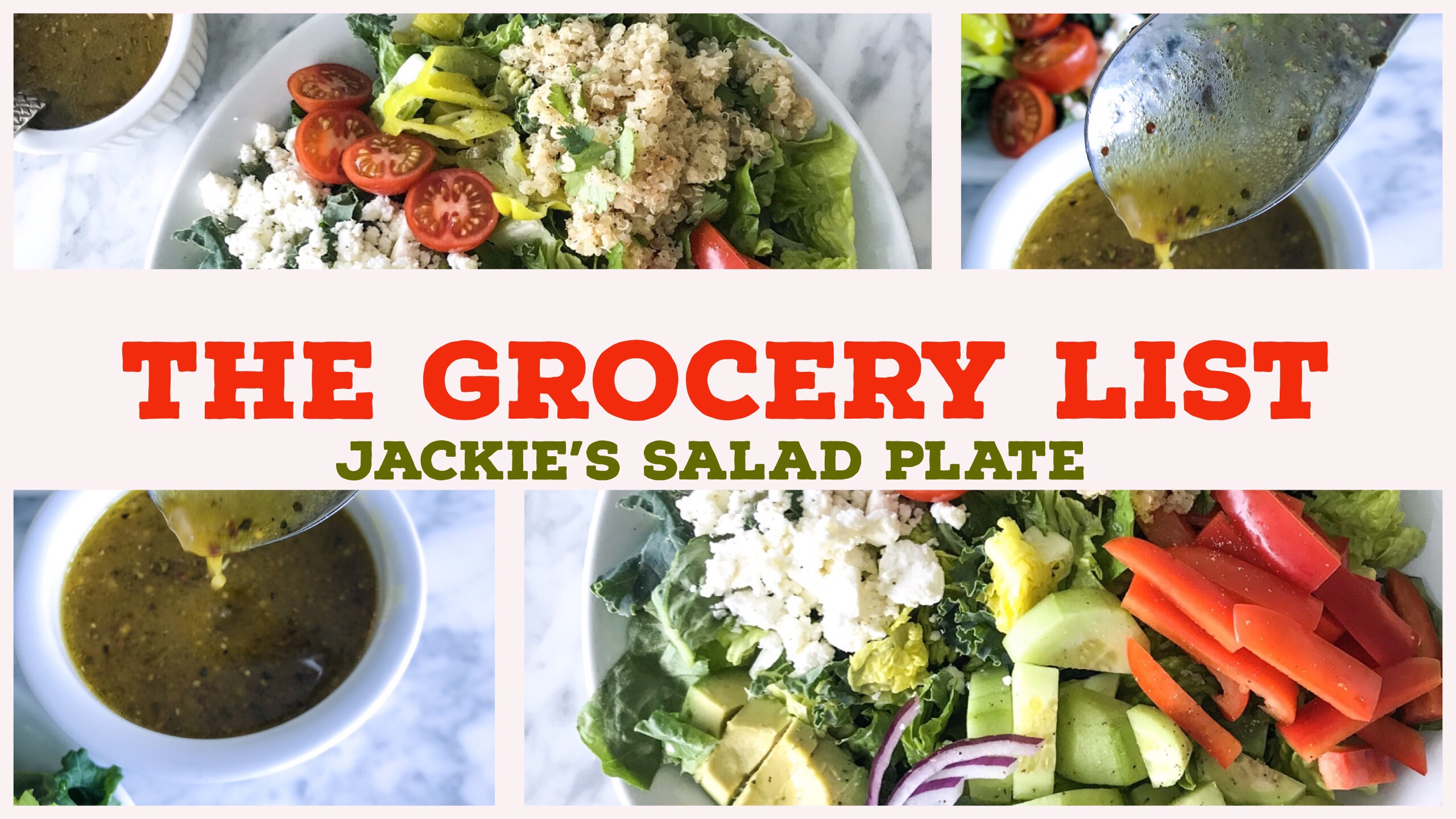 The Grocery List for 10 servings of the "Jackie's Salad Plate Recipe"
&
Jackie's "Famous" Homemade Shallot Mustard Red-Wine Vinaigrette Salad Dressing:
1 bag pre-washed Organic Kale
2 bags of Organic Romaine Hearts (3 to a bag)
1 bag Organic Quinoa (this will last you a month so we spread the coat out)
5 red, yellow or orange Bell Pepper
1 container Cherry Tomatoes
5 Cucumbers
1 container 7 oz. Imported Greek Feta Cheese
1 12 oz jar sliced Pepperoncini
1 bunch organic Fresh Herbs (mint, dill, parsley or cilantro … your choice)
2 Shallots
1 Red Onion
3 small Avocados
Other "Pantry Staple" ingredients needed are olive oil, red wine vinegar, dijon or whole grain mustard, honey, your favorite hot sauce & dried herbs. If by chance you don't have these items in your pantry, then pick some up on your next grocery run as these are staples of healthy eating. They will become your kitchen besties and pay for themselves over time.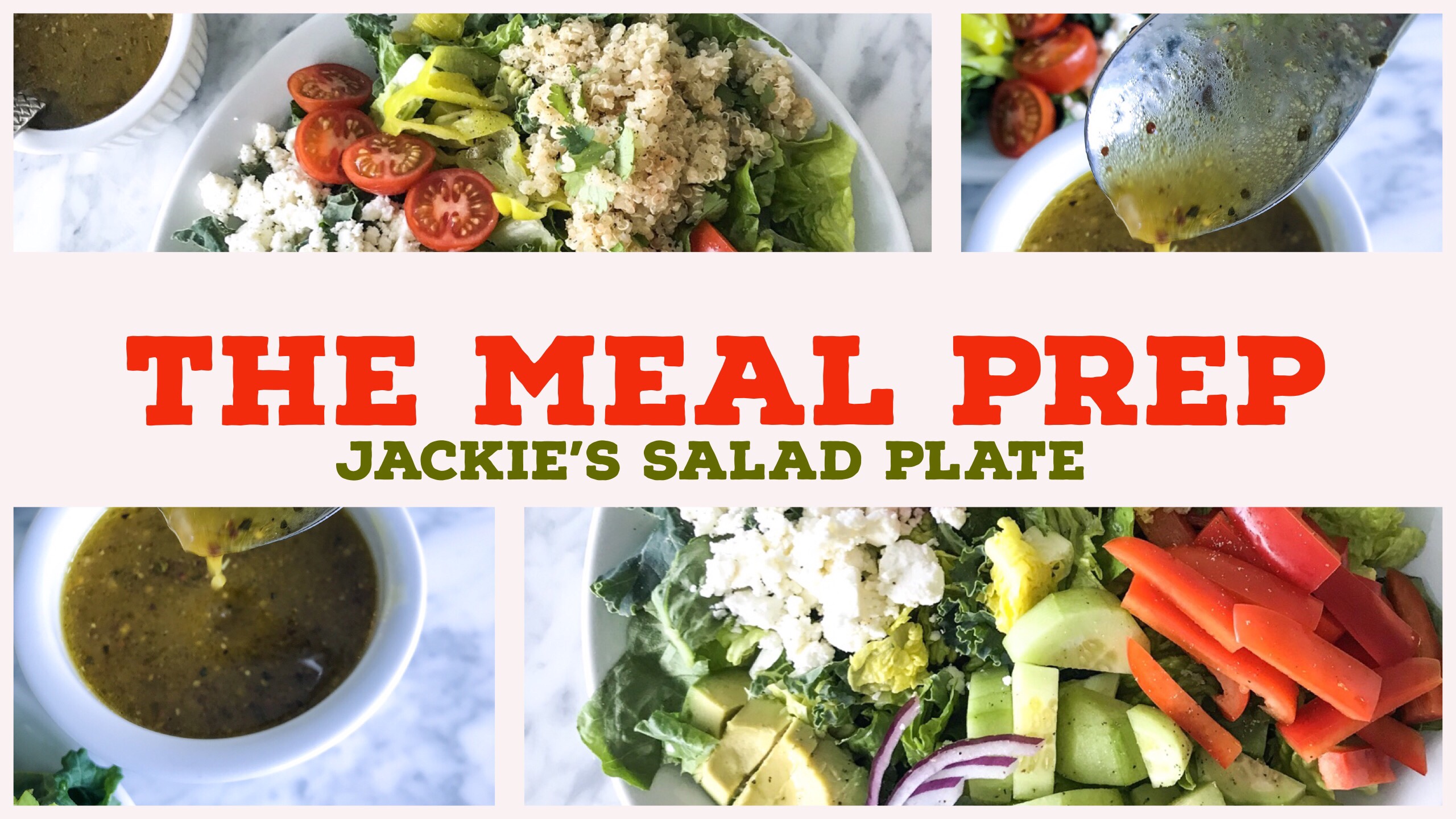 The "Jackie Salad Plate" Meal Prep (30 – 45 Mins)
Prepare quinoa according to the package instructions. It is a 2:1 ratio meaning 2 cups liquid to 1 cup quinoa. Store cooked quinoa in an airtight container. While the quinoa cooks, you will prep the veggies and make the salad dressing.
Chop and rinse romaine hearts (I use a salad spinner because it removes the moisture and keeps your lettuce fresh longer). Store romaine in zip lock bags or sealed containers with a clean paper towel to absorb moisture and keep lettuce fresh all week.
Cut red onion in half and thinly slice into half moons. Store in a separate airtight container.
Rinse and dry bell peppers. Remove the pith and seeds. Slice into 1/2 inch cigarettes shapes. Store in a spectate airtight container.
Peel cucumbers and slice into 1/2 inch slices.
Dice the shallot for the homemade salad dressing below.
Rinse whatever fresh herb you choose. Carefully dry and chop leaves. Throw away the stems. Store in a separate airtight container.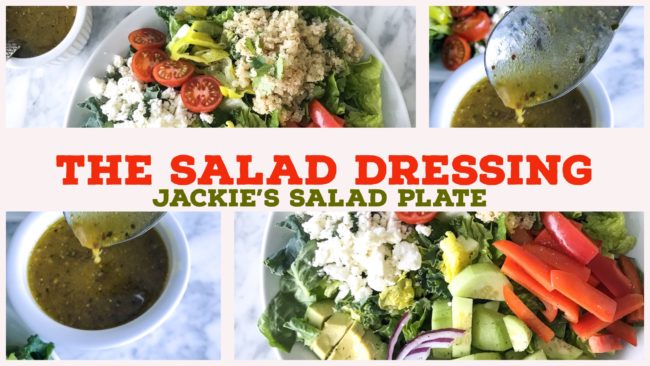 Prepare the salad dressing according to the recipe below. Double the recipe so you have enough for the week.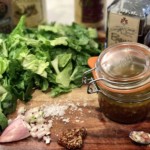 Jackie's Famous Red Wine, Shallot, Mustard Vinaigrette Recipe
This dressing tastes fricking good on just about everything from vegetables to pasta, chicken and any assortment of lettuces. Adjust the flavors to your family's taste preferences. The only musts are the acid to oil ratio, the shallot and the mustard. The shallot and mustard is what give it that finger licking good "aha" taste. Also, make sure you don't skimp on salt and pepper here. Salad dressing must be well seasoned!
Ingredients
1

Minced

Shallot

1/2

Minced

Garlic Clove

2

Tbsp

Red-Wine Vinegar

1/2

Tsp

Maldon Sea Salt

1

Tsp

Whole Grain Mustard

1

Tsp

Honey

1

Tsp

Herbs

Any kind will do. Mix it up!

6

Tbsp

Extra Virgin Olive Oil

Couple squirts of your favorite hot sauce

Freshly Ground Black Pepper

To Taste
Instructions
In a small bowl, whisk together shallot, garlic, vinegar, salt, several turns of freshly ground pepper, honey, mustard and herbs.

While whisking, slowly drizzle in olive oil to create an aioli. Gently turn in fresh herbs and hot sauce.

Taste and adjust seasonings. If I am serving salad, I always make the salad dressing first and set aside to let the flavors come together at room temperature. This dressing will keep several days in a sealed container in the refrigerator.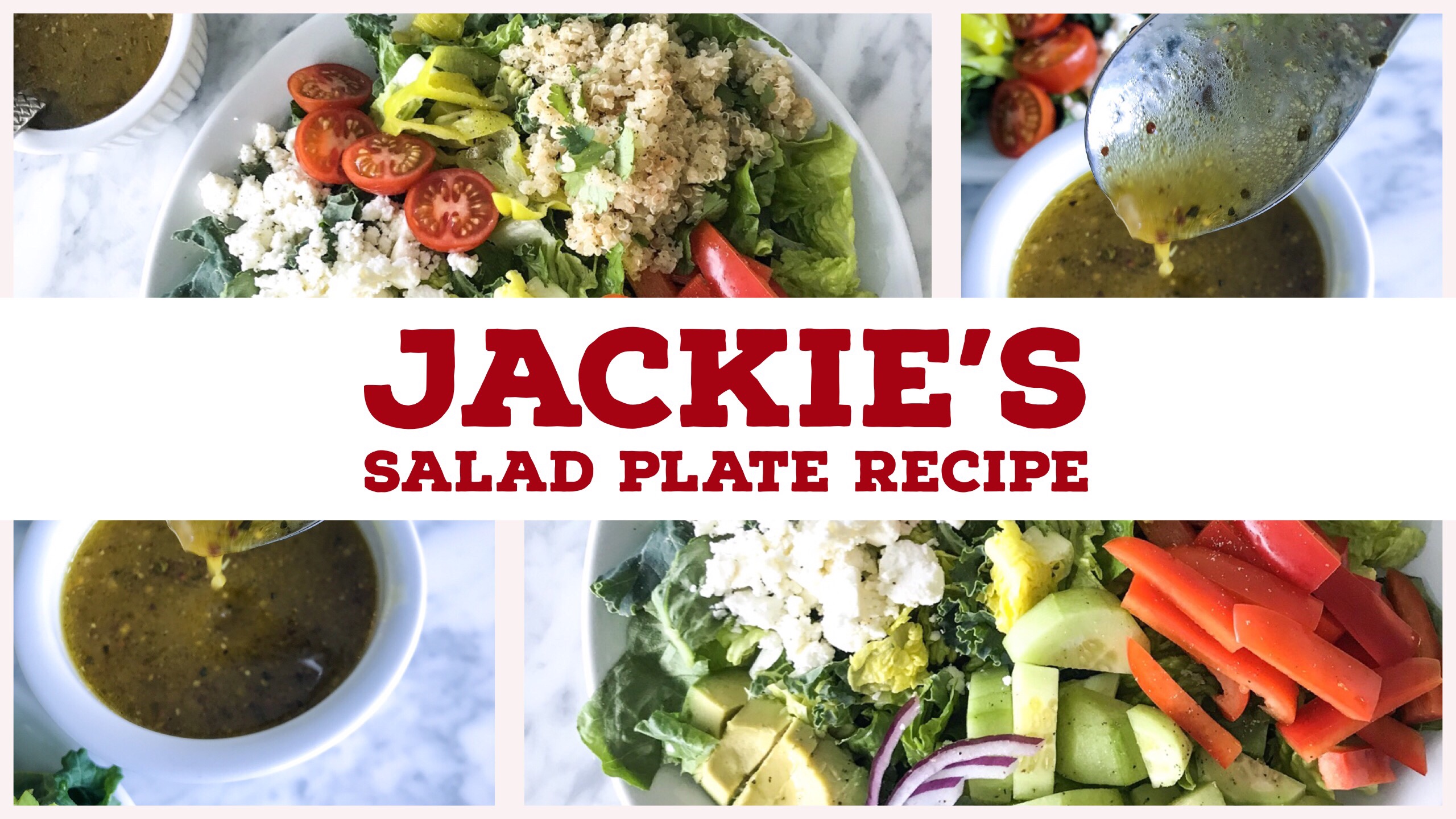 Preparing "The Jackie Salad Plate"
The following is for each salad. Double the portions if you want to make 2 salads.  The ingredients in the "Grocery List" above will yield at least 10 salads total.
1 cup romaine lettuce
1 cup pre-washed kale
1/4 cup bell peppers
1/4 cup cucumbers
1/4 cup cherry tomatoes rinsed and halved
1/4 cup cooked quinoa
1 tbsp feta cheese
1 tbsp pepperoncini
2 tsp fresh herbs
Approx 6-8 red onion half moons
1/4 avocado (cut when you want to use and then store any unused avocado in the refrigerator in an air tight container)
1 tbsp feta cheese (if the feta is super salty then soak in a cup of cold water for a few minutes before placing in the salad)
2 tbsp Salad Dressing
Toss the ingredients together in a big bowl and then chow down knowing you are crushing the vegetable eating game right now. High Five. You get extra credit for making it look this pretty!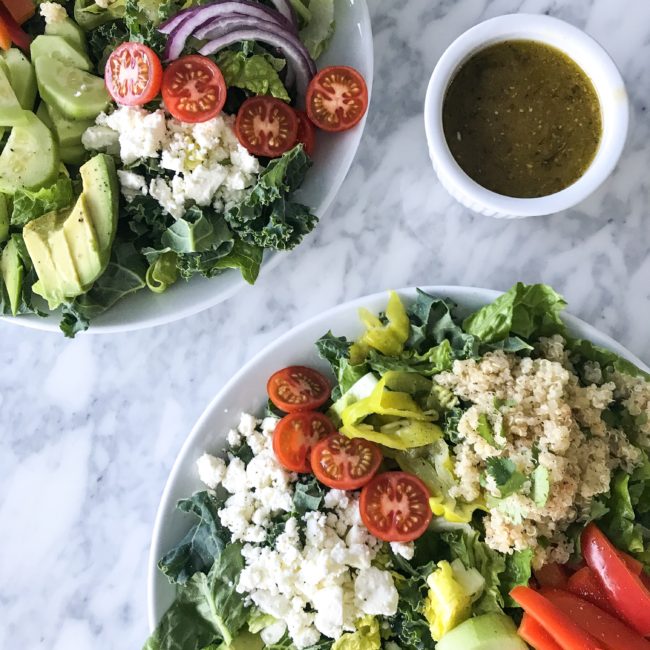 Pack this salad for a healthy and economical lunch. Eat as a last minute dinner when you are too tired to lift a finger (it's faster to throw together than ordering a pizza). Your waistline and arteries will thank me! Or eat a 1/2 portion for a snack or pre-workout meal. It's nice to know you have a healthy balanced meal always on the ready in your fridge. Investing the time and money in the "Jackie Salad Plate Recipe" will yield the following benefits:
Reduce your lunch costs, weekly grocery bill and carbon footprint by wasting less food
Increase your daily vegetable intake
Decrease your daily calories because only the good lord knows what commercial establishments add to salads and, even worse, the salad dressings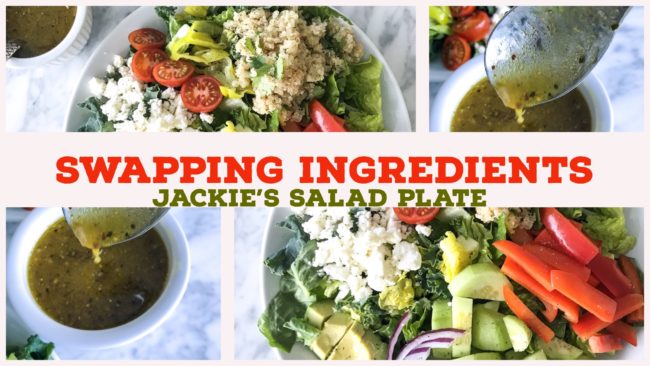 The burning question some of you may have is, "can you swap ingredients?" The answer is always, "yes, of course you can!" Just swap the right things cause everything in this salad has a purpose. It's a #OneAndDone meal meaning it's a balanced plate of carbs, grains, healthy fats, protein, fruits and vegetables. More importantly, it's a balanced taste in your mouth. A little crunch from the peppers. A little sweet spice from the pepperoncini. A touch of creaminess from the avocado and feta. The herbs add a flavor burst. So here's your swap chart:
Avocado: Folks feel strongly about this green healthy fruit that has more potassium than a banana. They either love it to death and could eat it aver meal or gag at the very sight of this green flesh. I fall in the middle. I don't want avocado in my oatmeal but it's pretty safe at all other times. If you absolutely hate avocado (you don't even taste it here in this salad) then you need to swap it for something else that high in soluble fat like Greek yoghurt, coconut flakes or raw nuts.
Peppers: Think of the peppers here as your #FauxCrouton. It's the crunch in your salad. Maybe try an apple, homemade plantain chip or shaved sweet potato that you broil quickly in the oven.
Quinoa: Don't just leave out the nutritious quinoa and think all is right with the world. This gluten free plant food is high in amino acids, fiber and protein. If you hat quinoa or can't find it, good substitutes are freekah, kamut, teff, millet, bulgar, buckwheat or fonio. If grains are not your jam then substitute a fish like salmon or tuna.
Red Wine Vinegar: Any Vinegar will do so choose your favorite or whatever is in your pantry.
Mustard: I like the grainy texture of whole grain mustard but you can choose whatever mustard you love or have on hand.
As always, thank you for stopping by Jackie Unfiltered. I am jumping off to make dinner now. Before I go, just want to say that I truly love y'all. Thank you for taking this health & wellness journey with me!
xoxo,
Jackie