I made this smoothie on the fly earlier today while doing a Facebook Live in my "Test Kitchen" on the basics of smoothie making. Watch me on video making this smoothie by clicking HERE.
When I first started making smoothies 7 years ago, I remember wasting a lot of fruits and vegetable because my final product turned out thick, watery, or just downright nasty.  After making 1000s of smoothies over the years, I have figured out the following smoothie formula: for 2 servings, you need at least 1 cup of liquid and two sweet fruits such as pineapple or apples to balance out the greener and bitter ingredients.  Use this formula and never waste ingredients again with yucky smoothies (I don't do nasty food. No way.  No How).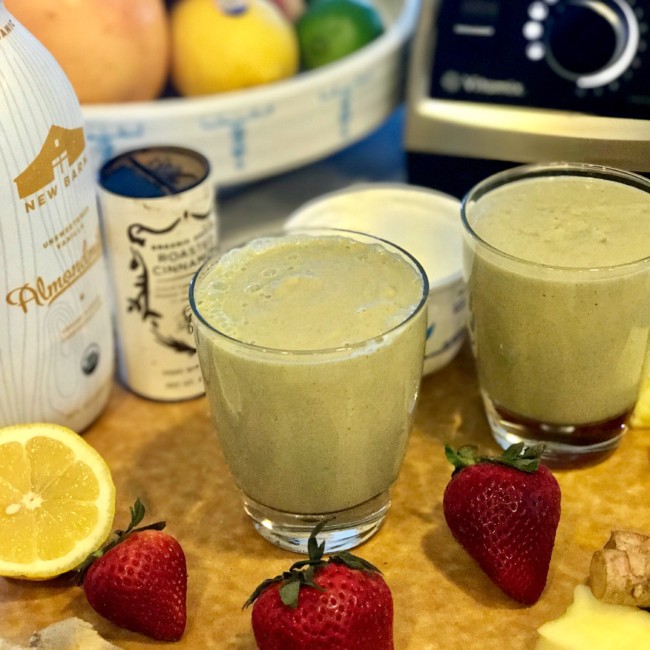 Still battling the remnants of a two-week virus/flu, I am trying to load my body with antioxidants, vitamins, minerals and nutrients so I made sure to use the following in this smoothie recipe:
Turmeric Root: traditionally used in Indian cooking, turmeric is a superfood which has the following "feel good" benefits – anti-inflammatory, anti-depressant, high in anti-oxidants which blocks free radicals helping to fight aging and diseases, lowers risk of heart disease, used by cancer patients to fight cancer and the effects of chemotherapy (add a little black pepper which helps absorb tumeric), prevents and treats Alzheimer's and arthritis
Ginger Root: in addition to adding this delicious spicy taste to smoothies, ginger has the following benefits: aids  in indigestion, nausea, speeds healing process by boosting the immune system, anti-inflammatory, helps to prevent and manage diabetes by regulating insulin
Avocado: actually a "fruit" being hailed as the superfood of the decade, avocado has the following benefits: more potassium than bananas which reduces blood pressure, the contributing risk factor for heart disease, heart attacks, strokes and kidney failure, loaded with healthy fats (fat soluble) that help the body absorb more nutrients from other foods, high in fiber which helps lower cholesterol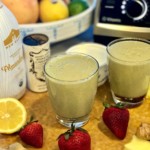 Avocado, Pineapple, Ginger Immunity Booster Smoothie Recipe
Battling the remnants of flu/cold/virus, I am trying to boost my immune system with fruits, vegetables, vitamins, minerals and anti-oxidants. The tumeric, ginger and avocado and other ingredients here work together to create mother nature's liquid multi-vitamin. Enjoy!
Ingredients
1

Cup

Almond Milk

Unsweetened, Organic

1

Cup

Greek Yoghurt

Full Fat

1

Inch

Turmeric Root

Peeled

1

Inch

Ginger Root

Peeled

1/2

Lemon

Skin, pith & seeds removed

1

Cup

Pineapple

1

Cup

Strawberries

1

Cup

Packed Spinach

1

Honeycrisp

Chopped

1/4

Cup

Raspberries

1

Tsp

Pure Vanilla Extract

Organic

1

Tsp

Cinnamon

1/2

Avocado

Pinch of Sea Salt

1

Cup

Ice
Instructions
Place all ingredients as listed in a Vitamix or other high-powered blender. If using the Vitamix, choose 'frozen desserts' setting. For a thinner consistency, add more water and for more froth, add more ice.
As always, thank you for stopping by Jackie Unfiltered.  My smoothies are easy, quick and the best way to jump start any part of your day with antioxidants, vitamins and minerals. Let's get into it!! ?????
xoxo,
Jackie
P.S.  For deets on the fab post-gym athleisure outfit below, click here!