While this is Part 2 of our Reebok "Studio to Streets" series where we style workout wear with closet staples, this is a also a good old #StyleFile post where I reminisce about clothing that I love which includes this red Tibi ball gown skirt that I have worn more times than I can count from black tie to daytime luncheons.  Talk about #InvestmentPiece and #ClosetWorkHorse (Read and shop Part 1 of our "Studio to Street" Series HERE).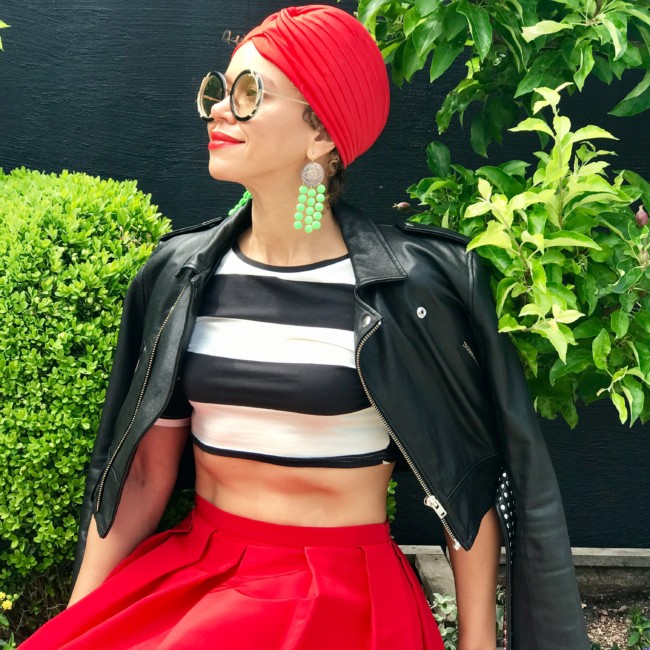 While it's fighting with the stunning black and green backdrop, coral-red turban and taffeta skirt, the star of this outfit is really the black & white striped "crop top."  (Click HERE to purchase this awesome striped top!)  If you follow me on social media then you know my love of the crop top runs very deep.  Yep, that's right! I said it!  I am a 40 year old woman who will don a crop top day or night from charity luncheons to more formal affairs.
I wore this 2-piece Tibi ensemble to the annual Spring Studio Museum of Harlem Luncheon in New York City.  
See, I am a big believer that age should not dictate what you wear but rather your body and lifestyle should inform your choice of attire.  As my shopping guru Renee Billy of Billy Hendrix has told us before, "If you have great legs, wear mini dresses."  If you have beautifully toned shoulders, then buy up every off-the-shoulder trendy top you can find and wear them till the cows come home.  If your biceps bulge then keep a rotation of sleeveless dresses and tops.  I have good abs and a small midsection (classic pear shape) so I highlight my waist when I dress.  How-so-eva, the converse is true as well.  If your legs are not your best asset (like me) then wear longer hems.  If you struggle with fat in your midsection, wear looser silhouettes with assymetrical hems and definitely use jewelry to draw the eyes up.  If you have broad shoulders, stay away from the off-the-shoulder trend (stay away from trends generally unless they work for your body and lifestyle).   The idea here is to play up your god-given assets, let the rest go, have some fun and get on with life.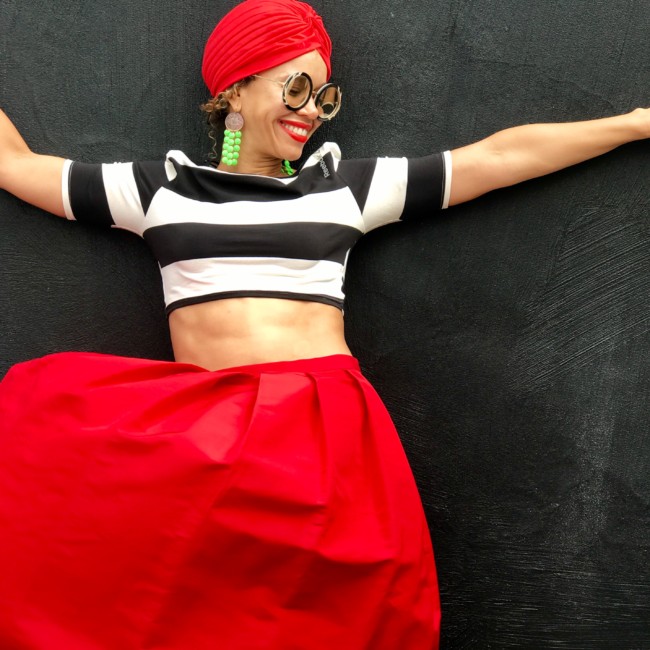 That being said, Reebok's Yoga Striped Crop Top might be the new favorite thing that I own!!!  First, the Francophile in me adores anything striped.  Second, it fits like second skin and is super soft and comfy as it's made from organic cotton.  Third, it's perfect for a #SweatyWorkout as it "wears close to the body and moves with you during exercise."  Given the big Reebok sale this weekend, I have ordered this same shirt in the emerald tide color (Reebok is running a sitewide sale this weekend: buy 1-2 items, save 20%, buy 3 items, save 30%, buy 4+ items and save a whopping 40%!….. Use code MEMORIAL at checkout)!
If you are not quite comfortable showing your midriff (no matter your assets, confidence is always your very best accessory) then this crop top would also look smashing under a buttoned up blazer, sweater or a leather jacket as we styled it here.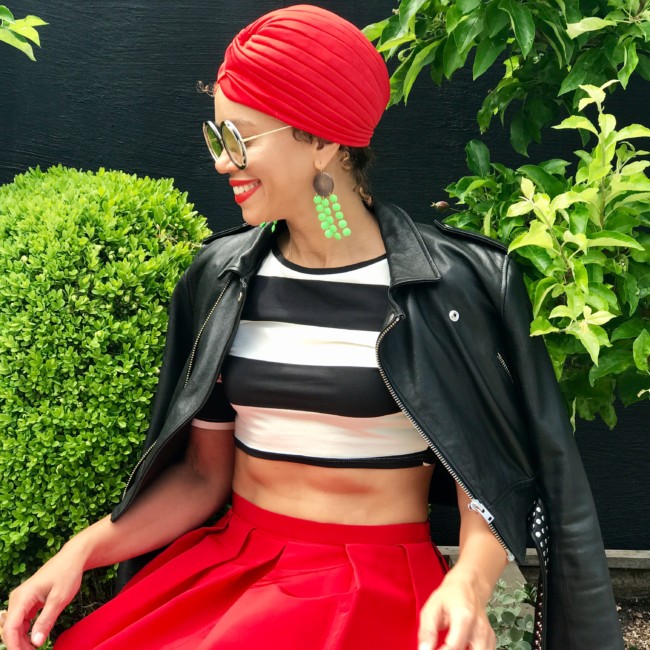 If you want to shop the remainder of this outfit (sadly the bold red skirt is long gone but black is available, the earrings are one-of-a-kind vintage and the turban was a gift #Sorry!), then click the image below for some very close duplicate products (every woman  should own at least one ball gown or two #JustSaying).  Scroll down to see the products.

As always, thank you for stopping by Jackie Unfiltered.  Have a little fun with fashion this Memorial Day weekend, make sure you get in a few #sweaty workouts, eat some barbecue and hamburgers and drink a margarita or two.  We sure are!
xoxo,
Jackie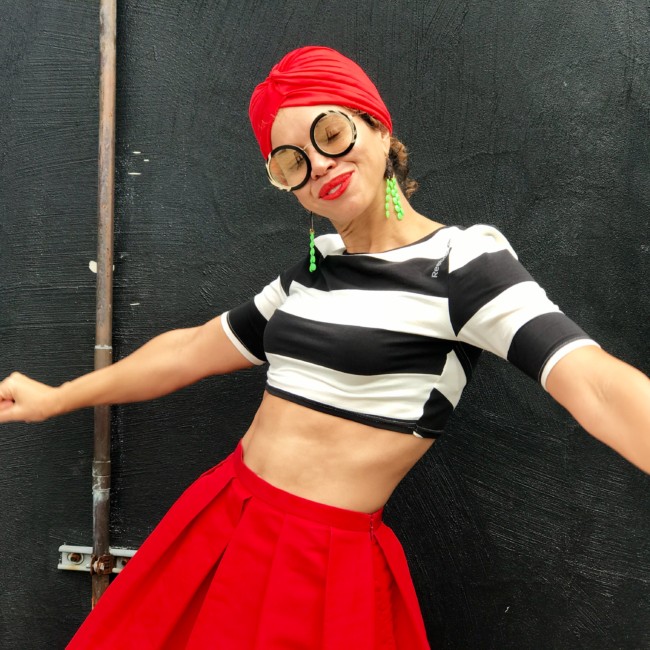 *** This post contains affiliate links. If you purchase anything through this post, I will be paid a small percentage of each sale. A sister has to make a living!***