While dining at Sunday in Brooklyn a few weeks ago for a friend's surprise 40th Birthday Party (well executed Rachel), I ate the most memorable kale salad which included crunchy sweet pears, a salty savory cheese and crunchy nuts tossed together in a buttermilk vinaigrette.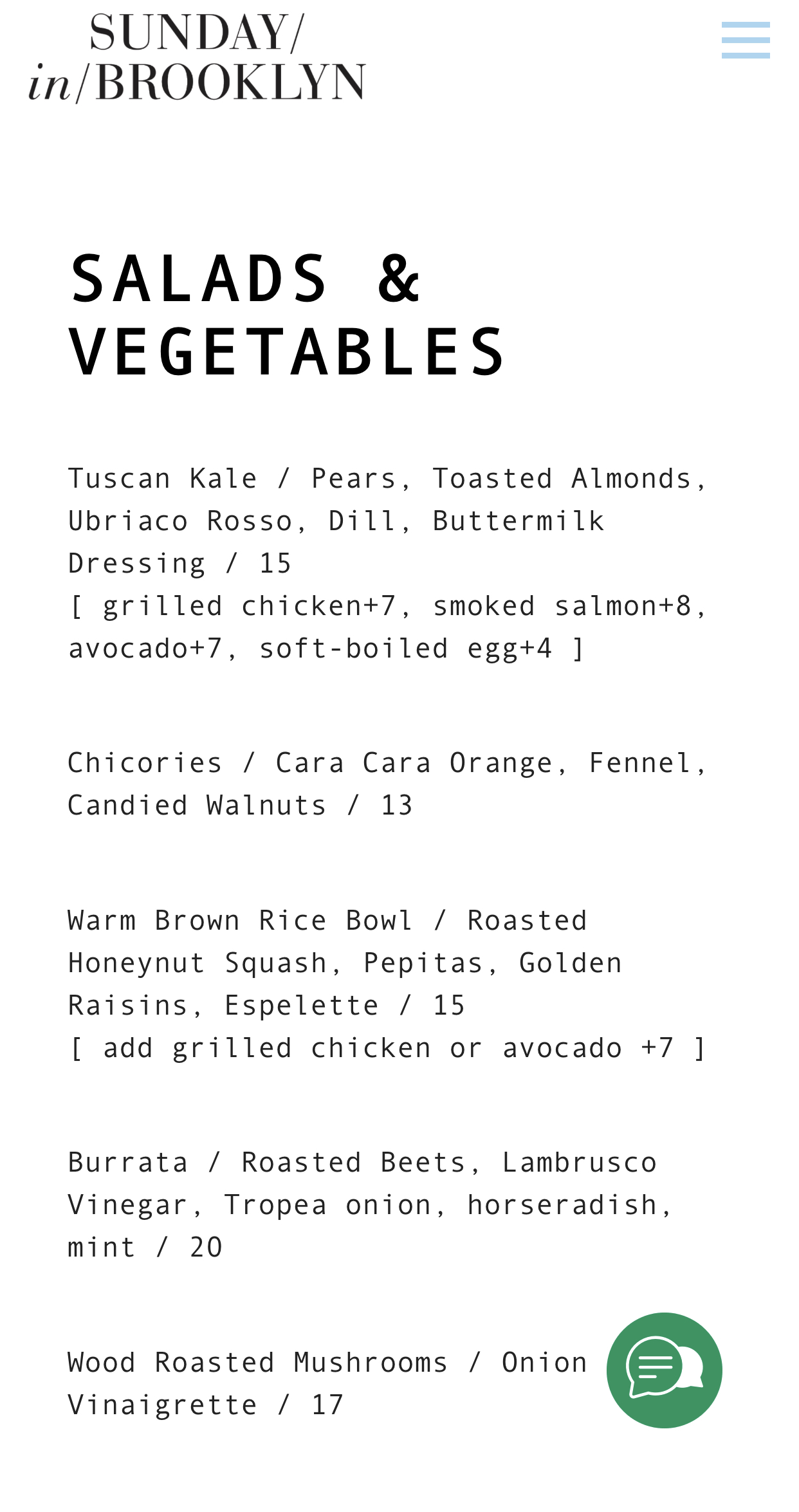 This crunchy salad was perfectly balanced in flavor with savory and sweet while the creamy buttermilk dressing paired so nicely with the chewy earthiness that we love about kale.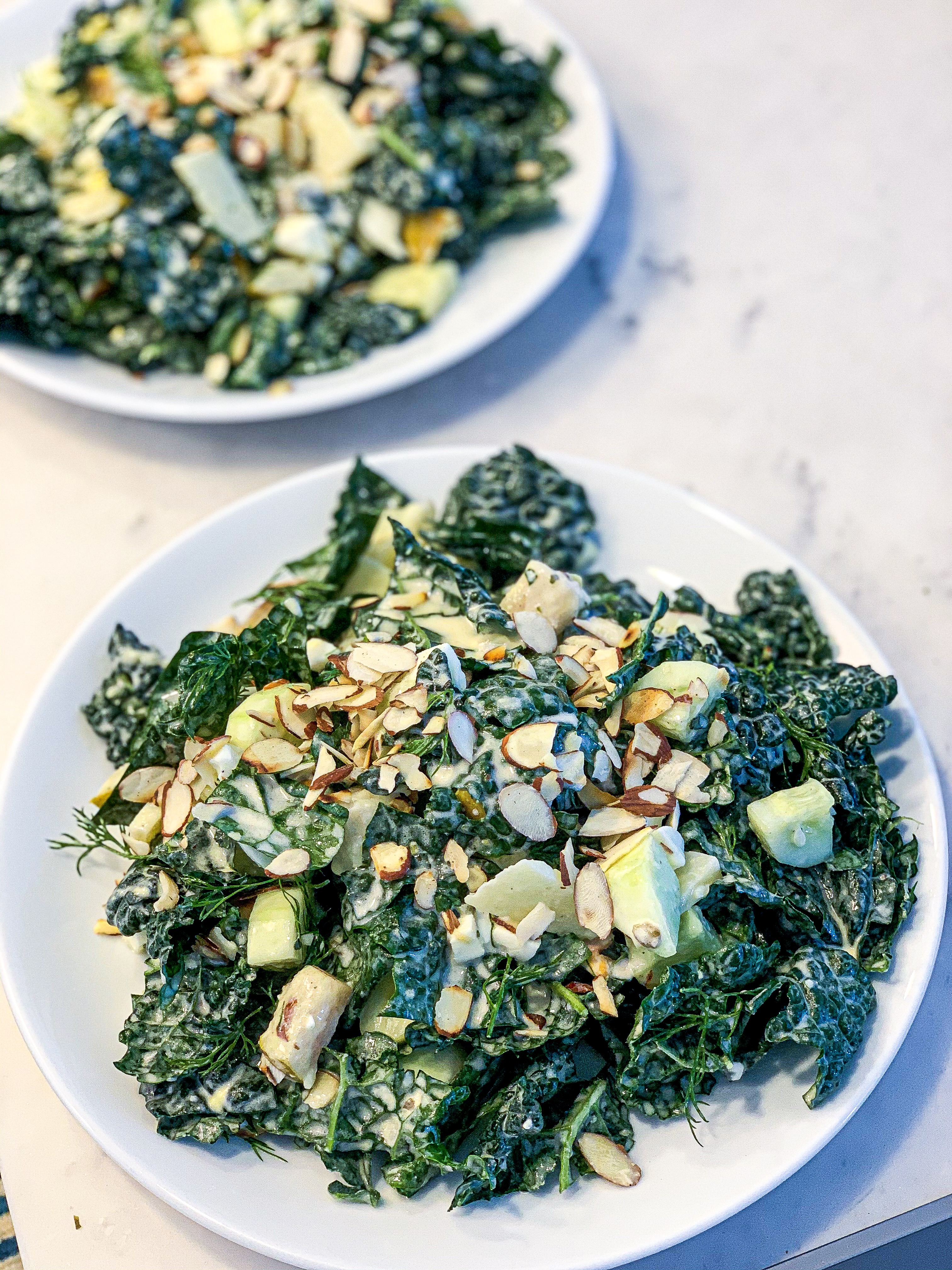 Today, I tried to create my version of this fall kale salad using freshly cut dinosaur kale, fresh dill, sautéed pears, manchego cheese, cucumbers, toasted almonds and diced egg. For the dressing, I cheated a little bit and combined store bought **Cindy's Kitchen All Natural Buttermilk Ranch Dressing with their Lemon Shallot Vinaigrette, freshly squeezed lemon juice and freshly cracked black pepper. The result was a delicious, filling and healthy vegetarian meal. Bon Appetit!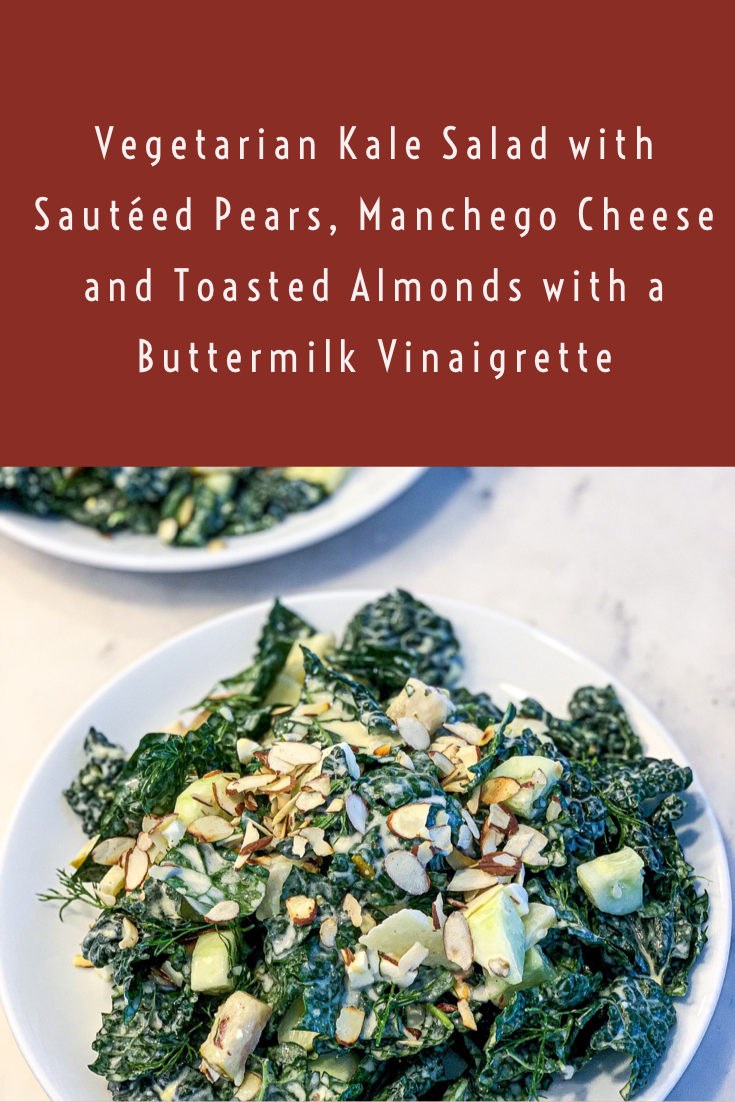 **Find Cindy's Natural salad dressing in the cold produce section of the grocery story. It's the only store bought dressing I would ever dare to buy as it's made with limited preservatives, real ingredients, low sodium and sugar. Most importantly, they taste delicious and save a little time in the kitchen. A win-win.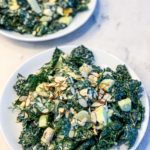 Vegetarian Kale Salad with Sautéed Pears, Manchego Cheese and Toasted Almonds with a Buttermilk Vinaigrette
Pears, salty cheese, savory eggs and crunchy toasted almonds tossed in a citrusy buttermilk vinaigrette pair perfectly with earthy kale for an easy, healthy and vegetarian entree salad.
Ingredients
2

Bunches

Lacinato Kale

De-stemmed, chopped and triple washed

1/4

Cup

Fresh Dill

1 inch stems

2

Pears

Chopped Large

1

Tbsp

Coconut Oil

1/4

Cup

Sliced Almonds

1

Cucumber

Peeled and chopped

3

Hard Boiled Eggs

Diced

1/4

Cup

Manchego Cheese

Sliced

1/4

Cup

Cindy's Kitchen Buttermilk Ranch

1/4

Cup

Lemon & Shallot Vinaigrette

1

Lemon

Juiced

Sea Salt & Freshly Cracked Black Pepper
Instructions
Ingredient Prep
Gently put 3 eggs in a small saucepan over high heat. Once the water begins to boil, remove the pan from the heat and cover with a tight fitting lid for at least 10 minutes. I usually do this and then go about my business until I'm ready to use. This method perfectly makes hard boiled eggs with no mess and no fuss.

Heat coconut oil in non-stick skillet over high heat. Once the oil is very hot, add chopped pears and gently saute until you achieve a light brown sear. This should only take about 3-5 minutes. Do not walk away from the stove. You want slightly softened pears with a touch of color and NOT mushy pears resembling jam. Transfer cooked pears to a plate for cooling.

Wipe out saute pan using a paper towel and then return to medium high heat. Add sliced almonds to the pan and turn constantly until they are lightly toasted. This should only take 1-2 minutes. Again, don't walk away. Once slightly brown, transfer almonds to a plate for cooling.
Salad Dressing
Whisk together ranch dressing, shallot vinaigrette, lemon juice and freshly cracked black pepper. Set aside.
Let's prepare the salad!
In a large mixing bowl, place 3/4 of the chopped kale, cucumber, dill and chopped egg. Generously season with salt and pepper. Gently toss with half of the prepared salad dressing mixture.

Add seared pears, manchego cheese, toasted almonds and the remaining salad dressing. Season again with only the freshly cracked pepper as you should have enough sodium from the cheese and salad dressing. Gently toss everything together.

Serve immediately as a post-workout meal, dinner salad or a brunch side dish.
As always, thank you for stopping by Jackie Unfiltered. Hope you're having an amazing Fall season filled with rich experiences, new beginnings and exciting adventures. Life is for the living.
Xoxo,
Jackie