So Okra is one of those green "old school" vegetables that folks have a visceral reaction: either it's "HATE IT" or "LOVE IT." The ones that love it know that Okra is delicious whether fried to a crisp (everything is good fried by the way…even a flip flop), pickled in vinegar with herbs and spices, tossed in soups or stews like my famous Instant Pot Gumbo Recipe or sautéed with bacon fat like I did for today's late lunch. I don't mind the "sliminess" of Okra so I even enjoy it freshly picked out the garden and then boiled whole with onions, garlic, peppercorns and kosher salt. Once it's nice and tender, just strain off the liquid and then enjoy the okra as a side dish with a nice vinegar pepper sauce. As the elder says, "that's good eating right there."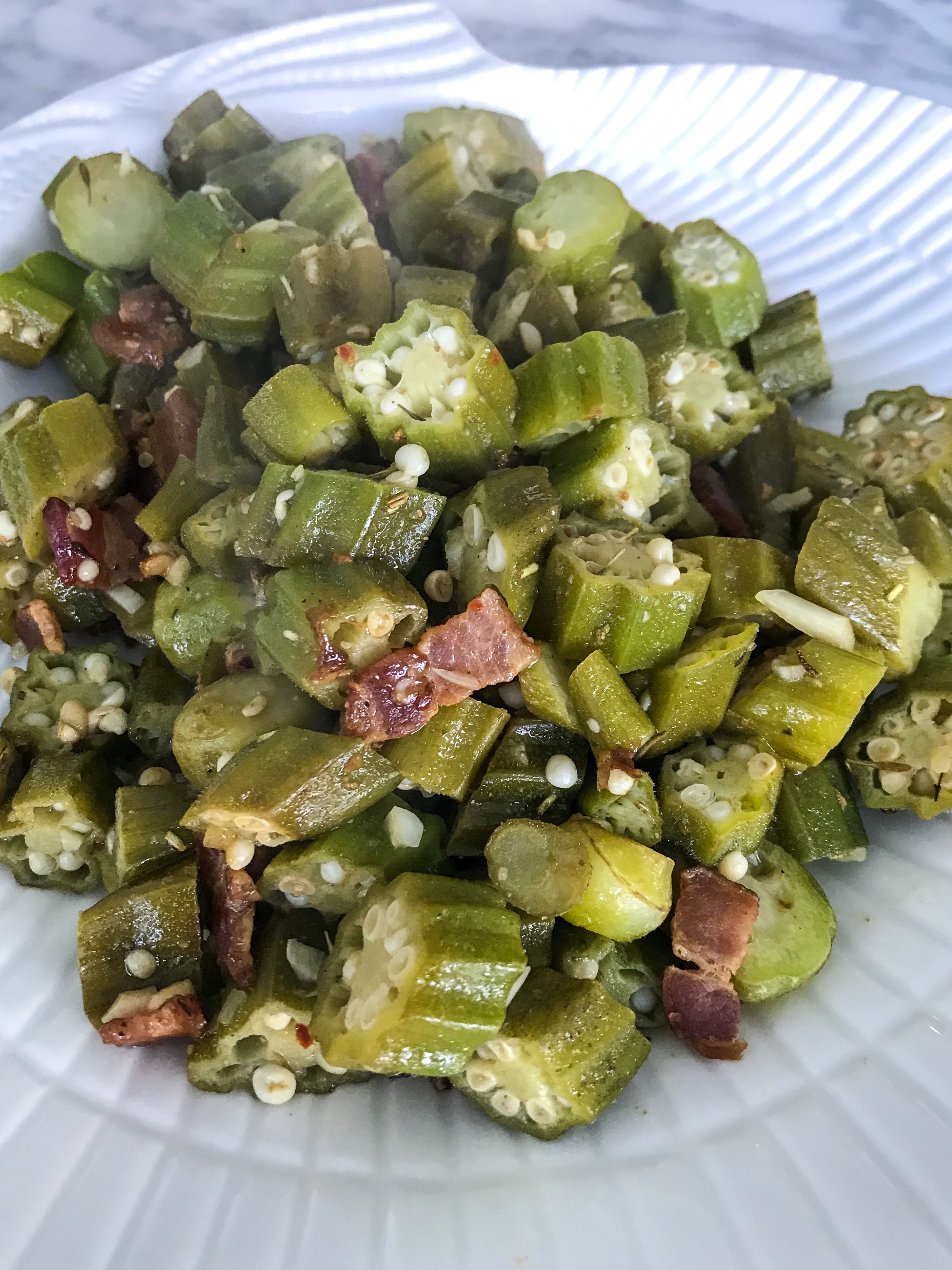 If you are part of the "I love Okra crew" like moi, then you will love this easy recipe that only has a few ingredients: Okra (obvi), Bacon, Fresh Garlic, Freshly Ground Pepper, Bragg's Apple Cider Vinegar and Bragg's 24 Herbs & Spices Seasoning.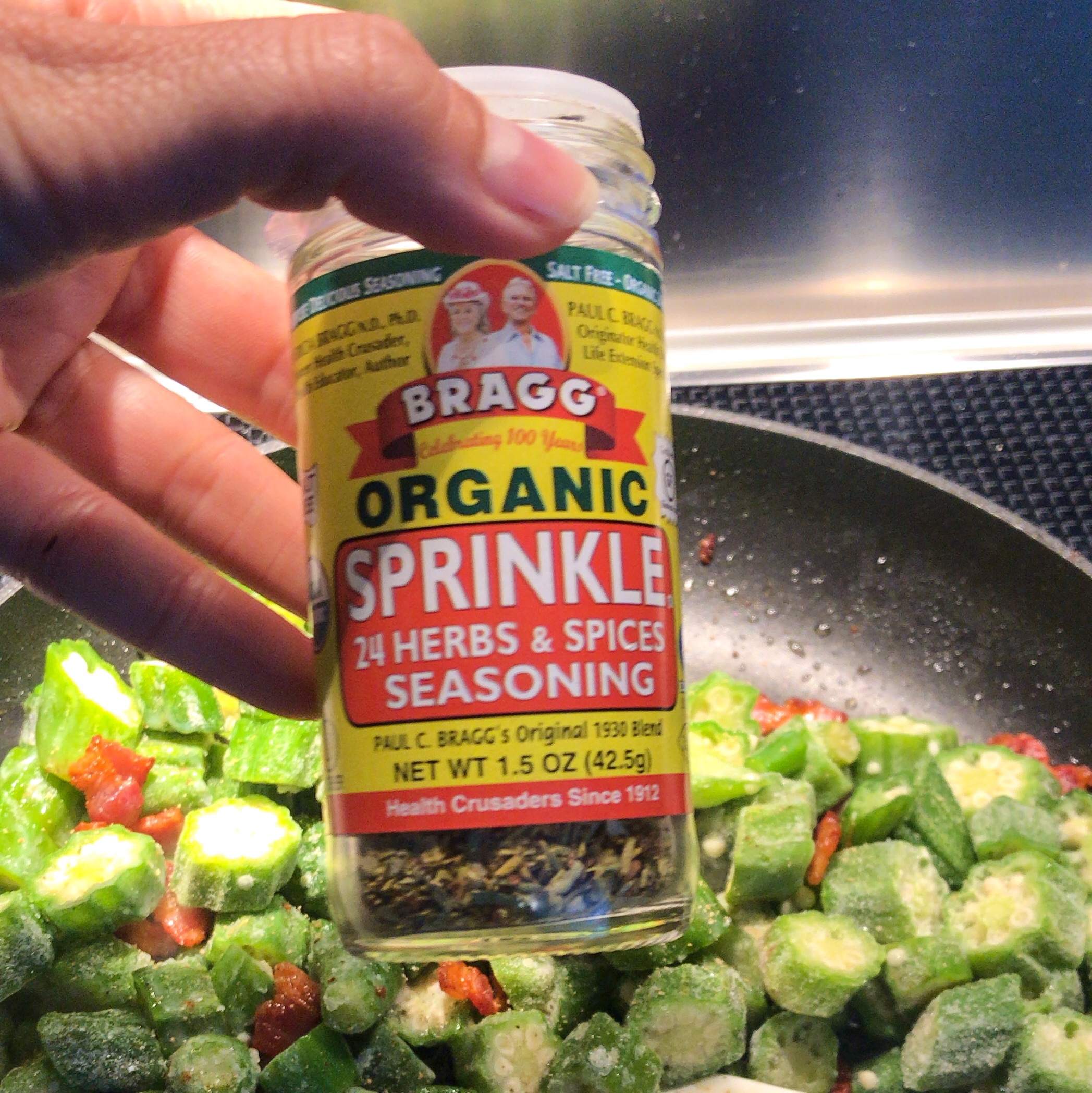 If you're trying to eat healthy and watch your sodium intake (you should be trying to eat healthy and watch your sodium intake by the way), then you need a jar or three of Bragg's 24 Herbs and Spices Seasoning at your desk, in your home office, in you purse and certainly in your kitchen. As I wrote about HERE, this multi-purpose seasoning taste amazing on everything from meals to snacks. The herbs included in this jar of goodness is all the good stuff from rosemary, onion, garlic, lemon peel and orange peel to thyme, red bell pepper, carrot, tomato and olive oil. Trust Jackie on this one. This seasoning is a quick way to inject lots of flavor into foods without a bunch of added preservatives and junk.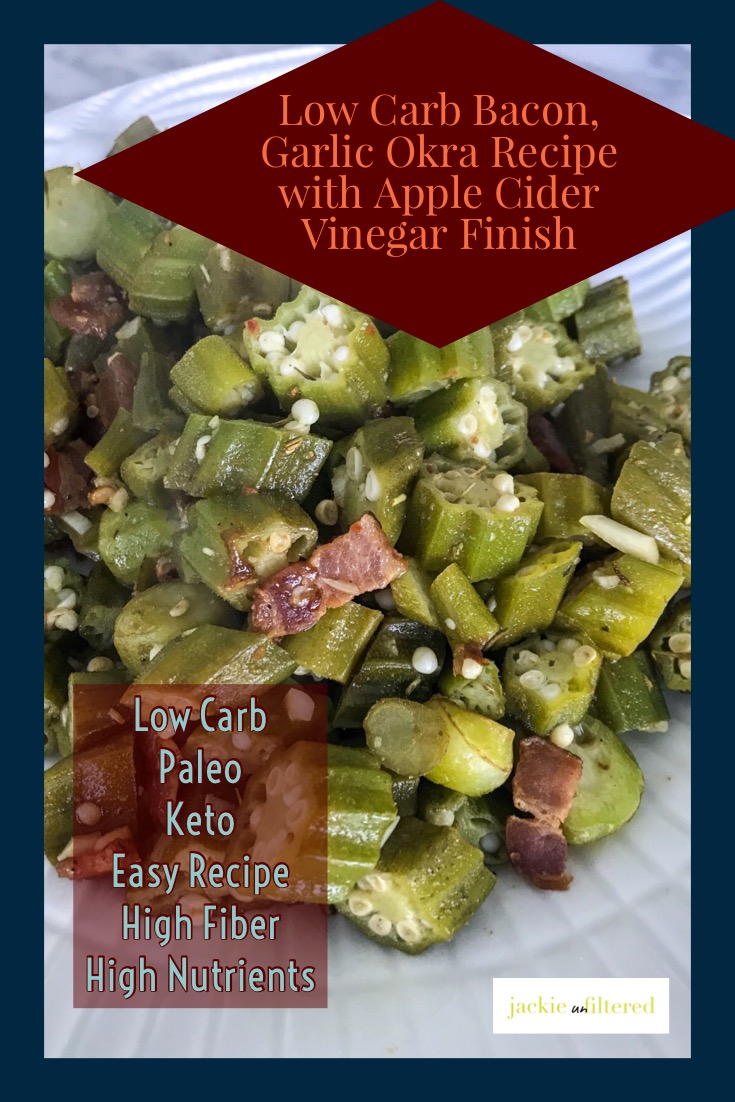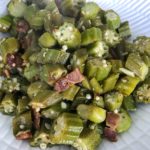 Low Carb Bacon, Garlic Okra Recipe with Apple Cider Vinegar Finish
This quick recipe of frozen okra, bacon, garlic and spices is a perfect side dish or light entree. Low-Carb, Paleo & Keto Friendly. For vegans, substitute olive or coconut oil and smoked sea salt for the bacon.
Ingredients
1

Pound (16 oz bag)

Frozen Slice Okra

3

Slices

Thick Cut Bacon

Julienned

2

Cloves

Garlic

Minced

1

Tsp

Bragg Sprinkle Herb & Spice Seasoning

Freshly Ground Pepper

3

Tbsp

Apple Cider Vinegar
Instructions
Heat a saute pan on medium-high heat. Saute bacon until fat is rendered and bacon is just beginning to get crispy. Add Okra and season with Herb & Spice Seasoning and Freshly Ground Pepper. Stir occasionally. Once the okra begins to soften and thaw (about 2 mins), reduce the heat to medium and then fold in garlic. At this point, watch the pan closely so the garlic does not burn, stirring constantly.

Once the okra is fork tender but still has crunch (about 1-2 mins more), turn the heat to high and add apple cider vinegar deglazing the pan. Let the vinegar reduce until no liquid remains (about 1 mins) stirring constantly. Once the liquid has fully evaporated, remove from heat. Taste and adjust the seasoning according to your taste. Serve and ENJOY!
As always, thank you for stopping by Jackie Unfiltered. Let us know in the comments below: How do you feel about Okra?

xoxo,
Jackie