I created this recipe for Creole Soup with Chicken, Andouille, Shrimp & Okra for my Instant Pot because yesterday, midday afternoon, my tastebuds craved the comfort taste of creole cooking.   Also, the chilly Northeast Fall weather demanded a hot, steamy and spicy bowl of goodness.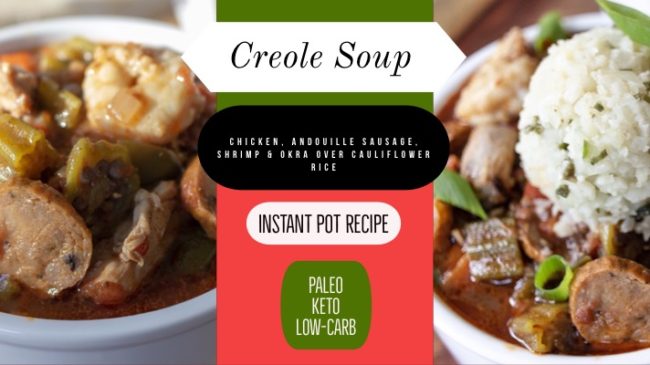 Anybody who has ever slaved over a pot of traditional "Gumbo" knows that one does not just whip up a savory pot on a whim unless your family is okay eating dinner 8 hours later.  A true Cajun Gumbo recipe takes half a day to make and is full of fat and extra calories.  Right now, ain't nobody got time for that!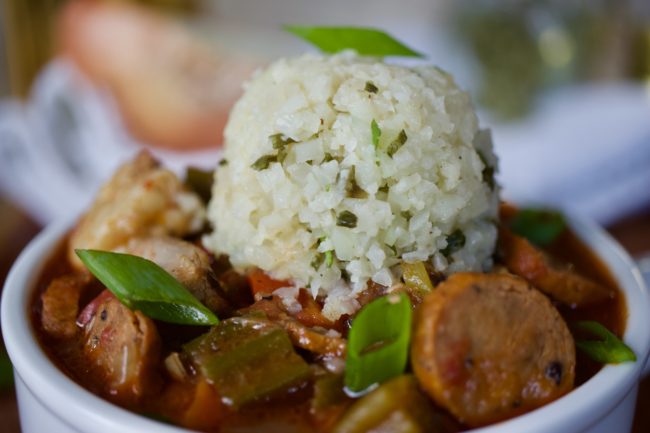 So, as the daughter of a Creole woman, I already know that the recipe I am presenting to you below will definitely offend some, especially those with Loo-Z-Ana roots.  In fact, if I had not already tasted this bowl of goodness twice, I would actually offend my damn self.  Despite the utter outrage this will cause amongst friends, family and foes alike, here goes…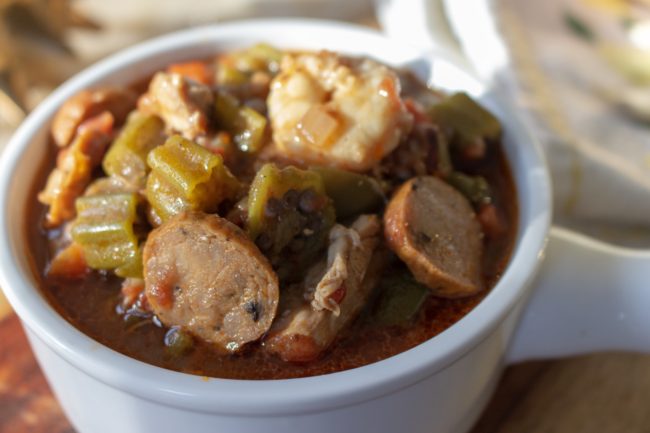 While we can agree that my "Creole Soup with Chicken, Andouille & Okra" is not what we would call the rich roux based "Gumbo" that many of us love, this recipe does make an excellent and healthy midweek dinner as the andouille sausage provides a touch of peppery spice while the chicken, shrimp and tender okra swirling in a rich tomato broth will remind our taste buds of southern delicacies.  The best part is that this bowl of goodness only took about an hour to cook from start to finish, including chopping veggies and actual cooking time.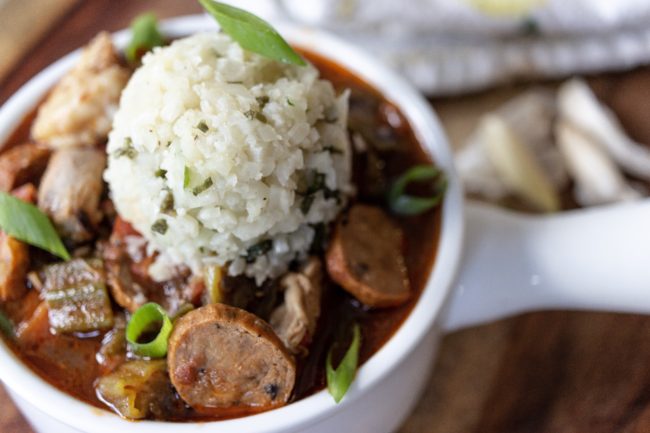 It's also important to note that my "Creole Soup" is much healthier than a traditional "Gumbo."  The "roux" here is made from 1/3 cup of whole wheat flour and a tablespoon of unsalted butter verses the 1 cup of oil and 1 cup of white flour in the traditional "Gumbo" recipe.  I also reduced the simple carbohydrates by substituting the traditional side of "white rice" with cauliflower rice sauteed with herbs and spices and finished with parsley.  While many tried and true Cajuns are going to be very pissed off about these substitutions, I gar-on-tee that your waistline, heart and doctor will thank me!  
If you are somehow the last person on the planet without an Instant Pot, here's a link to my favorite one right HERE:
I never seem to have time to make homemade chicken stock anymore so in a pinch like last night, Better Than Bouillon Chicken Base does the trick quite nicely with an Instant Pot soup.  Click HERE to purchase: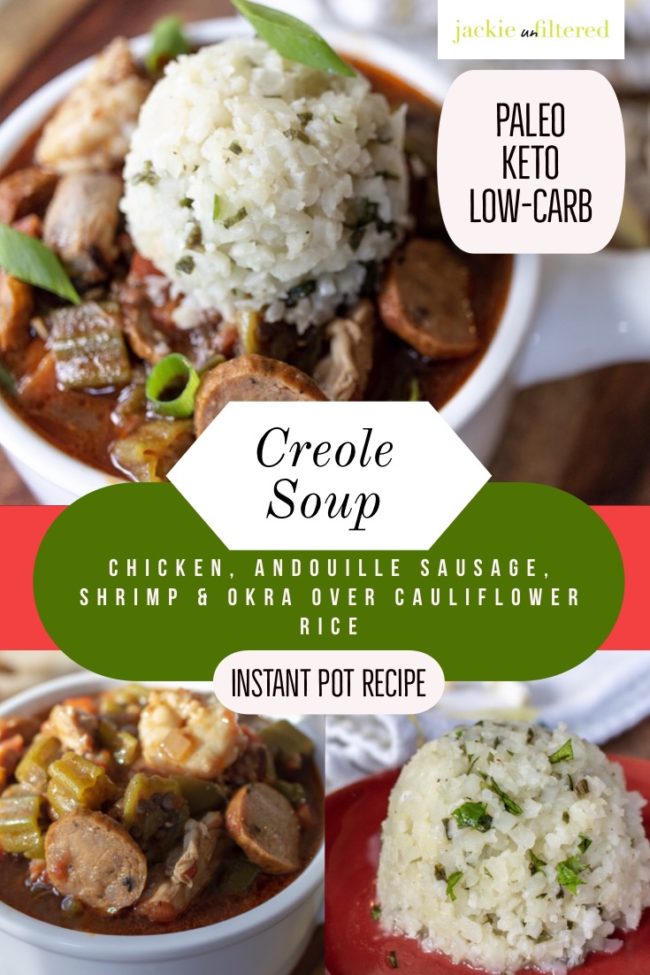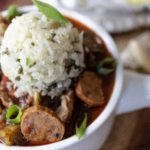 Creole Soup with Chicken, Andouille, Shrimp & Okra over Cauliflower Rice Instant Pot Recipe
This Instant Pot Recipe for "Creole Soup" is my healthier riff on the rich roux based dish that creoles call "Gumbo." It's an excellent midweek dinner with a total prep and cooking time of 1 hour. The tender chicken pairs wonderfully with the spice in andouille sausage and the delicate flavor of okra and shrimp while the tomatoes and sautéed vegetable create a rich and savory broth that goes perfectly with cauliflower rice. This recipe will not dissapoint even the most discerning Cajun. Even if it does, your waistline will thank you!
Ingredients
2

Lbs

Boneless Skinless Chicken Thighs

1

Red Bell Pepper

Diced

1

Green Bell Pepper

Diced

2

Celery Stalks

Diced

2

Medium

Yellow Onions

Diced

4

Cloves

Garlic

Diced

3

Cups

Chicken Stock

1

28 oz can

Whole Peeled Tomatoes

Crushed in blender or food processor

2

Bay Leaves

2

Tbs

Worcestershire Sauce

1

Package

Andouille Sausage

Sliced into 1/4 inch rounds

2

Cups

Frozen Wild Shrimp

2

16 oz Packages

Frozen Okra

2

Bay Leaves

1

Tbsp

Unsalted Butter

1/3

Cup

Whole Wheat Flour

Sea Salt, Fresh Ground Pepper & Olive Oil

Chopped Scallion for Garnish
Instructions
This recipe cooks fast so prep your vegetables as directed above before turning on your Instant Pot (IP).

Heat IP on Sauté High. Once hot, add 2 tablespoon of Olive Oil. In batches, brown chicken on both sides and set aside on a plate. Leave any dripping and bits of chicken stuck to the IP pot after browning. Do not rinse or throw out...this is the FLAVOR!

Add peppers, onions, celery and andouille sausage to the pot and sauté for about 5 minutes or until vegetables soften slightly. Only lightly season with salt and pepper as the sausage has plenty of salt and spice. Once the vegetables begin to sweat, use a wooden spoon to scrape any bits of chicken from the bottom of the IP. Add garlic during last minute of cooking vegetables and andouille. Remove vegetable/andouille mixture with a slotted spoon and set aside. Press cancel and let the IP cool down for about 5 minutes.

While the IP cools, slice the browned chicken into cubes reserving any juices released from the chicken as you slice.

Heat IP on Sauté Low to make the roux. Melt butter and add whole wheat flour seasoning with salt and pepper. Stir flour and butter constantly for about 5 minutes until the flour looks like dark peanut butter. Here's the thing about this step. Don't walk away. Don't stop stirring. Don't let this burn. If this roux step burns, you must start over with new butter and flour. Super important my friends. A roux is like a significant other with wayward eyes meaning he or she must be attended to at all times.

Once the "roux" has darkened, quickly add a small amount (1/2 cup) of chicken stock and deglaze the IP using a wooden spoon scraping up any bits stuck to the bottom of the IP. Be thorough here because if you leave any bits at the bottom, the dreaded BURN error will happen during the cooking process.

Once deglazed, add remaining chicken stock, vegetable/andouille mixture, chopped chicken, bay leaves, worcestershire sauce, tomatoes and water. Season lightly with salt and freshly ground pepper but don't be aggressive as the stock, sausage, chicken and vegetables will work its magic here. Close IP and cook on High Pressure for 20 minutes. Quick release.

Taste the soup and adjust the seasonings with salt, ground pepper and cayenne pepper if needed. Add okra and shrimp to the pot and close the pot again letting the steam and heat of the pot gently cook the shrimp and okra for an additional 10 minutes. Release any remaining pressure. Adjust your seasoning and enjoy!

Serve alone, over cauliflower rice if you are watching carbohydrate intake like our family or the traditional way with rice. Brown rice would work nicely here too. C'mon, I had to try.

Store any leftovers in an airtight container. As with Gumbo, this Creole Soup tastes even better the next day once the flavors have a chance to come together.

KETO & PALEO NOTE: For those on a strict Keto or Paleo diet, swap the olive oil for avocado oil and the whole wheat flour for coconut flour.
Sauteed Cauliflower Rice
I use frozen cauliflower here because the result is a firm texture more consistent with regular rice meaning that it will stand up to stews, soups or any dish with a sauce.
Ingredients
2

Tsp

Olive Oil

1

12oz

Bag of Frozen Cauliflower Rice

1/2

Tsp

Garlic Powder

1/2

Tsp

Onion Power

Sea Salt, Black Pepper

Chopped Fresh Parsley or other fresh Herb
Instructions
Heat olive oil on medium heat in a saute pan. Add cauliflower and seasoning. Saute, turning occasionally, until the cauliflower is just heated through. Remove from heat immediately and fold in fresh herbs. Serve alone or as an accompaniment with any dish that you would normally serve with traditional rice.

Do not overcook because that will result in mushy cauliflower. Not you or anyone else in your family will like that result. Trust me on this one!
Okie dokie, as I told the Facebook Instant Pot Community this morning, I'm ready with your comments and name calling.  Click HERE to read the viral Facebook chatter about this "Creole Soup" recipe.  It's entertaining and perfectly demonstrates the reason why I love good food.  It creates dialogue.  So lay into me taking your best shot!  My parents are likely in heaven right now scowling at me as well wondering what the hell is an Instant Pot and why am I trying to pass off soup as Gumbo (I'm not by the way).  I'm strong enough to take your rage and anger.  Whatever you say is fine with me because this is a seriously good bowl of cold weather goodness!  ????‍??
Xoxo,
Jackie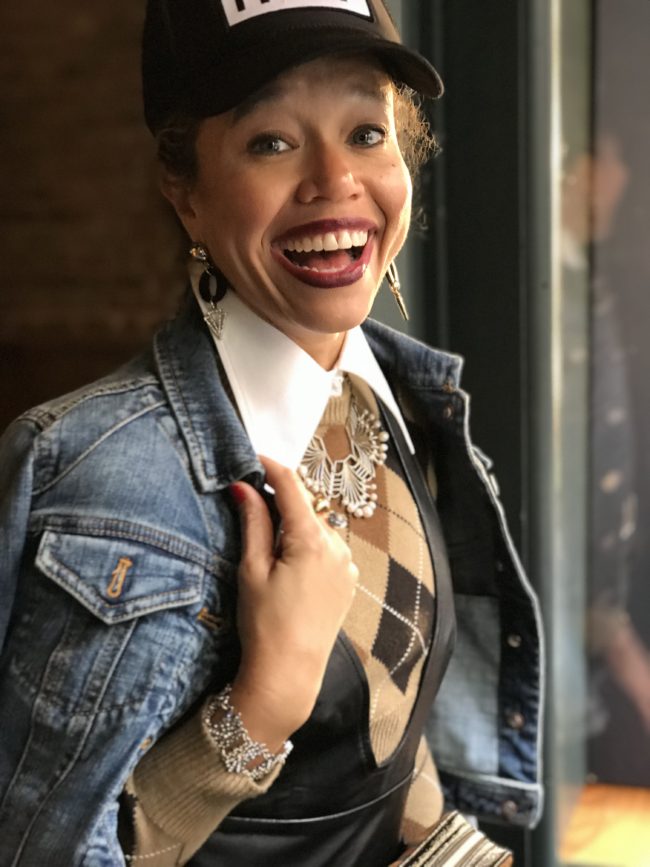 Disclaimer:  If you purchase anything on this post, I will receive a small commission.  Please don't be mad.  Jackie has to make a living too!