I discovered low carb Whole Foods' frozen prepared cauliflower crust one day while surfing online.  It provides the perfect gluten free low glycemic base when I am craving the crunchy and savory taste of pizza but am watching my waistline (pretty much sums up the story of my life all the time).  Last night after a late afternoon workout on the terrace, I ran to the grocery store to pick up something for dinner.  #Hubbs was out of town so my options were endless.  After 11 years, he usually doesn't grimace at my healthy cooking but even he has limits for my crazy.  After walking through produce, glancing at what the butcher and fishmonger had to offer, I decided that I wanted something healthy-ish but hearty.  A spinach turkey pepperoni pizza would do the trick.   I quickly grabbed the few items I needed and headed home to throw my one-plate meal together.  The result was outstanding!  As I posted on instagram, I shocked myself with how tasty it was!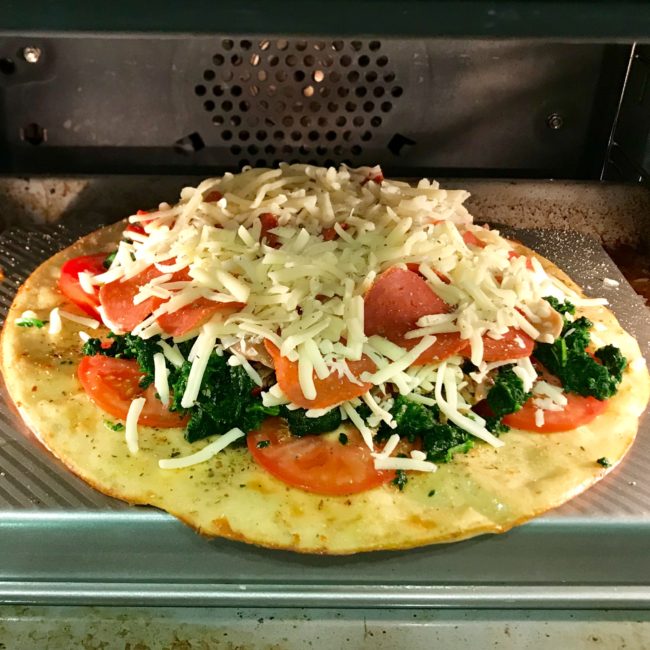 The following recipe is adaptable to your flavor preferences.  Substitute and add what you need.  My one suggestion is that you stay away from canned pizza sauce as it typically has added sugar, sodium and preservatives.  Instead, just use thinly sliced tomatoes sprinkled with sea salt, pepper and either no sodium Italian Seasoning and/or Pizza Seasoning.
Click the links below to order the seasonings that I use in my kitchen to add BIG flavor:  
NOTE:  As I wrote about HERE, the no sodium Frontier seasonings are delicious and can be used on anything from protein to vegetables.  I especially love this Pizza Seasoning as it makes EVERYTHING tastes like pizza with just a couple shakes!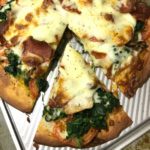 Cauliflower Pizza Recipe: Low Carb, Healthy & Easy to Make
This recipe will hit the "pizza craving" spot when you want a slice of cheesy savory goodness but you are also watching your carbs, gluten and glycemic index. Adapt the ingredients to fit you and your family's tastes. My only note is to avoid prepared pizza sauce and to include at least one vegetable such as spinach, kale, artichokes, peppers or even brocolli and cauliflower.
Ingredients
1

Frozen Cauliflower Crust

2

Vine Ripened Tomatoes

thinly sliced

1

Bag

Frozen Chopped Spinach

2

Tbsp

Marinated garlic, olives & mushrooms

Diced

1.5

Cups

Fresh Mozzarella

Shredded or Thinly Sliced

1

Package

Uncured Turkey Pepperoni

No Sodium Italian Seasoning

(Or Pizza Seasoning)

Maldon Sea Salt & Freshly Cracked Pepper

Olive Oil

Nutritional Yeast or Grated Parmesan Cheese
Instructions
Preheat oven to 425 degrees.

Brush frozen cauliflower pizza crust with olive oil and generously season with sea salt, pepper & seasoning.

Leaving a half-inch border, layer tomatoes on crust and season again with salt, pepper and seasonings. Layer spinach and season again with salt, pepper and seasonings.

Layer marinated vegetables and season with pepper and seasonings.

Layer 1 cup mozzarella cheese and season with pepper and seasonings.

Layer as much pepperoni that will fit. Finish with the remaining mozzarella and season again with pepper and seasoning.

Carefully slide pie into the oven and bake until the crust is golden brown and the top layer of cheese has begun to brown which will take about 8 - 10 minutes depending on your oven. Don't walk away and check often after 7 minutes as this pie will go from done to burnt easiliy.

Slice and enjoy! If you like, sprinkle the pizza with a little nutritional yeast or grated parmesan cheese just before serving.
As always, thank you for stopping by Jackie Unfiltered.  Happy pizza eating my friends.
Xoxo,
Jackie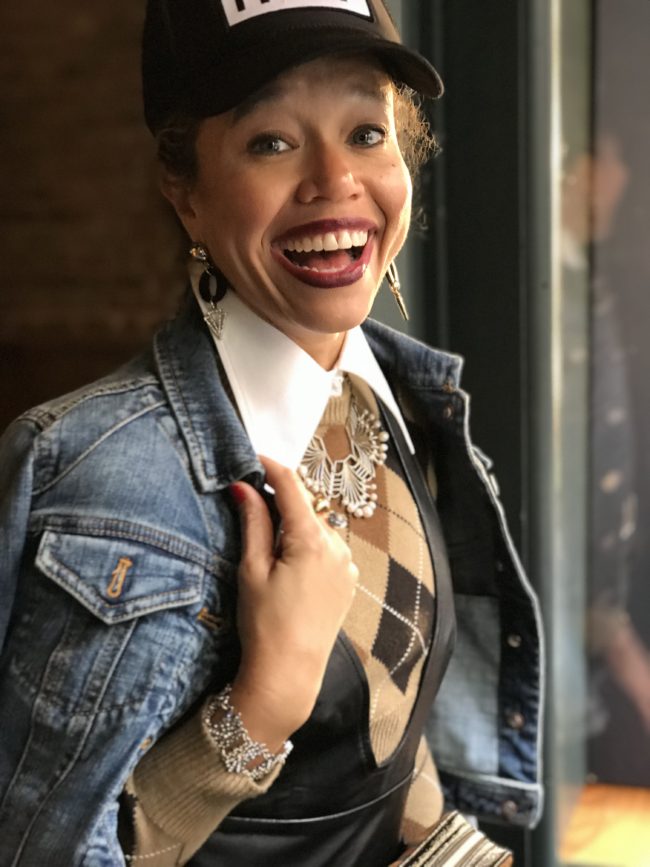 PS:  This would make a great activity for young people in your life to get them involved in cooking or would be fun for a girls' night.  Just create a pizza bar with various toppings for people to choose and let them create individual masterpieces!
PPS:  If you purchase anything on this page through a link, I will receive a small commission. I would never suggestion something I don't love so don't be mad at Jackie cause she needs to make a living too!