Eggs are one of those perfectly healthy foods that demonstrates whether you are a proficient cook or one that doesn't know how to boil water.  They are deceptively simple to prepare with literally thousands of versions from poached to baked or fried.   I say deceptive because eggs are easy to screw up as well.  Nothing is worse than eggs that are overcooked, dry, brown, undercooked or even bland from lack of seasoning.
In fact, scrambled eggs in particular are so sensitive that I don't like them prepared by anyone else other than myself in my pans and in my kitchen (#Hubbs has learned a little bit about scrambling eggs too).  I like them cooked in French butter, left a little moist and well seasoned with sea salt, pepper and either garlic or herbs.  Anyone lucky enough to get a bite of my scrambled eggs are forever changed and will never again want overcooked bland dry lumps of yellow gunk.  My secret ingredient is a touch of cream cheese and fresh garlic.  The diced spinach doesn't significantly change the taste but adds a serving of leafy greens to breakfast or brunch.  That's what Jackie calls a WIN-WIN.
Perfect eggs require the correct pan.  I like a shallow non-stick pan with a wide cooking surface.
Maldon Sea Salt adds the perfect salty crunch to compliment creamy eggs.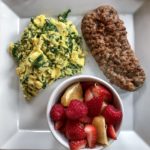 Spinach, Garlic & Cream Cheese Scrambled Eggs Recipe
Diced heart healthy spinach and bold garlic are the perfect compliment to scrambled eggs. A touch of cream cheese keeps the eggs moist.
Ingredients
5

Organic Eggs

Lightly scramble

1

Tbsp

Cream Cheese

2

Cups

Spinach

Diced

1

Clove

Garlic

Diced

1

Tbsp

French Butter

Maldon Sea Salt & Pepper
Instructions
Heat a non-stick pan on low heat for 2 minutes and then melt butter.

Season scrambled eggs with salt & freshly cracked pepper and add to pan. Sprinkle the garlic and spinach over the top of the eggs. Cook without touching the pan for about 5 minutes or until the bottom of the eggs set. This is one of those moments where you MUST listen to me. If you don't, you will end up with half your eggs stuck to the bottom of the pan.

Once set, gently fold cooked bottom into eggs using a rubber spatula. Add cream cheese to the pan. Gently turn eggs every minute until the eggs are almost cooked. Turn off heat and the let the eggs finish cooking in the warm pan.

Divide between two plates, season with salt and pepper and serve immediately.
As always, thank you for stopping by Jackie Unfiltered.  Happy Saturday.  If you live in the North, stay warm.  If you are lucky to live in a beautiful locale like Port Antonio, Jamaica pictured below, I hope you are on a beach somewhere with family friends.  Wherever you are today, get in a sweaty sesh, work on your healthy goals and be joyful.
Xoxo,
Jackie