If you steer clear of green smoothie recipes because they taste too earthy, then this recipe is a perfect way to re-introduce yourself to greens in your smoothie.  The mild flavor of romaine red oak lettuce paired with the sweetness of an in-season honeycrisp apple will have you swooning for greens in the morning.   As always, my smoothies are packed with dense nutrients and vitamins.  Start drinking these puppies everyday and you can throw out the multi-vitamin! Raspberries are high in anti-oxidants such as Vitamin C and gallic acid which has cancer fighting properties.  Strawberries are low in calories, high in fiber, are good for weight loss and help build strong hair and nails.  Apples are high in soluble fiber, heart healthy and boost exercise endurance.   Lemons helps push toxins out the body.   Flax seeds are a high-powered super-food rich in fiber and good fats.
Enjoy this delicious drink as a meal replacement in the morning or post-workout to refuel your muscles.   Read about My Smoothie Philosophy here: https://www.jackieunfiltered.com/my-smoothie-philosophy/
2 Servings | Difficulty: CRAZY EASY!!!
1/2  cup water
1 Cup Greek yoghurt
Juice of half lemon
Zest of half lemon
1 cup packed baby romaine leaves
1 cup red oak lettuce
1 organic banana
1 cup organic strawberries
1/2 cup organic raspberries
1 chopped organic honeycrisp apple
2 tbsp flax seeds
1/2 cup ice
pinch of sea salt
Put everything in order listed in a Vitamix or other high-powered blender.  If using a Vitamix, choose the "Frozen Desserts" setting and let that magic machine do the work!  Once the blender stops, check the consistency.  Add more water if you like a thinner smoothie or more ice if you enjoy your smoothie frothier.
Jackie's Tip 💡:  Save old water bottles or other reusable containers to make your smoothie portable for the whole family.  Use a funnel to avoid a mess.   Healthy on the go!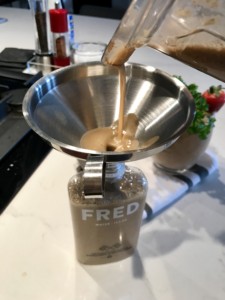 As always, thank you for stopping by Jackie Unfiltered!
Xoxo and in good health,
Jackie