With such busy lives, few of us have the time or energy to run home and change our clothes and make-up for every holiday soirée or evening commitment.  Sure, there are those special moments where you luxuriously get dressed and expertly apply your makeup.  Ooh, how I love those moments. ?  But today, Keke spills the tea on a couple quick beauty tips that you can stash in your purse for Holiday Glam.  (Read about KeKe's signature 5 minute face here: Everyone Sees Your Face. Few Notice Your Shoes.)
The holidays are a perfect time to try out a look you have admired and always wanted to try.  It's the season for excess!  (I am a walking 'Rose Bowl Float' shooting for excess year round but, hey, that's just me.)
 ??? One night, try a brighter, deeper, darker or richer lip shade.
We love the sexiness of 'Velvet Rope' Entourage by Lipstick Queen:  "richly pigmented, featherlight formula that glides on like silk" providing a matte finish.  It stays smooth and creamy all day because the weightless formula has Vitamin E and apricot oil.  Try Velvet Rope with a winter white sequin ensemble for a Holiday editorial look.
We also are crushing on 'Curious Orange' by Chanel which is a twofer:  one side is a long wearing matte base coat that dries quickly without any transfer or feathering and other side is a clear high gloss top coat with a soft non-tacky texture. (This lippie goes nowhere once applied…not even off my tester hand!). Don't be afraid of this bright color.  Use it to punch up an outfit for holiday brunch or an all-black ensemble as you run to the office holiday party.
I have already worn Curious Orange to a few different events.  The bright color feels fresh and the long-wearing formula is perfect for a night on the town.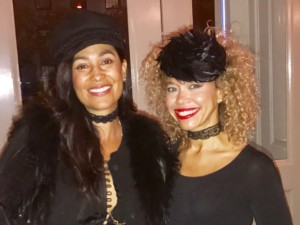 With all black, a feathered beret, and a trendy lace choker, Orange Crush feels whimsical.  Use the holiday season to go a little extra.  Put on that "something" you bought on sale becuase you loved it but have never had the guts to wear.
Any after-dark Holiday ensemble will work with 'Nicholas' by Tom Ford Lips & Boys: limited edition 'clutch sized' deep matte color that is ultra-kissable and simply decadent.   Dark lipstick looks alluring on all skin tones.  Use it to add drama to even your most casual holiday ensembles.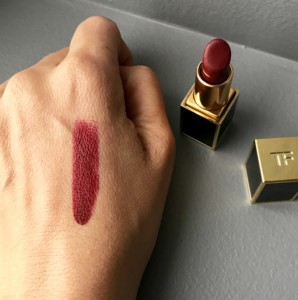 2.  ✨✨✨ Sprinkle or smooth glitter or sparkle on shoulders or décolletage (favorite word by the way!)  Monoi Body Glow by NARS moisturizers the skin while providing chocolate shimmer that is perfect for a holiday soirée by candlelight.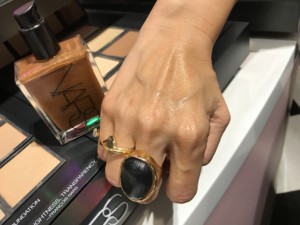 3. ??? You don't need to redo your day makeup, just use your finger to swipe a celestial on the eye just above the eyeball.  Fantasme or Mysterio, Illusion D'Ombre Long-Wear Luminous Eye-Shadow by Chanel: an intensely shimmering shadow doubling as shadow or eyeliner provides a little peak of shimmer when batting your eyelashes.
4.  ??? Add a little decadence by sweeping a highlighter on the high points of your face: cheekbone, above your brow and bridge of the nose. For darker skin, Format Powder Blush by MAC and for lighter skin, Global Glow by MAC provides that luminous glow.  You can keep a highlighter in your make-up bag along with powder and lipstick for those unexpected holiday cocktail invites.   It's all about the quick and effortless touch-up.
5. Spritz on a new scent since, "You are never fully dressed without perfume."  Chanel No 5 L'Eau is the modern, fresh and vibrant embodiment of the classic Chanel scent.  A dab of Chanel perfume behind the ear will instantly make you feel classic, refined and chic.
As KeKe and I say, "Maybe one night, you do all of the above!"  Every season reminds us how revitalized and refreshed we feel by embracing change.  Now is the time to embrace the magic of the Holidays.  So it's not necessarily time to do over, it's a time to focus on the details and take chances in the spirit of fun, revelry and maybe a little magic.  In other words, throw out the rules!  Who cares.  Do a thing called "whatever tickles your fancy" this season.
To purchase any of the items listed above, gifts for loved ones or receive a consultation, reach out to KeKe at keke@beautywithkeke.com. 
As always, thank you for stopping by Jackie Unfiltered and remember "Always wear bold lipstick with great intention."
xoxo ?,
Jackie & Keke