Some mornings, my mind wants the antioxidants, minerals and vitamins from a smoothie but my taste buds want something they can chew and gnaw on.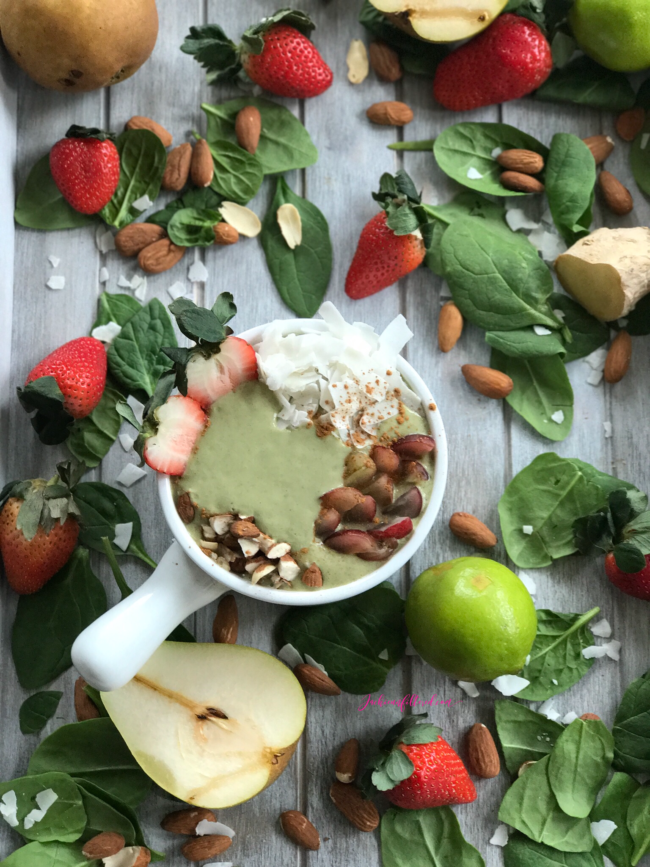 On those days, I make a smoothie bowl, a thicker smoothie (less liquid) with some healthy toppings added for a little crunch and heartier consistency.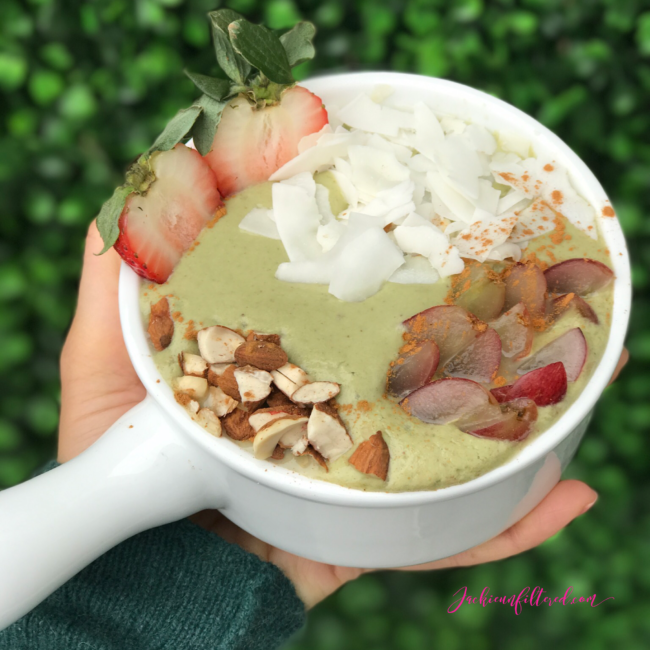 The toppings can include raw nuts, unsweetened coconut and crunchy fruit such as grapes, firm apples, pears or chopped citrus. So you see, a smoothie bowl keeps my heart, my stomach and my waistline happy. Win-Win!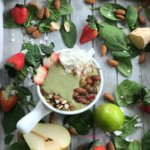 The "Ohio Players" Ginger Coconut Green Smoothie Bowl
A thicker smoothie with crunchy toppings are perfect for mornings where you want the vitamins, minerals and anti-oxidants of a smoothie but crave some crunch.
Ingredients
1/2

Cup

Water

1

Cup

Greek Yoghurt

Full Fat

1

Inch

Ginger

Peeled

1/4

Cup

Unsweetened Coconut

1

Cup

Spinach

1

Pear

Chopped

1/2

Cup

Strawberries

1

Cup

Frozen Peaches

1

Frozen Banana

1

Cup

Ice

1

Tsp

Vanilla Extract

1/2

Tsp

Cinnamon

Pinch

Sea Salt
Instructions
Place ingredients listed in Vitamix or other high-powered blender. If using a Vitamix, choose the 'Frozen Desserts' setting. (If you want to drink this smoothe, add more water for a thinner consistency.)

Pour smoothie in a bowl and sprinkle with your favorite toppings: raw nuts, unsweetened coconut, grapes or chopped fruit such as apples and pears. Use a spoon and enjoy as you would your favorite soup!
As always, thank you for stopping by Jackie Unfiltered. You might wonder why this recipe is called "The Ohio Players." Well, I am dedicating this smoothie to my Ohio family. First, there is Sikia, my ace who lovingly helped me create Jackie Unfiltered and fixes all those pesky technical problems that seem to pop up daily. Second, there is Sikia's mom who I call "Momma Connie." She likes every social media post, reads every blog article and conquers every workout and fitness challenge.  As you know, I lost my mom when I was 20 years old so I secretly imagine that Momma Connie's "likes" and "comments" are validations from my own mother.   Thank you Ohio fam from the bottom of my heart!
xoxo,
Jackie