Dear Readers:
The world knows Anthony Dickey as the "texture guru creator," founder of hair rules and celebrity stylist to everyone from Jill Scott to Jessica Lang.   I know him as this kind, generous, big-hearted and wickedly funny gentleman who bakes the most scrumptious peach cobbler from his late grandmother Daisy's recipe.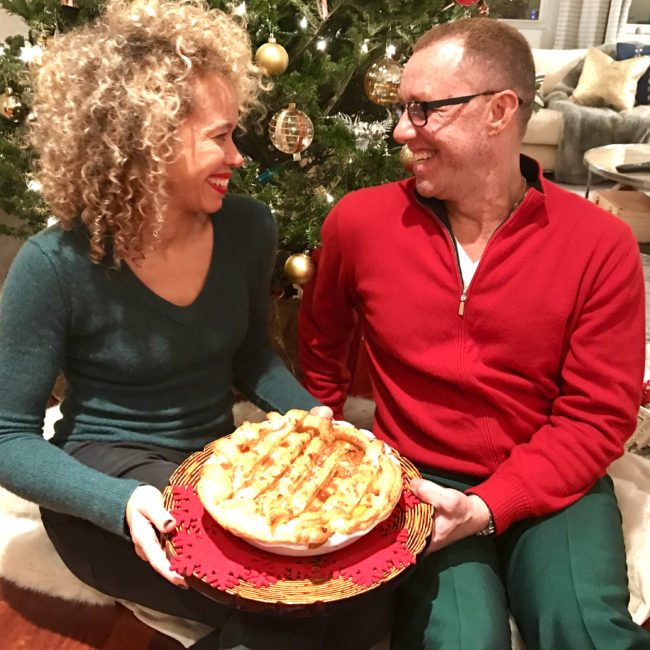 This recipe is one of love, not necessarily measure meaning adjust the sugar if you want it less sweet, use the full stick of butter if you love the richness like Dickey and add only only enough maple syrup until it looks right to your eyes.  As I watched him move around my test kitchen discussing cooking techniques, I immediately discovered that Grandma Daisy taught Dickey his way around a stove, oven and pie crust.  He moves in the kitchen with the same frantic ease as he does in hair rules when he cuts my hair.  He never throws me out of his salon for my shenanigans so I let him get away with throwing powdered sugar around my kitchen.  To know Dickey is to love him.  Enjoy his family treasure.
xoxo ?,
Jackie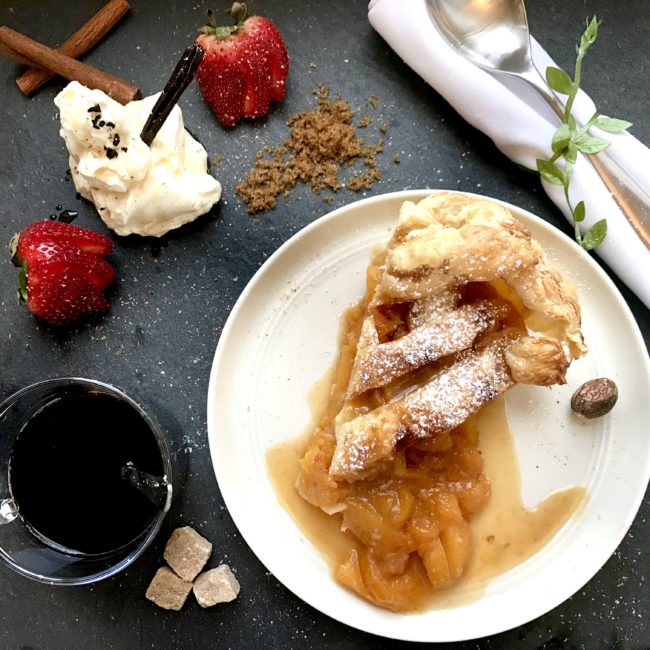 Daisy Dickey's Peach Cobbler
Servings: You will need to make more!|Prep Time: 15 minutes |Total Time: 1:15
Difficulty – Easy if your last name is Dickey, Medium for the rest of us
INGREDIENTS
3-4 Cups Fresh or frozen peaches
1/2 Stick – 1 stick of high quality butter (local or imported)
1/2 tbsp – 1 tbsp real vanilla extract
A shake, or 2 or 3 of cinnamon
AND
Half of that amount of nutmeg
1/2 cup white sugar
1/3 cup brown sugar
1/3 cup Grade A maple syrup
2 Pillsbury roll-up pie dough crusts or use Grandma Cecilia's Flaky Pie & Pastry Crust Recipe found here. (Make sure you double the crust recipe because this peach cobbler recipe calls for a top and bottom crust!)
DIRECTIONS as told by Anthony Dickey
Everything about Daisy Dickey's peach cobbler is made from my grandmother's love of her kids, grand and great-grandkids.  Every summer summer growing up, we would go home to my grandparents for family reunion.
On the first day of family reunion, Daisy's grandkids would pile into the back of the pick-up truck and go pick enough peaches so we could eat peach cobbler for breakfast, lunch, snack and dessert.   Not really, but there was never a shortage of pie and that's how I choose to remember it.  It's hard to measure unconditional love so we'll just have to figure out the measurements in Daisy's cobbler.
Preheat oven to 375 degrees.  Take your pie crust out of the freezer to unthaw while you prepare your peaches.
Put 3-4 cups peaches in a sauce pan on low to medium heat.  Add 1 stick or 1/2 stick of your favorite butter, 1 tbsp to 1/2 tbsp of your favorite real vanilla extract, a shake or two or three of cinnamon and half of that amount of nutmeg, 1/2 cup white sugar, 1/3 cup brown sugar and 1/3 cup Grade A maple syrup.
Let simmer for 15 – 20 minutes until the peaches are soft and no more than that.  Taste the juices and adjust your spice, sugar and butter if necessary.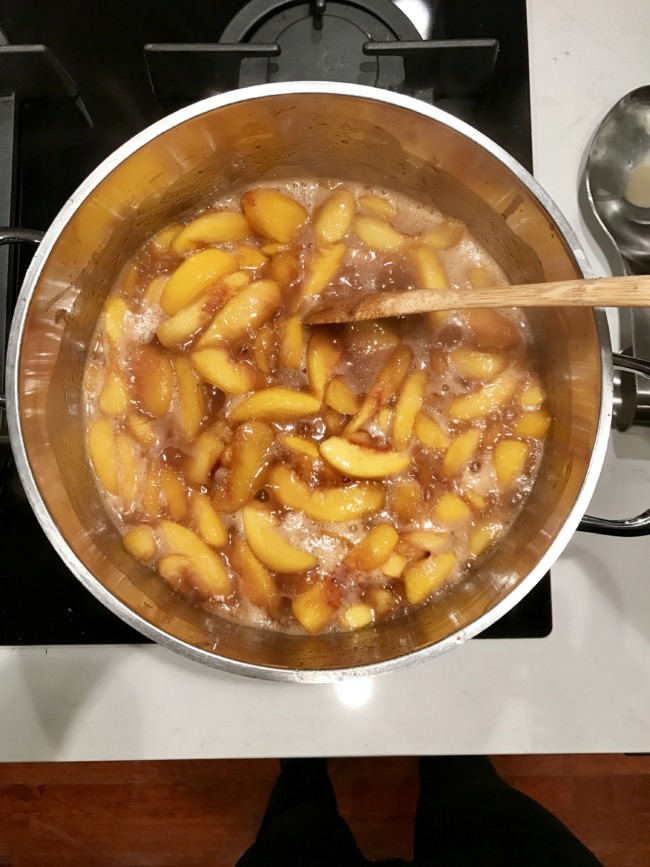 Make your own pie crust which I have no patience for as I am just fine with Pillsbury roll-up pie dough.  (By the way, I can have a pie in the oven as quick as you can make bacon and eggs cause I like it so much.)  Once pie dough has unthawed enough to handle and unroll, line your pan with dough.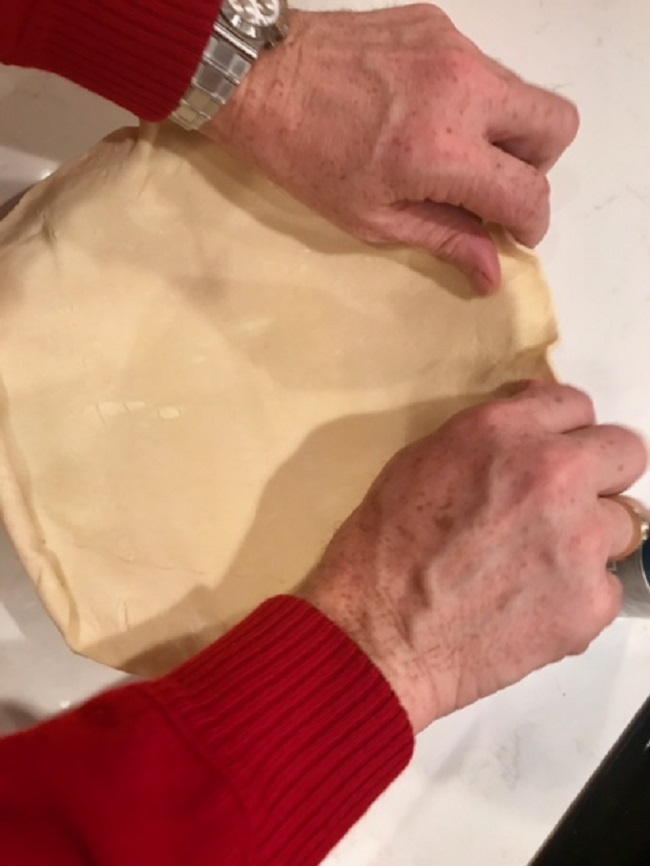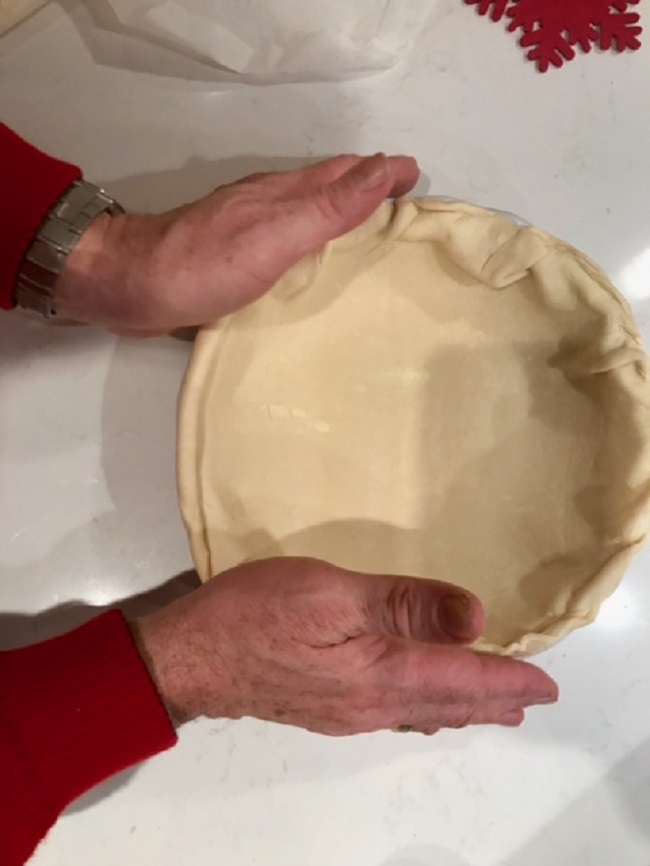 Put lined pan in oven until crust is firm.  5 – 10 mins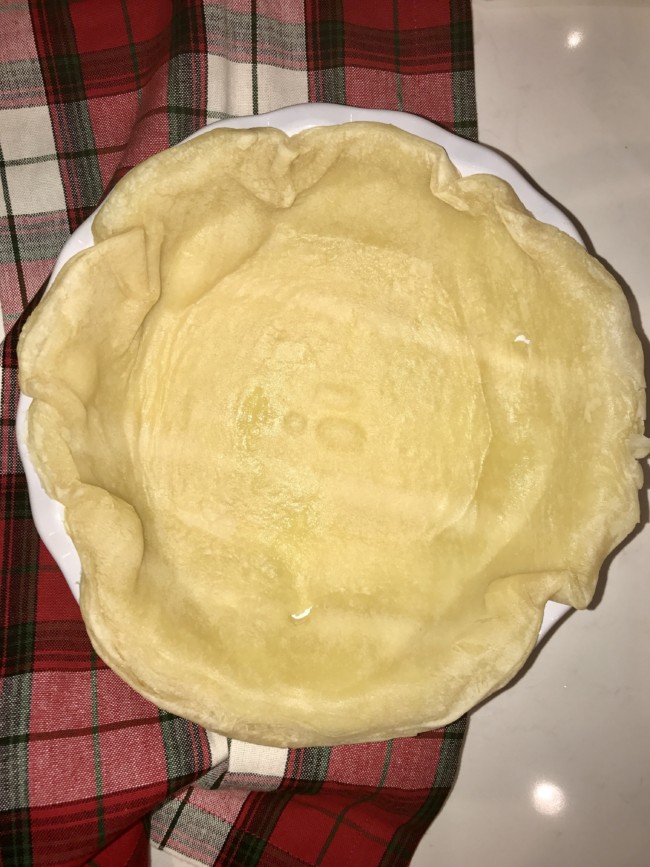 Remove pan from oven.  Add peach mixture to crust.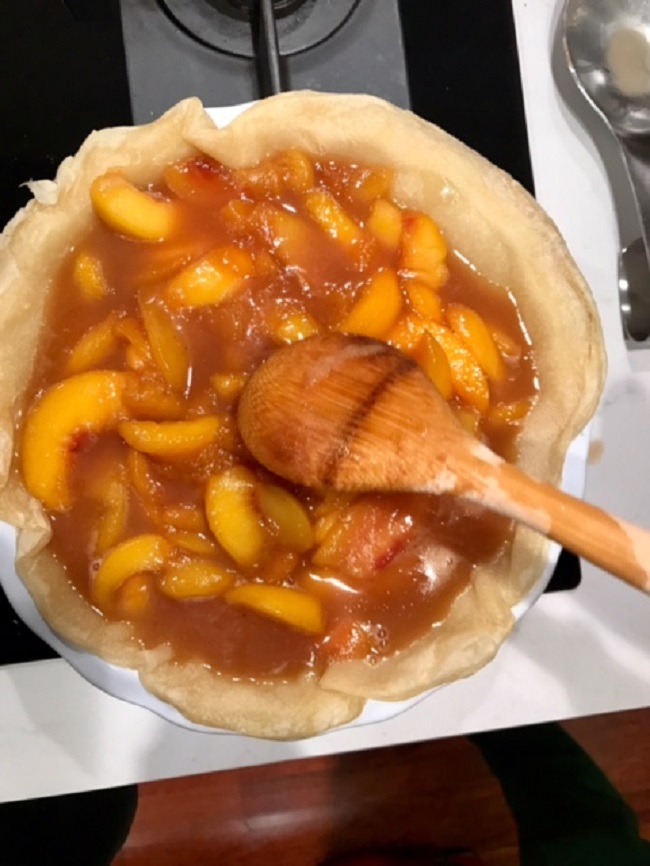 Add top pie dough in any design you like: lattice or full covered and then sliced design.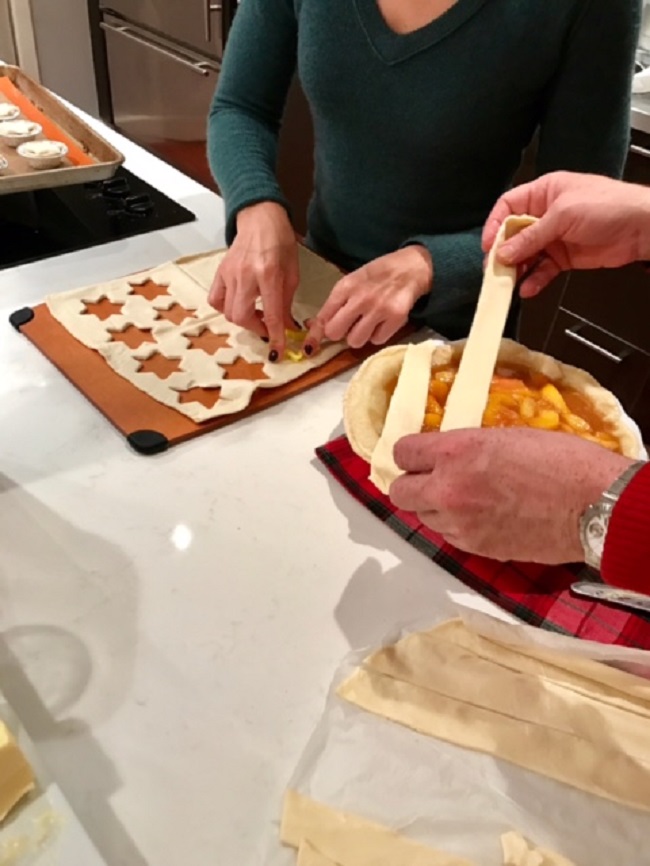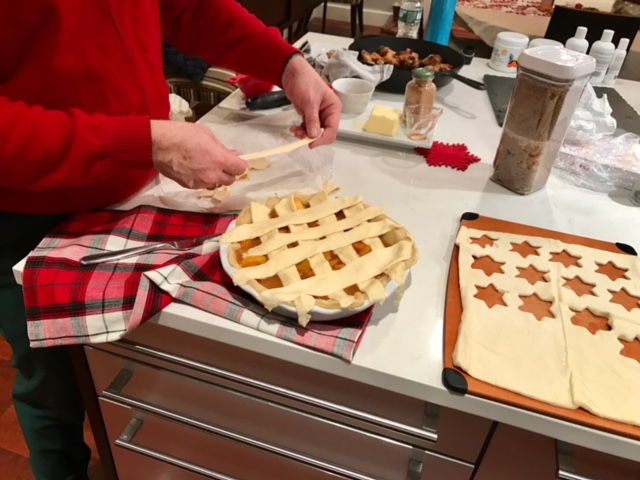 In between whatever design you choose, add pieces of butter in all opening cuts.  Sprinkle  brown sugar over entire cobbler.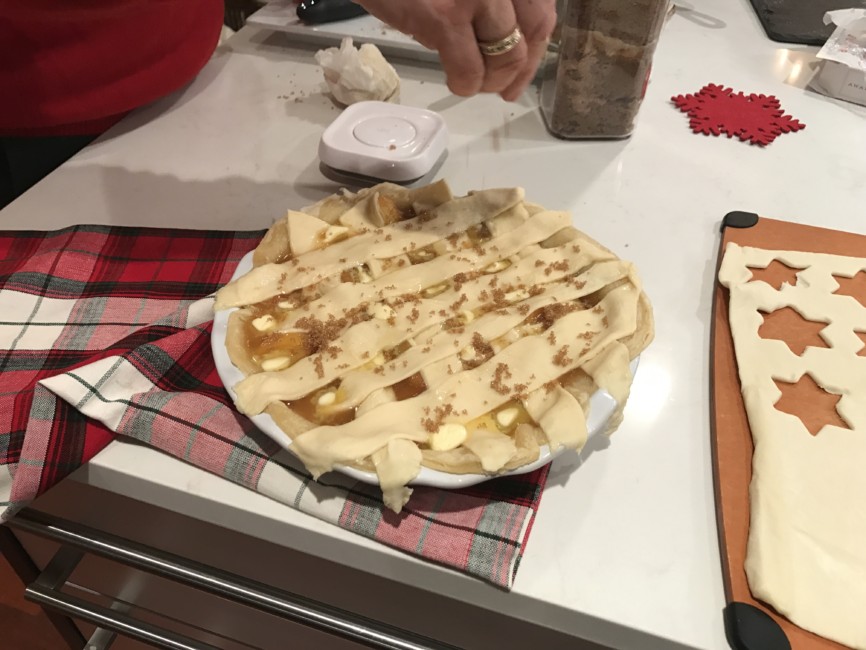 Bake in oven until crust is golden bubbling brown.  20-30 minutes.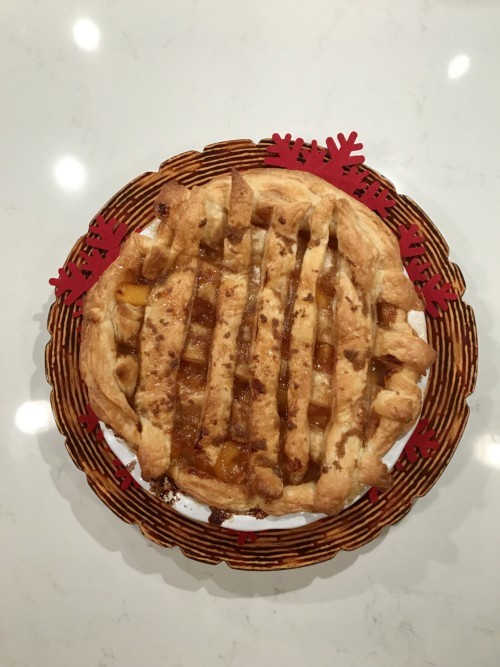 (Jackie's Tip ?:I think Dickey could care less whether you let the pie cool.  Eat it piping hot out the oven and allow the peach juices to drip everywhere or cool the pie on a baking rack for 10-15 minutes.  Baker's Choice. The test kitchen had no patience for cooling so we ate it with one spoon directly out the pan.  It was perfect!  I am quite sure Daisy is smiling down on little Dickey.  She is so very proud of his accomplishments, including the fact that he makes one hell of a peach pie!)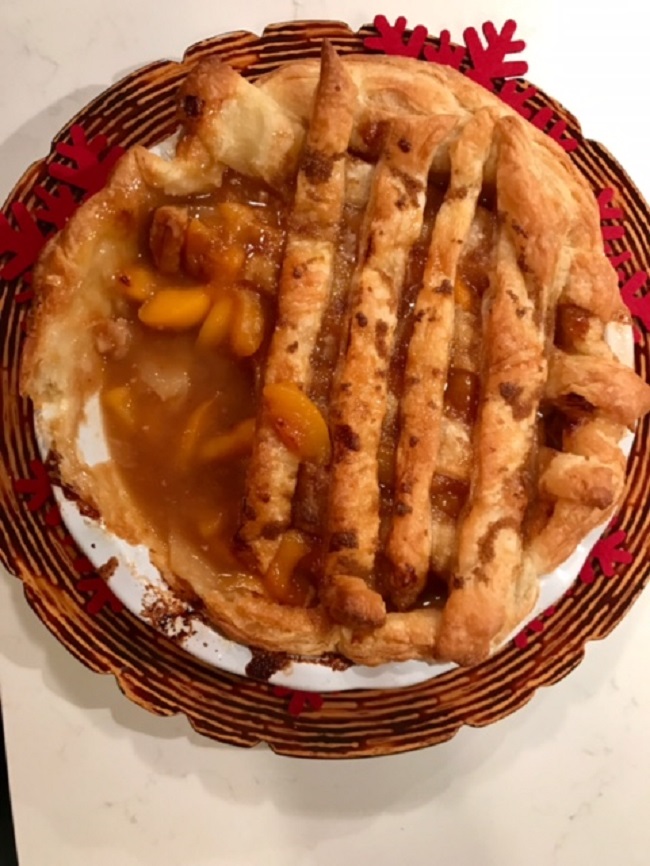 Thank you for stopping by Jackie Unfiltered, happy baking and remember, the most important ingredient in this recipe is a pick-up truck of L.O.V.E.
Warmly,
Jackie & Dickey