Tender roasted spaghetti squash feels like comfort food when paired with Italian staples of lemon, garlic and red pepper.  While your tastebuds will think they are rolling around in carb laden heaven, your waistline will know better.  As #Hubbs said, this is nothing more than a flavor trick using healthy ingredients and pantry staples that most kitchens have just laying around.  Garlic and red-pepper provide a robust and slightly spicy flavor while the lemon and parsley add a fresh sweet zing.  I call this perfect marriage of tart & savory a #PartyInYourMouth.  In all honestly, even dirty cardboard would taste good with this sauce.  What?  It would!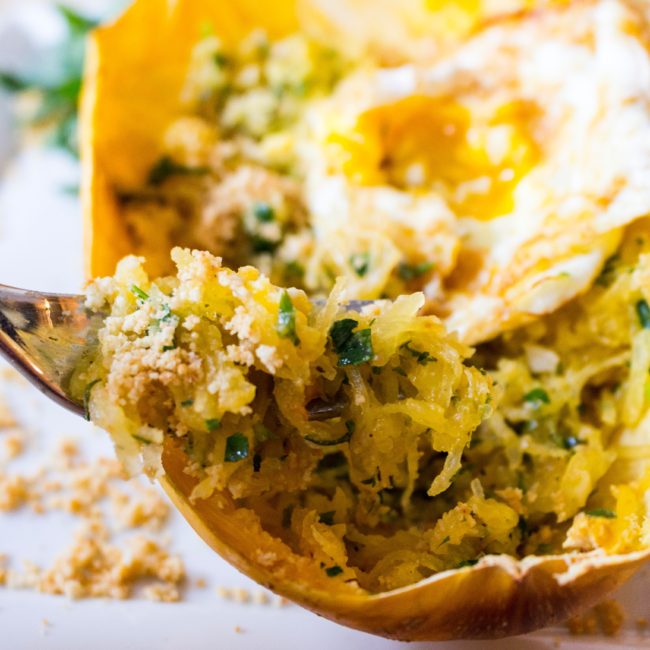 For protein, I added a fried egg over the top and swirled the spaghetti squash in the runny yolk.  If fried eggs aren't your jam, you can swap it for tofu, chicken, lentils or even shrimp.  This recipe is totally adaptable to your family and lifestyle.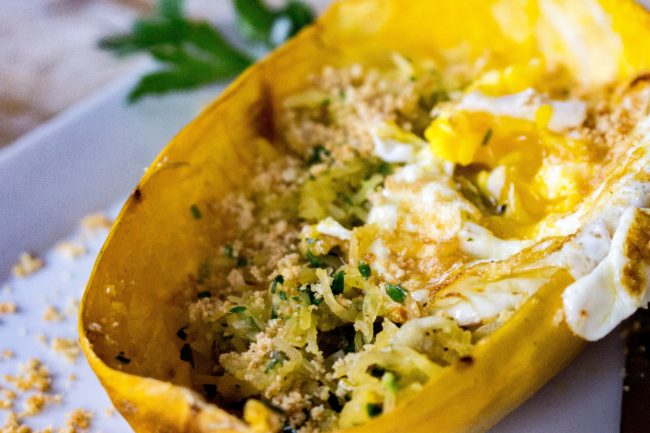 However, I personally think the best part of this "easy as heck" recipe is that you can throw this delicious and tasty sauce together in less than 10 minutes.  Who doesn't have a lemon, piece of garlic and red-pepper just sitting around your kitchen?  Basically, you have zero excuse not to make this tonight or later this week!
Jackie's Tip ?:  No time to make Spaghetti Squash, swap out any other vegetable such as brocolli, cauliflower, carrots or even kale!  If you are feeling extra frisky, this sauce also works really well with traditional pasta such as Brown Rice Angel Hair or Whole Wheat Fettuccini.  You will not find white flour pasta in my pantry EVER.  We get enough of those starches at restaurants.  When cooking at home, always use whole grains.  This is one one of my tricks for maintaining my weight and healthy lifestyle.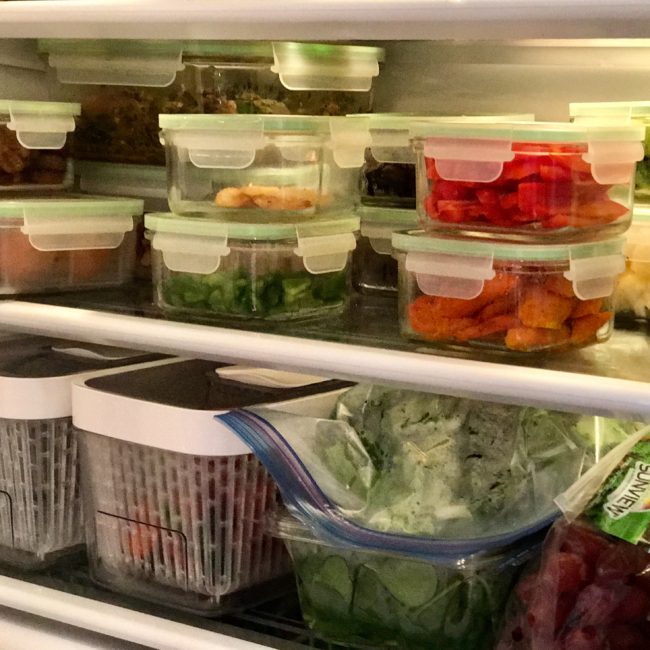 You can find my recipe for Easy Roasted Spaghetti Squash HERE.  Roasted Spaghetti Squash does take about 30 – 40 minutes to prepare but all the work happens in the oven so use that time to prep your Olive Oil, Lemon & Garlic Sauce, plan some cute outfits for the week or meal prep dishes like whisking together a big jar of my Famous Red-Wine Shallot Mustard Vinaigrette!  This dish pairs wonderfully with a big green salad.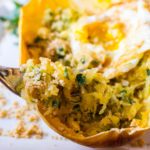 Italian Roasted Spaghetti Squash tossed in Olive Oil, Lemon, Garlic & Red Pepper Flakes
The healthy and easy recipe transports you to your favorite little off-the-beaten-path Italian restaurant. Olive oil, lemon and garlic create a flavor party that will have you licking every saucy drop from your plate (please don't do this when company is around)! If you are not in the mood for Spaghetti Squash, feel free to swap it our for brocolli, carrots, cauliflower or any other vegetable/whole grain that suits your fancy. The sauce is so good that cardboard will do.
Ingredients
1

Roasted Spaghetti Squash

Prepared as directed in Roasted Spaghetti Squash Recipe

1/4

Tsp

Coconut Oil

1

Tbsp

Almond Flour or Almond Meal

2

Tbsp

Extra Virgin Olive Oil

3

Garlic Cloves

Smashed & Minced

1/4

Tsp

Red Pepper Flakes

1

Lemon

1/4

Cup

Fresh Parsley

Chopped

Sea Salt & Freshly Cracked Black Pepper
Instructions
This receipe may seem hard but it's the easiest dish you will ever make and the one that will impress your entire family. I promise you! This is more about technique than anything. Just follow the instructions below and you will be fine!

Heat a skillet/saute pan over medium-high heat for a few minutes. Melt coconut oil and add almond flour, a pinch of salt and a couple turns of freshly cracked pepper. Stirring often, saute until toasty brown and fragrant. This will happen fast (about 2 mins) so watch closely as this can burn easily. If you screw up then throw everything out and try again. No big deal. Once toasted, set aside and save for garnishing the dish at the end.

Wipe out the pan and heat the Olive Oil over low heat. Add garlic, red pepper flakes, a couple pinches of sea salt and freshly cracked black pepper. Saute, stirring constantly, until the garlic is fragrant (about 30 secs - 1 minute). Do not allow the garlic to brown.

Add the flesh of one Roasted Spaghetti Squash to the pan and, using tongs, turn in the olive oil/garlic sauce until the squash is heated completely through. Season again with a couple pinches of sea salt and freshly cracked black pepper. Using a micrograter, zest the lemon directly over the spaghetti squash (this is important because you want the flavorful oils from the lemon in the pan...trust me!) Slice the lemon in half and squeeze the juice of both lemon halves into the pan. Using tongs again, gently turn the squash with the lemon juice and zest.

Turn the heat to medium high, bring the pan to a boil and let the sauce reduce by a 1/4 while you constantly turn the spaghetti squash using tongs.

Once the sauce is reduced slightly, remove the pan from the heat and fold in the fresh parsley. Always gently use tongs when handling the spaghetti squash as a fork pierces out the flavor and will turn the squash into mush.

Divide the squash mixture into two bowls (extra points if you use the roasted squash skin as a bowl) and garnish with the toasted almond flour. Top with protein such as a fried egg, chicken, tofu or seafood. Enjoy!
As always, thank you for stopping by Jackie Unfiltered.  We hope you are having a fabulously glamorous and healthy holiday season!
xoxo,
Jackie