Let me introduce you to my green vanilla milkshake smoothie recipe!!!  I have prepared myself for you not to believe that this green-frothy-glass-of-total-goodness tastes just like those high fat and calorie laden drinks served up at your favorite dinner, fast food joint or ice-cream parlor.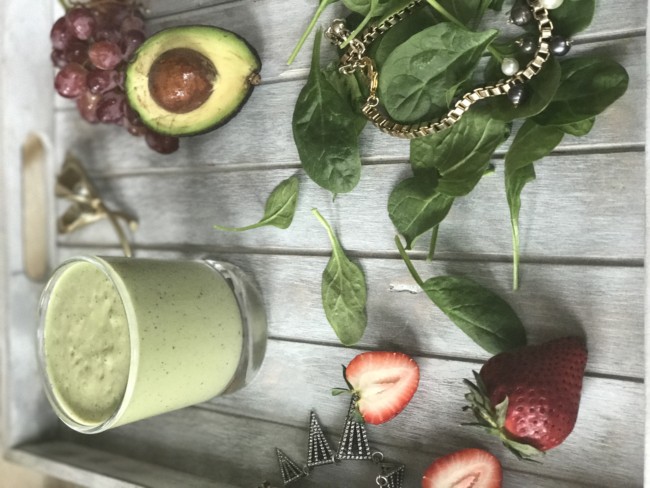 For details on the fab jewels above, see our Spring Fashion Post.
I am overly ready for the naysayers and haters to refer me to their physician to get my head checked.  In fact, you're belly laughing right now saying to yourself, "Okay Jackie, I was with you on the smoothie bowl, willing to try banana split overnight oats and was somewhat okay with the green monster smoothie recipe, but no way am I believing this glass of liquified avocado and spinach tastes like a vanilla milkshake."  Hmmm…I just love the sweet reward of saying, "I told you so."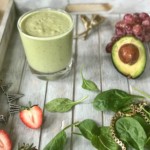 Avocado Strawberry Vanilla Milkshake Smoothie Recipe
The sweetness of strawberries and grapes marry perfectly with the heartiness of spinach and the creaminess of avocado. The touch of pure vanilla extract will have your mouth believing that you are enjoying a vanilla milkshake. How-so-eva, your favorite jeans, crop top, bikini and power suit will still fit just right tomorrow cause this ain't nothing but a low calorie, high nutrient and anti-oxidant smoothie. Enjoy!
Ingredients
1

Cup

Almond Milk

Unsweetened

1

Cup

Greek Yoghurt

Whole Fat

1/2

Avocado

1

Cup

Spinach

1

Cup

Grapes

1/2

Cup

Strawberries

1

Tsp

Pure Vanilla Extract

Pinch of Sea Salt

1

Cup

Ice
Instructions
Place ingredients listed in Vitamix or other high-powered blender. If using a Vitamix, choose the 'Frozen Desserts' setting. For a thinner consistency, add water and for more froth, add ice. Enjoy!
As always, thank you for shopping by Jackie Unfiltered.  No need to tell me I was right about the vanilla milkshake part.  We both know the truth.  Wishing you a "health-full" day!
Xoxo,
Jackie