I don't know if it's my Chicago roots or not, but my love of chicken wings runs deep.  I like them prepared in a variety of ways but I especially love wings cooked in the slow cooker (a.k.a. The Crockpot).  With only a few ingredients and a couple hours, this Caribean inspired recipe creates healthy chicken wing magic.  Juicy morsels of tender meat that just falls off the bone and melts in your mouth.  Not greasy.  No unnecessary fat.  No store bought sauces filled with extra sugar or preservatives.  Just plain goodness.  That is my type of #HealthyLiving.  The best part of this recipe is that it takes less than 15 minutes to get everything into the slow cooker. You can see me throw it all together in this Facebook Live video.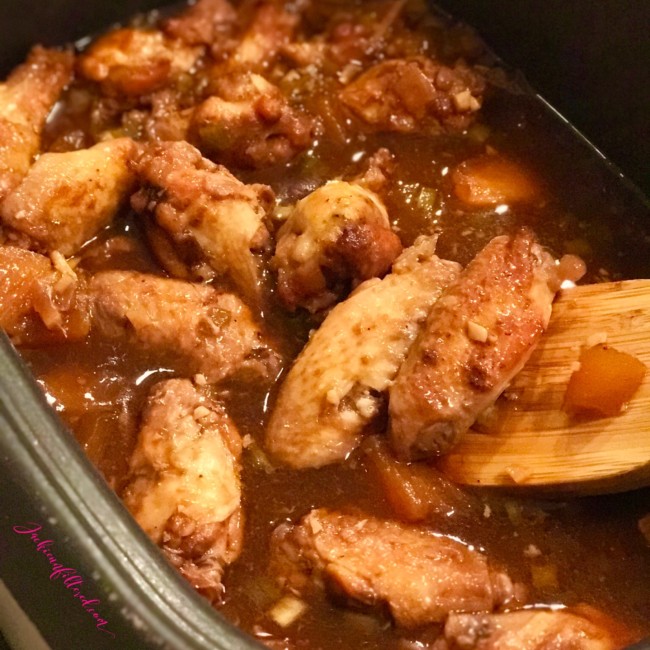 In this recipe, I marry my love of "the wing" with my love of everything Caribean: salty air, beautiful beaches, rich history and culture and generous people who appreciate family, friendships and a good meal.  Some of my favorite people in this world hark from the Caribean islands!  Remember my beloved make-up artist Keke?  Yep, Jamaican.  And then there is Tempo Networks, founded by good friend Frederick Morton who was raised on a hilltop in the quaint island of Nevis.  For a number of years, I acted as Tempo's outside General Counsel where I had the pleasure of working with good people across the Caribean.  Gosh, that seems like many moons ago.
[Click the following link to get details about my favorite slow cooker:  Cuisinart 3-In-1 Cook Central 6-Quart Multi-Cooker: Slow Cooker, Brown/Saute, Steamer
I love the larger size of this slow cooker as it can fit a whole chicken. The Brown/Saute function is particularly handy because you can brown your meats directly in the cooker which makes for less clean-up and faster meals! I call that a Win-Win.]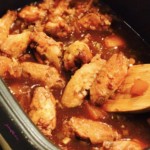 Healthy Slow Cooker Caribean Sweet & Spicy Garlicky Ginger Chicken Wings
In this Caribean inspired recipe, the flavors of maple, soy, pineapple, ginger, garlic and spice marry with the rich flavor of slowly cooked chicken, producing wings that fall of the bone with flavor. Let me warn you right now, your family and friends will eat these until they are gone, so go ahead and double or even triple the recipe. It only takes about 15 minutes to get everything in the pot. The smell is heavenly. Turn on your favorite dance hall music and have a party while you wait to chow down.
Total Time
4
hours
15
minutes
Ingredients
1 1/4

Lbs

Chicken Wings

1

Tsp

Garlic Powder

1

Tsp

Onion Powder

2

Tsp

Olive Oil

1/4

Cup

White White

1/2

Cup

Grade B Maple Syrup

Organic

1/2

Cup

Soy Sauce

Organic Low Sodium

1-4

Tbsp

Sriracha or your favorite hot sauce

I used 2 tablespoons of sriracha and it was on the edge of being too spicy so use less or more depending your family's flavor profile

1/2

Cup

Water

2

Tbsp

Diced Ginger Root

Fresh, Peeled

2

Clove

Garlic

Minced

1

Bunch

Green Onion, white parts sliced

Reserve the green tops to garnish the final dish

1 1/2

Cups

Frozen pineapple and mango

Sea Salt & Freshly Ground Pepper
Instructions
Chicken
If you have a slowcooker with a Brown/Saute feature then preheat your cooker to 400 (if your cooker does not have this function, brown the chicken on the stove using a heavy pan on medium heat and then transfer the brown chicken and its juices to a slow cooker). Heat 2 tsp olive oil in cooker. Toss in chicken and season with salt, pepper, garlic powder and onion powder. Turn every 5 minutes to brown chicken on all sides. Once chicken has browned, deglaze the pan with white wine, scraping up all the juicy bits of flavor from the bottom of the pan.
Sauce
While the chicken browns, whisk together maple syrup, soy sauce, sriracha or hot sauce of your choice, water, ginger, garlic and onion.

Pour the sauce over the chicken and stir to combine. Add frozen pineapple and mango. Cover cooker and cook for either 4 hours on High or 7 hours on Low. (No matter how good it smells in your kitchen, do not lift that lid and let the steam escape. Absolutely not! Be patient and wait for this magic goodness.).
Final Preperation
Once chicken has fully cooked, either turn your slow cooker back to the Brown/Saute setting or carefully transfer the chicken and all the juices to a Dutch Oven or Stock pot on the stove. Bring the pot to a boil and cook until the liquid has reduced by half and thickened slightly. Turn chicken periodically to keep anything from sticking to the bottom of the pan.

Serve over brown rice or just stand in the kitchen and eat directly from the pan like we do! ? Enjoy.
As always, thank you for stopping by Jackie Unfiltered.  I love cooking, sharing and living #OutLoud with you!
xoxo,
Jackie