You will have to convince your taste buds that this jar of overnight oats packed with chopped apples, cinnamon, nutmeg and walnuts is not a big ol slice of apple pie a la mode!  The best part is that you get all this goodness without ever having to turn on your stove or microwave.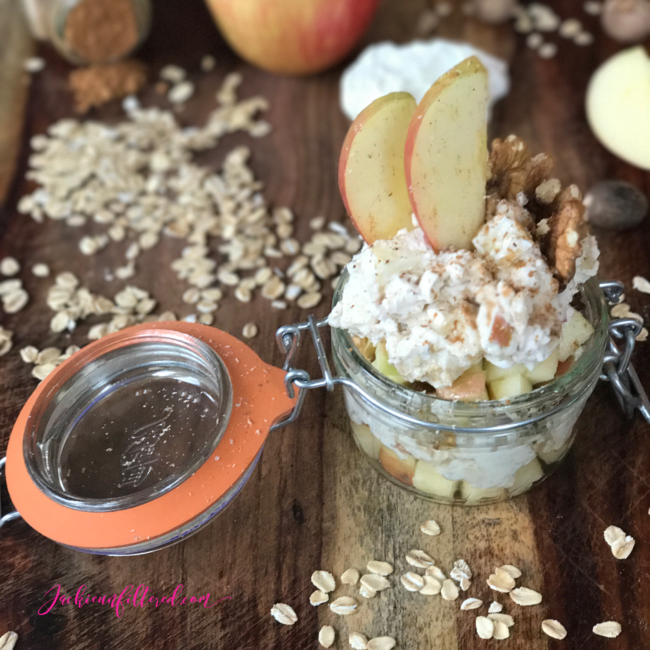 "Overnight oats" is a online phenomenon where old fashioned oats are mixed with either liquid or yoghurt, sit in the fridge overnight and then are enjoyed the next morning as a creamy, dense porridge with the toppings of your choice.   This recipe makes breakfast, pre-workout and post-workout meals super easy as you can prepare the oats in a portable container the night before and grab it from the fridge as you walk out the door.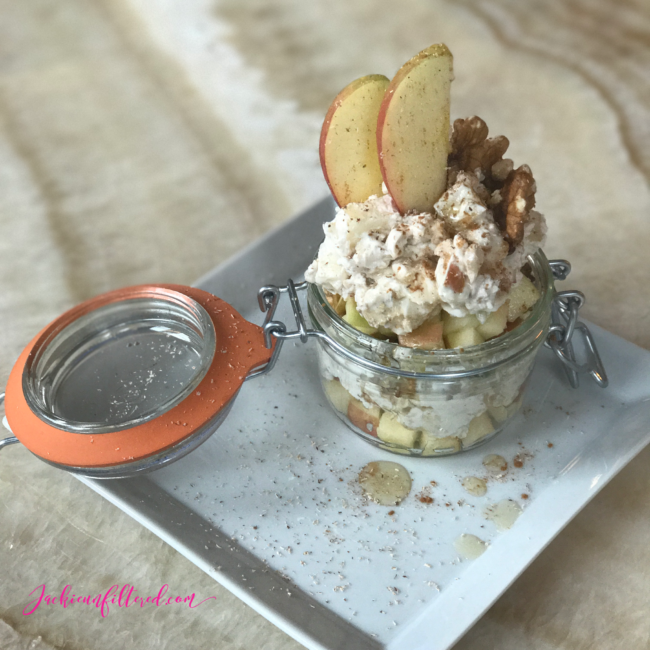 Jackie's Tip ?: For a little impressive brunch entertaining, you can layer the overnight oats in a pretty jar or French terrine like the one above and below, alternating your toppings of raw nuts, chopped apple and creamy oats.  Finish each jar with dashes of cinnamon and nutmeg and drizzles of maple syrup.  Watch the eyes of your guests as they goo goo and gah gah over your presentation of this simple and delicious dish!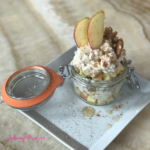 Apple Pie Overnight Oats in a Jar Recipe
The night before, mix old-fashioned oats with Greek Yoghurt, chopped apples, cinnamon, nutmeg and maple syrup and wake up to a creamy bowl of fiber rich goodness that your taste buds will mistake for a slice of apple pie a la mode!
Ingredients
1/4

Cup

Old Fashioned Oats

1/2

Cup

Greek Yoghurt

Whole Fat

1/2

Honeycrisp Apple

Diced

1/4

Tsp

Cinnamon

1/2

Tsp

Pure Vanilla Extract

1/8

Tsp

Nutmeg

1/2

Tsp

Grade B Maple Syrup

Pinch of Sea Salt
Instructions
The Night Before
Combine oats, yoghurt, chopped apple, cinnamon, vanilla extract, nutmeg, maple syrup and pinch of sea salt in a sealable container and place in the refrigerator overnight.
The Morning You Eat
Before enjoying, top overnight oats with 1/2 chopped apple, raw walnuts, dashes of cinnamon and nutmeg and a drizzle of maple syrup.
As always, thank you for stopping by Jackie Unfiltered.  We wish you many days of healthy eating and good living!
xoxo,
Jackie