All of you know I love a good group fitness workout.  However, my busy travel and work schedule can keep me from getting in a sweat sesh at one of my favorite studios.  But no worries!  After taking over 1200 fitness class since January 2008, I know my way around a gym, a tiny hotel workout room or even my living room floor.  This "Anywhere" Leg Workout is one of my favorite ways to raise my heart rate, tone my legs and work up a sweat when I am tight for time or on the road.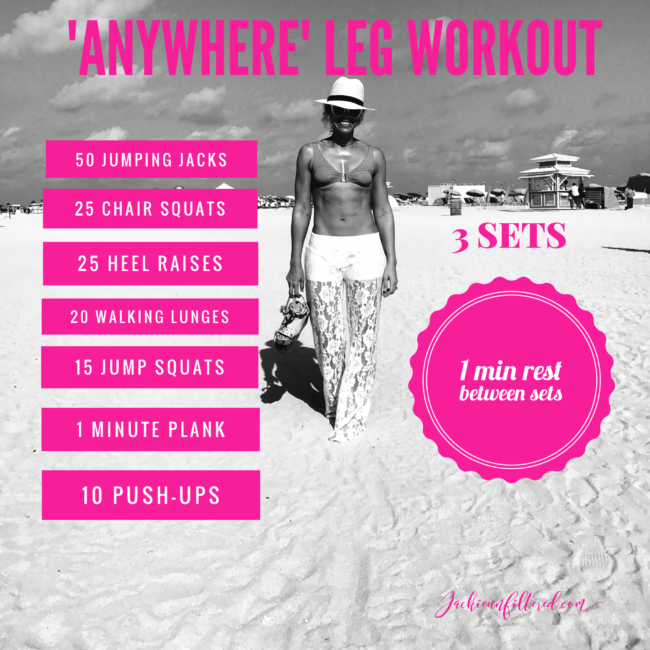 My "Anywhere" Leg Workout is an interval training workout with 3 sets.  Complete each excercise listed on the left as 1 set.  Rest for 1 minutes between each set.  Start your timer on your mobile device to make sure you don't rest too long.  The goal is to keep your heart rate elevated.  As you complete each excercise, tighten and support your core throughout each movement, keep your shoulders relaxed and don't forget to breathe as this sends oxygen to your muscles.    Also, make sure you hydrate before, during and after this workout.
I always end this type of workout with steady cardio.  I define "steady cardio" as having an increased heart rate, definitely breaking a sweat, feeling slightly out of breath but able to still hold a conversation.  Just ask my friends and family who I call all the time when I am on the elliptical machine.
***Medical Disclaimer***
Always consult a physician before beginning any excercise program.  This general general information is not intended to diagnose any medical condition or to replace your healthcare professional.  Consult with your healthycare professional to design an appropriate excercise program.  If you experience any pain or difficulty with these excercises, stop immediately and consult your healthcare provider.  
As always, thank you for stopping by Jackie Unfiltered.  We hope your week is filled with health and wealth!  Let's get after it.
xoxo,
Jackie