Friday night's dinner is my savory Chicken Kale & Spinach Lentil Stew cooked in the Instant Pot (the "IP").  #Hubbs says it's a winner winner chicken dinner. It's chock full of veggies, leafy greens, intense flavor & lean protein. It's a super easy soup to make particularly if you use the IP, an electric mult-cooker (click HERE to learn more about the IP).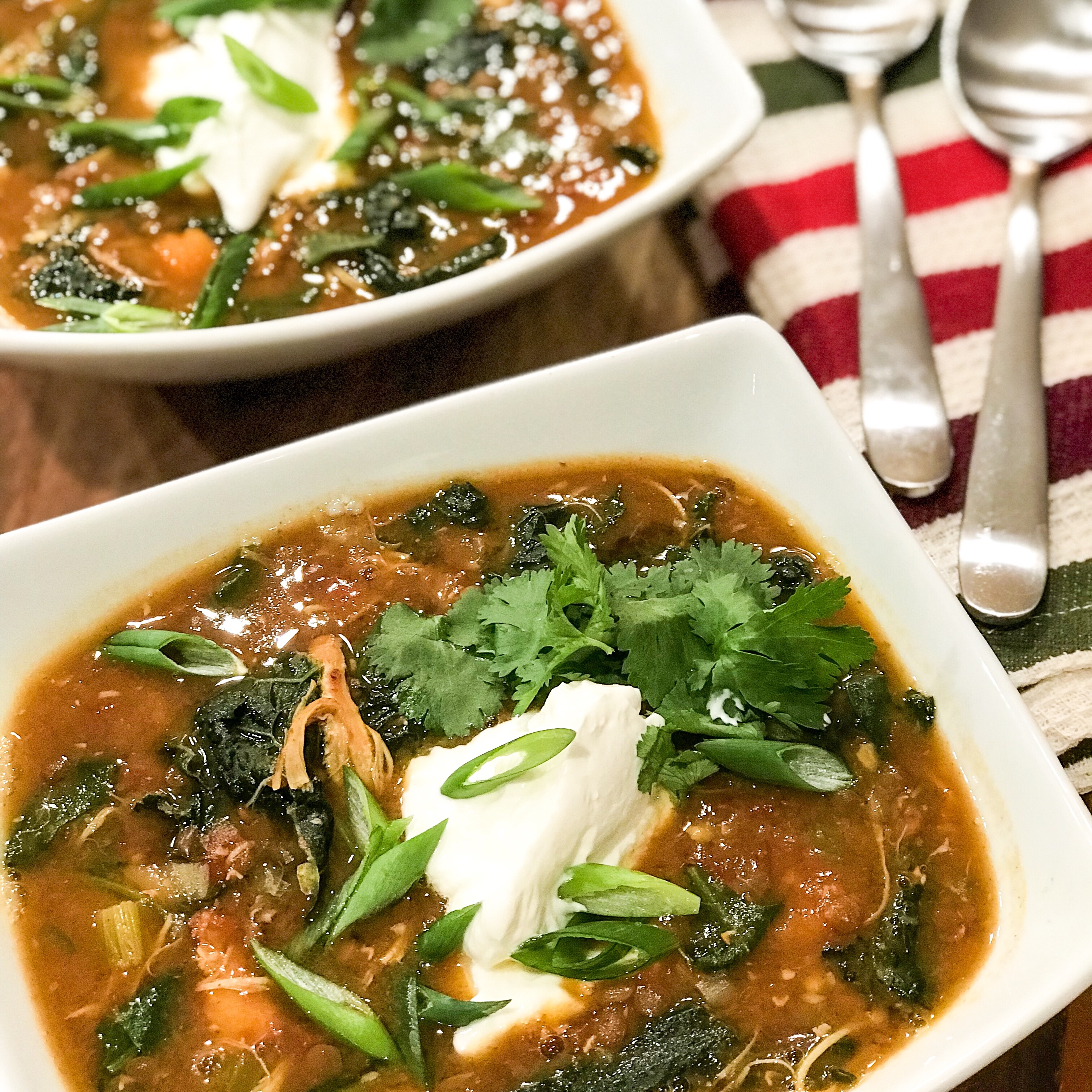 Before you crucify me, this may seem like a lot of ingredients but everything below are spices you have in your pantry and ordinary refrigerator staples. Basically, what you actually see here is just some fancy looking chicken, veggies and spices thrown together. No big deal!
INGREDIENTS
? For the Soup…
1 tbsp Coconut Oil
1 lb skinless Chicken Thighs
1 chopped onion
2 chopped celery stalks
3 chopped carrots
5 chopped garlic cloves
1 jalapeño (deseeded & diced)
1 tsp kosher salt
1 tsp cumin
1 tsp oregano
1 tsp onion powder
1 tsp garlic powder
1 tsp turmeric
1 tsp paprika
1 brunch parsley
7 cups water
1 tsp Better than Bouillon Chicken Base or a bouillon cube
1 cup dried lentils (rinsed & sorted)
1 14 oz can diced tomatoes
2 bay leaves
? Leafy Greens to add in JUST BEFORE serving soup!
2 bunches Chopped Kale (I prefer Lucinato)
1 5 oz container pre-washed spinach
? To Garnish:
Greek Yoghurt, Sliced Green Onions, Cilantro
Directions:
1. Turn the IP to Sauté and heat 1 tbsp coconut oil. Season chicken with salt, pepper & paprika. Brown on one side (6-7 Mins), flip and brown other side. Remove chicken from the pot and set aside.
2. Without using additional oil to the IP, add onions, carrots and celery to the pot seasoning with salt & pepper. Sauté the "trinity" until they begin to sweat and soften using a spatula to scrape any chicken bits from the bottom of the pan (#Flavor). About 5 Mins. Press cancel to turn off the IP.
3. Add garlic, jalapeño and spices. Sauté for 1 min turning constantly to prevent burning.
4. Add remaining ingredients (chicken, tomatoes, lentils, parsley, water, bouillon, bay leaves) to the pot stirring gently to combine. Set Instant Pot to Soup function for 30 Mins with a natural pressure release.
[Go about your business. Work out. Play with the kids. Call your man, the kids, your parents. Watch Netflix. Whatever. The work is done]
5. Once the Instant Pot has done its job and beeped, press cancel & remove lid. If it's been awhile and you got seriously "busy" meaning the soup is no longer hot, turn the IP to saute. Once simmering, gently fold in Kale for 2 Mins. Turn off machine and fold in spinach. Season to taste with salt and pepper (you should not actually need any additional seasonings, particularly salt, so be careful here).
? To serve:
6. Ladle soup into wide bowls, top with a couple tablespoons Greek yoghurt, sliced green onions and cilantro leaves.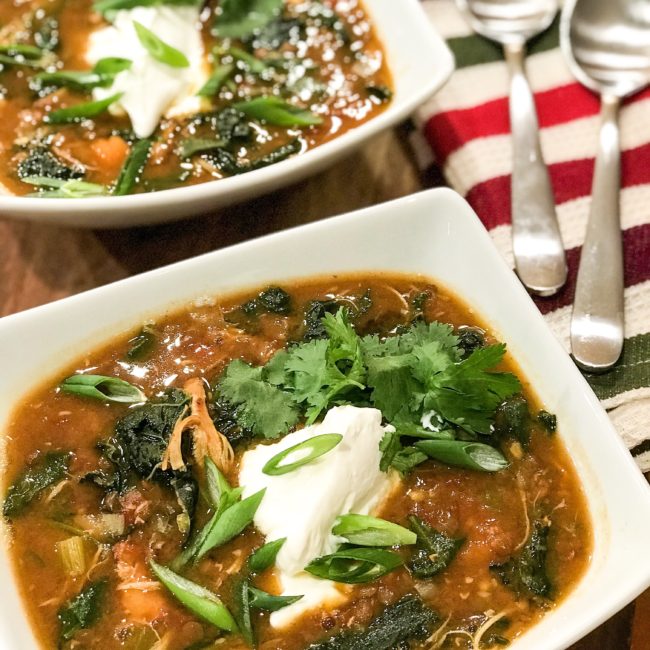 As always, thank you for stopping by Jackie Unfiltered. #Hubbs says this is one of the best bowl of soups he has ever eaten.  Not bad for 30 minutes work standing in the kitchen!  We hope you enjoy as much as we did.
xoxo,
Jackie