I love December in New York City.  In addition to the hope, excitement and joy in the air, there are endless parties and chances to get dressed up.  I must admit that I enjoy wearing the sparkle and shine as much as the tartan and buffalo plaid!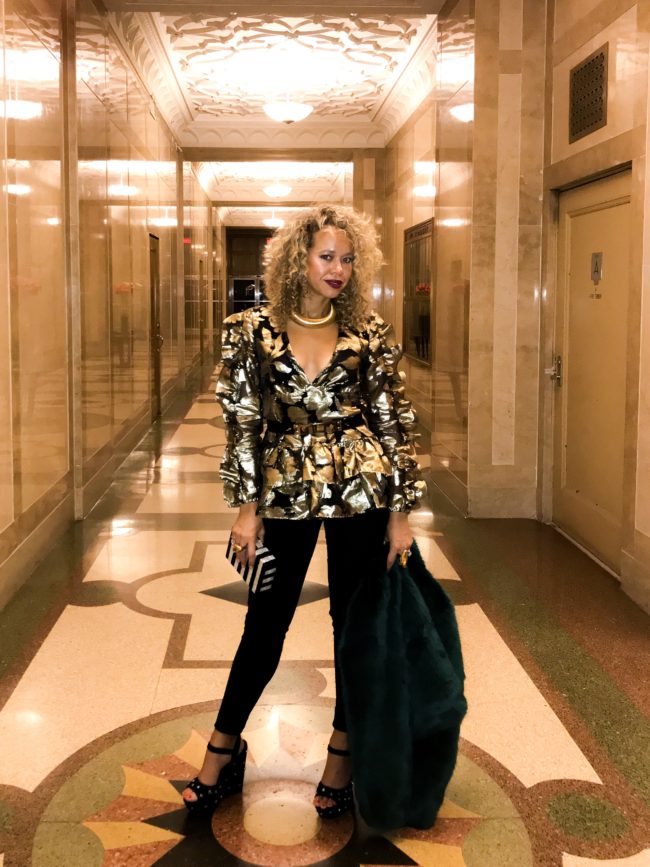 Last night was our first Holiday event: a private birthday dinner for one of #Hubbs best friends at a delicious little Tapas restaurant in the East Village of NYC.  Afterwards, a few of us headed downtown to the infamous Soho Grand lounge for cocktails and a little catch up.  The night was small and intimate but I still wanted to be festive as you never know where a NYC evening will take you.  #stayreadysoyoudonthavetogetready
I choose to wear this black and gold top created by a local black designer paired with skinny black suede pants and sparkly but comfy wedges (both by Alice & Olivia).  This old studded belt from ASOS cinched the waist and added a little big of edge.  I bought this thick gold collar from Intermix in August and it is one of my most worn pieces of jewelry.  I adore the chunky link detail.  As for the other accessories, a black & white graphic piano box clutch from Anthropology adds a cool contrast to this warm look.  I also stacked my fingers with a variety of rings to add interest (I do need a manicure though).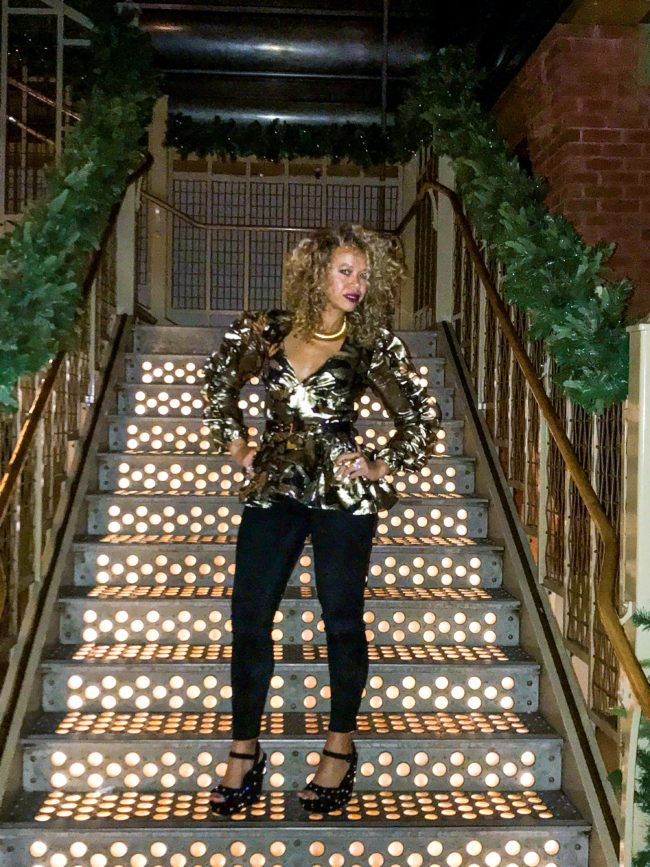 It wasn't super cold last night so this little faux fur jacket was a perfect punch of color draped over my shoulders.  I bought it on sale at Bloomingdales back in October when temps dipped lower than expected one week.  Plus, we were just jumping in and out Uber cars anyway so warmth was not really on my mind.  
ALTERNATIVE DRESSED DOWN LOOK:  To dress this look down or wear for daytime even, swap the suede pants for relaxed denim.  Layer this gold shirt over a white button down and throw on a leather jacket.  As for footwear, relax the outfit further with loafers, mules or on trend athletic shoes.  Instead of a clutch, throw on a cross-body bag to keep your hands free.
As always, thank you for stopping by Jackie Unfiltered.  Happy Holidays everyone.  I can't wait to see your holiday looks!
Xoxo,
Jackie
#JackiesStyleFile