As our bodies begin to thaw from Winter and prepare for the longer days ahead, this mix of strawberries, blueberries and almonds is a yummy way to replace a meal, have before or after a good workout or anytime you crave something sweet.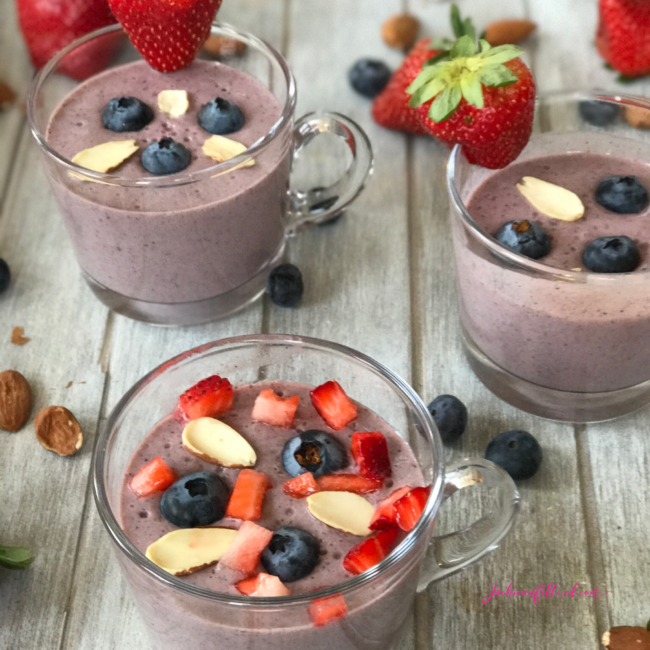 Everyone always asks me, "Hey Jackie, what type of blender do you use to make your smoothies?"  Before they finish the question, I am yelling, "A Vitamix."  This machine and I have had a love affair for almost 10 years.  It blends up the silkiest smoothies breaking down even the toughest of food such as raw beets, celery and nuts.  I also use the Vitamix for pureeing vegetable soups , making large quanties of salad dressing or even creating chunky sauces like homemade tomato sauce.  Buying a vitamix is one of the best kitchen investments I have ever made.  I have talked every one of my friends into purchasing one.  Each one falls in love the same.  After a few days, you wonder how you ever lived without this magic machine.  Check it out!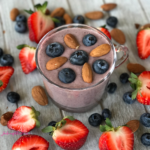 Blueberry Strawberry Almond Smoothie Recipe
Sweet strawberries and blueberries marry with almond and Vanilla creating a filling treat that is sweet on the lips and easy on the hips. We call this a Win-Win.
Ingredients
1

Cup

Almond Milk

Unsweetened

1

Cup

Greek Yoghurt

Full Fat

1

Cup

Strawberries

1/4

Cup

Blueberries

1

Frozen Banana

1

Tbsp

Raw Almonds

1

Tsp

Pure Vanilla Extract

Pinch of Sea Salt

1

Cup

Ice
Instructions
Place ingredients listed in Vitamix or other high-powered blender. If using a Vitamix, choose the 'Frozen Desserts' setting. For a thinner consistency, add water and for more froth, add ice. Enjoy!
As always, thank you for stopping by Jackie Unfiltered.  Happy Spring and have an awesome week.
Xoxo,