Since I live in New York where winter will literally never end this year, I made the beautiful roasted vegetable soup tonight.  The snow is falling, its freezing outside but toasty in my kitchen as I roast up cauliflower, chick peas, apples and garlic with turmeric, cumin and paprika.  The house smells like the deep South just met up in the Souk, an outdoor market in the Middle East.  (I went Facebook Live when cooking this recipe so you can check out a few of my cooking secrets and technique by clicking here.)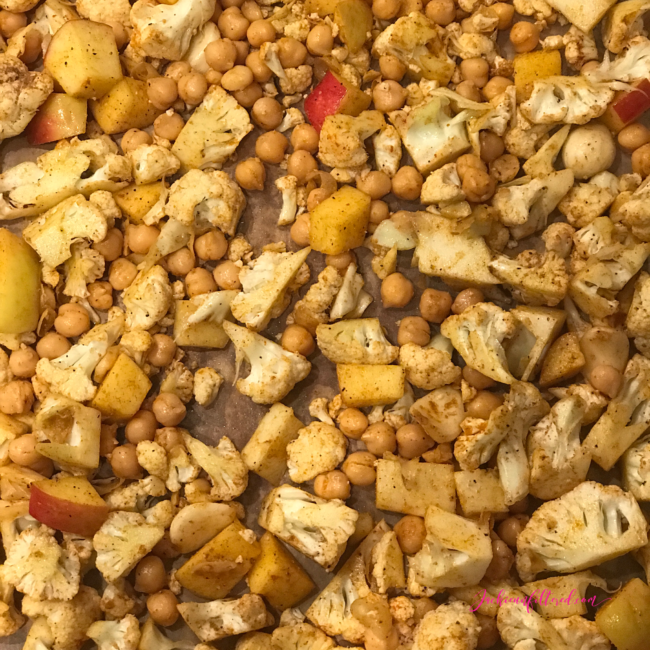 While everything roasts, I throw together a quick soup base with potato, onions, celery and my cooking secret weapon, Organic Better Than Bouillon Chicken Base.   When I don't have fresh chicken stock on hand, I use this organic liquid base to flavor my soups and stews.  Trust me on this.  You will never use bouillon again after you try this product (you might stop making chicken stock after trying this product #truth).  The soup base then simmers for 20 – 25 minutes.  We throw in a bunch of kale, the roasted veggies and then purée everything in the Vitamix, high-powered blender or using an immersion mixer.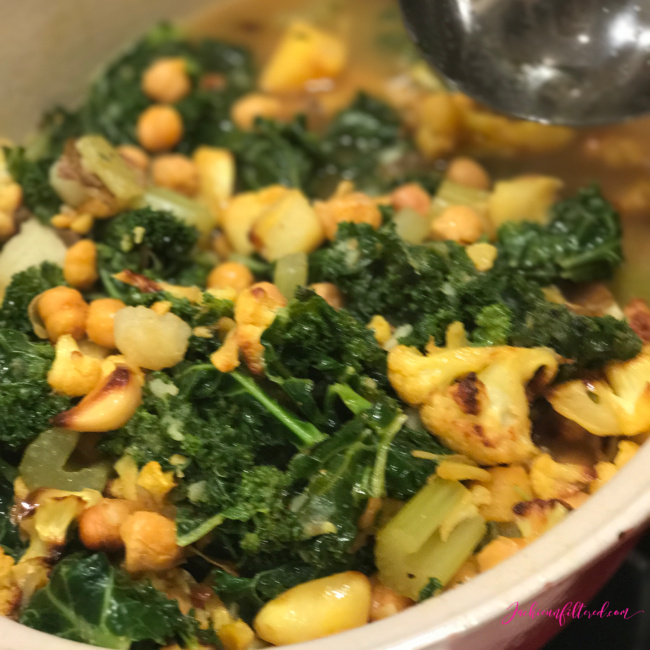 Viola (45 minutes after you started), you now have a delicious and healthy soup that you can eat all week.  Well, you will have leftovers unless you live in our house where I literally had to hide a bowl to make sure I would have enough left to take proper blog pictures tomorrow morning.  Geez!  Should have a made a double-batch.  Enjoy my friends!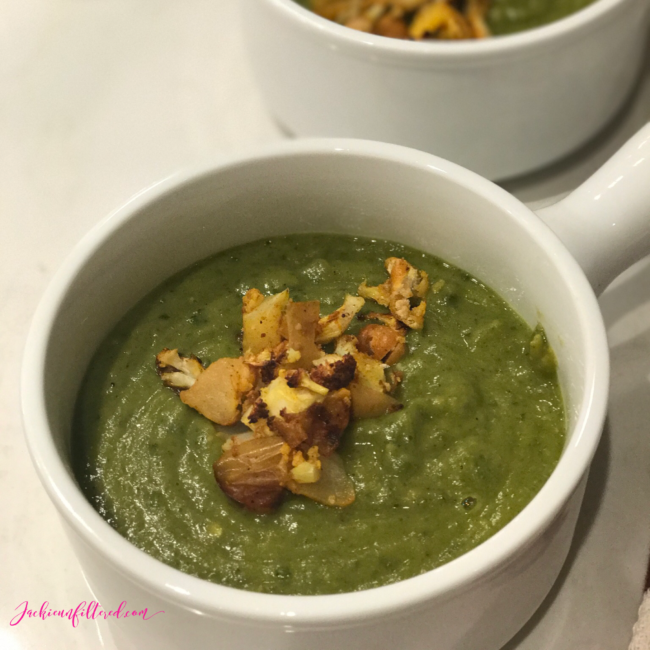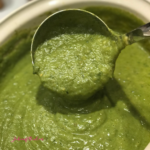 Roasted Cauliflower, Chickpea & Kale Soup Recipe
The pungent and exotic flavors of turmeric and cumin marry with carmelized, roasted vegetables, a flavor-rich base and wilted kale to create a hearty stew that is chocked full of fiber, antioxidants and vitamins. More importantly, its yummy in the tummy cause that's the way I like it.
Total Time
1
hour
5
minutes
Ingredients
1

Cauliflower

leaves, chose florets and stem

1

15 oz can

Chick Peas

Rinsed well

1

Apple

Chopped

6

Garlic Cloves

Peeled and left whole

3

Tbsp

Canola Oil

1

Tsp

Turmeric

1/2

Tsp

Paprika

1

Tsp

Cumin

1

Tsp

Kosher Salt

1

Tsp

Freshly Ground Pepper

Tbsp

Olive Oil

1

Russet Idaho Potato

chopped

1/2

Yellow Onion

Chopped

2

Celery Stalks

Chopped

6

Cups

Water

1

Boullion Cube or 1 tsp Better Than Bouillon Chicken Base

3

Stems

Fresh Thyme

2

Bay Leaves

1

Large Bunch

Kale

Stems removes. Leave coarsely Chopped

Sea Salt & Freshly Ground Pepper
Instructions
Pre-heat oven to 400 Degrees

In a large bowl, gently mix together cauliflower, chick peas, apple, garlic, canola oil, turmeric, paprika, cumin, kosher salt and black pepper. Spread evenly on a wax paper lined baking sheet. Bake in pre-heated oven for 30 minutes, turning every 10 minutes. Watch closely as you want the vegetable to brown and carmelize but you don't want them to burn.

While the vegetables roast, heat olive oil on medium heat in a heavy duty pot like a Dutch oven or stock pot. Add potato, season with sea salt and pepper and turn frequently for 5 minutes until slightly softened and browned. Add onion, celery, pinch of sea salt and pepper. Cook for a couple minutes stirring frequently. Deglaze pan with 6 cups of water. Stir in boullion or paste until dissolved. Throw in fresh thyme and bay leaves. Raise heat to high and bring to a boil. Once boiling, reduce heat to a simmer. Simmer, uncovered for 20 minutes or until potatoes are fork tender.

Once potatoes are tender, remove and discard bay leaves and thyme. Add chopped kale to the pot, gently stir, cover with a lid and allow kale to wilt for 5 minutes.

Reserve 1 cup of roasted vegetables for soup topping. Add remaining roasted vegetables to the soup base. Let simmer, uncovered for 5 minutes to allow the flavors to come together. Remove pan from heat.

Puree the soup using an immersion blender or in batches using a Vitamix or other high-powered blender. The soup should be smooth but don't worry yourself if you have a few coarse chunks. Be very careful pureeing because scalding hot soup will splatter easily and burn you badly! Once you get everything nice and smooth, taste the soup and adjust the seasoning by adding salt and pepper.

To serve, ladle the soup into bowls and top with a tablespoon of the reserved roasted vegetables. Enjoy!
Recipe Notes
You can easily make this soup vegan by substituting vegetable bouillon or vegetable stock.  
As always, thank you for stopping by Jackie Unfiltered.  We love to hear your feedback so leave a comment below or on Facebook.  Happy cooking and cheers to seeing some Spring weather in NYC this week!
xoxo,
Jackie