With an unstructured day, I can sometimes feel anxious and unproductive. Once the anxiety starts, it seems almost impossible to pull myself out of the funk. The "Daily Habits" listed below are part of my plan to help break this cycle.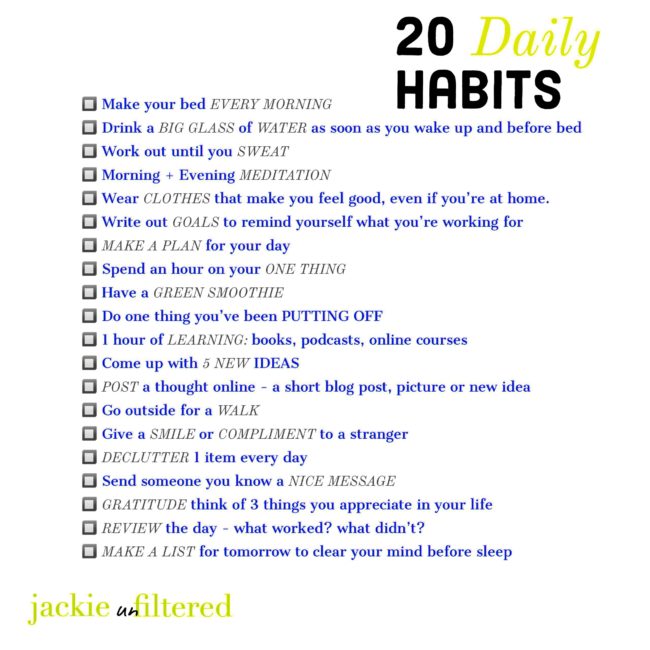 I want to spend more time learning new things everyday, impacting my personal ecosystem and actively working on being a better me. Similarly, I plan to reduce the time noodling on the internet, playing games on my Ipad or Phone and just plain wasting precious minutes.  According to time management experts and clinicians, this "Daily Habit" checklist will increase productivity and, more importantly, induce happy feelings.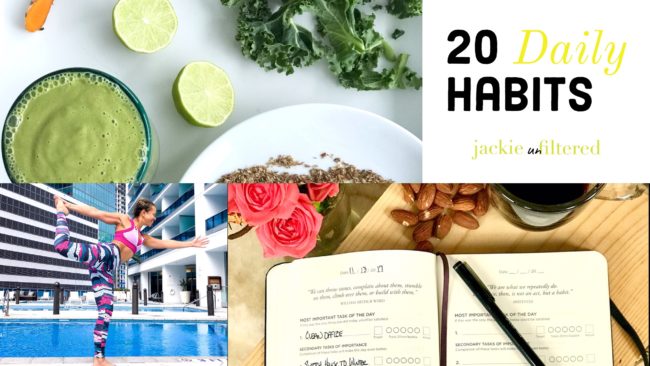 Once I dove into this whole concept of the "Daily Habits," the pieces of the puzzle began to click. After 20 years of focusing on health & wellness, I have now learned that "self-care" is really the small things we do everyday and NOT the huge overhauls of diet and exercise (no "new year, new you" mess please).  Achieving fitness and body goals are done through consistent daily rituals that reinforce plans and set up success. For example, "Jackie's Healthy Habits" that I wrote about in 2017 are based on this concept: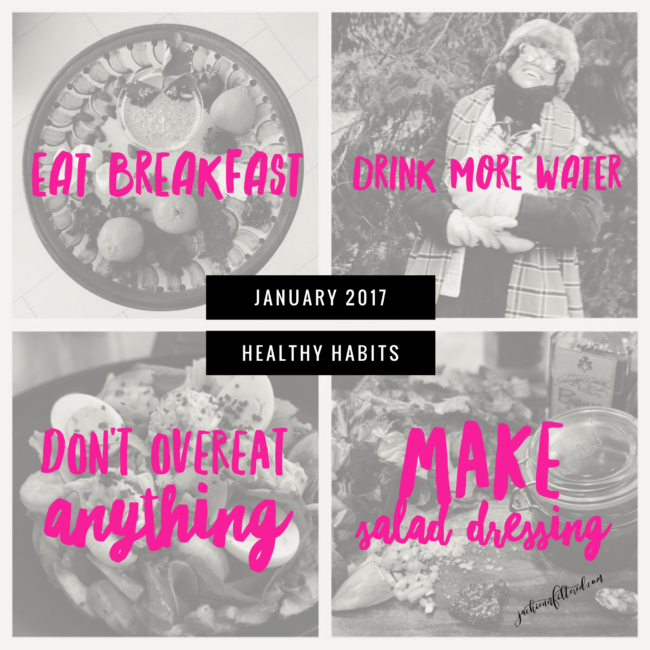 Drinking enough water everyday to avoid dehydration and overeating
Keeping a vibrant fruit bowl on the countertop to encourage healthy eating
Stocking the pantry with raw nuts vs. processed junk food, chips and sugary snacks
Click HERE to read in detail about the "Healthy Habits" that I swear by to maintain a whole foods' diet and active lifestyle.
Not a day goes by that I am not thinking about my movement and the foods I consume. I live an 80/20 lifestyle meaning I drink my green smoothies, avoid processed and high fat foods and break a sweat 80% of the time while relaxing these standards the other 20%.  I feel as if I am in the best shape of my life and hope to spread this message of self-care to the world (that's a #WrittenGoal by the way)! Even when I eat poorly, I am conscious and correct it the next day with high nutrient foods and additional exercise. Just like "Jackie's Healthy Habits" have created permanent wellness techniques, this list for daily productivity will help me achieve small wins in every aspect of my life from family to business.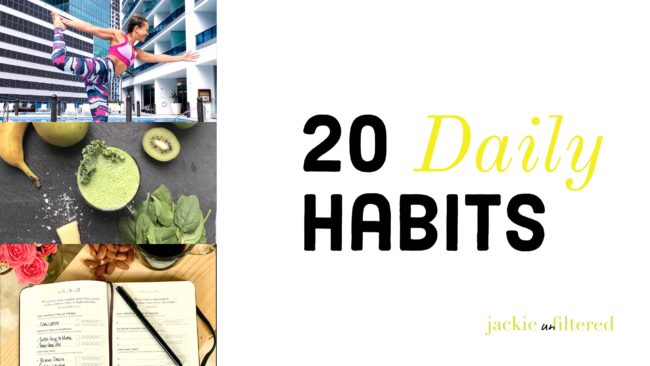 This "Daily Habits" checklist is just the next step in my intentional life. I have always sought to live a meaningful life. One that feeds my soul and those around me.  I want to use my skills, talents and passions to be of service to my community. Last year, I started using the "Productivity Journal" which I wrote about HERE. I identify and then complete the most important task of the day which helps me battle my lifelong struggle with procrastination.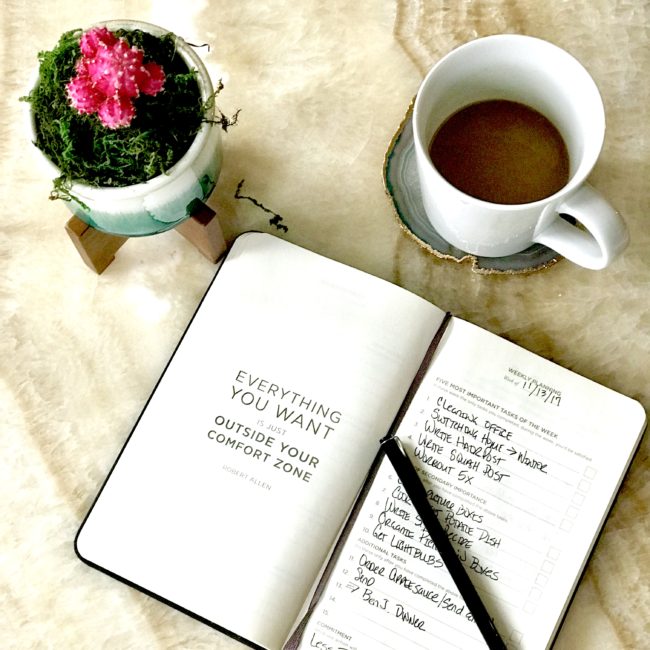 I have also tried to be more present in friends' lives meaning picking up the phone and calling or sending a simple text, "Checking on you. Are you good?" In September 2017, I began to use the word "No" as a complete sentence. My "YES" must mean something.  To do that, I can't say yes to everyone and everything.  In fact, as far back as 1997 when my mother passed away, I instinctively began to clean house of people who were negative, not kind and just no good for me. I remember it being hard back when I was 20 years old. At 40, it's so easy that I shock myself at times. If I smell one whiff of disingenuous or bad behavior, I step allll the way back! However, like saying "NO," putting those people who do not feed your soul at a distance is a muscle that must be flexed. This "Daily Habits Checklist" is just the next step in "intentional living."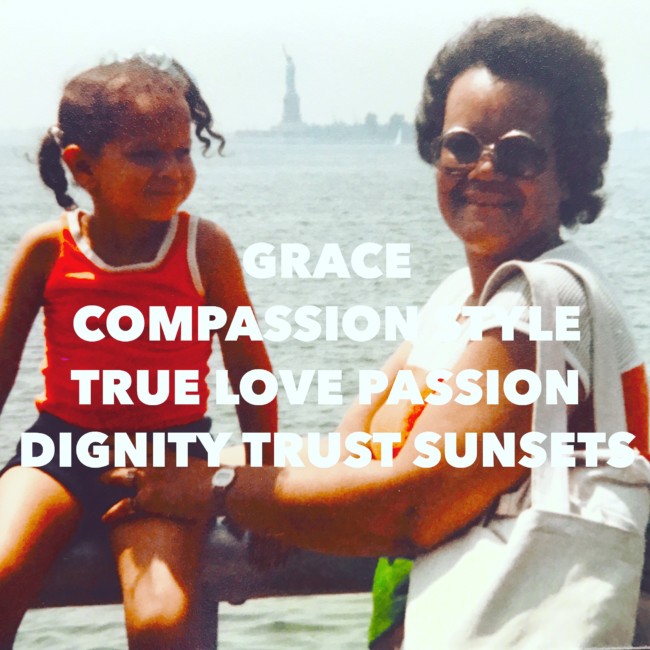 it's important to note that I don't intend for this "Daily Habits List" to act as a barometer of whether we are succeeding or "winning" in life.  For example, failure to make one's bed certainly doesn't equate to failure in life.  That's extreme!  However, studies show that making the bed is a small accomplishment that sets the tone for the remainder of the day.   I merely want us to use this list as another tool to vibrate on a higher level. It should especially serve as a guide on those days (like today for me) when we wake up feeling blah and anxious. It is not meant to grade how much effort we put into living, it is a daily list to help center and focus our thoughts, energy and time.
As always, thank you for stopping by Jackie Unfiltered. Cheers to personal growth and ALWAYS reaching for more!
Xoxo,
Jackie