Here's my No. 1 tip for scoring cute and flattering swimsuits that make you feel like a warrior princess. Buy them year round. Don't wait until right before a big trip or a jaunt to the beach to find a good suit. That's too late. You will get frustrated trying them on. You will then not feel good in the swimsuit because you are anxious. You will always associate swimsuit wearing with frustration and anxiety. No bueno. The purpose of this post is to help ease the swimwear angst and steer you to a few designers that may help you feel deliriously happy in a swimsuit.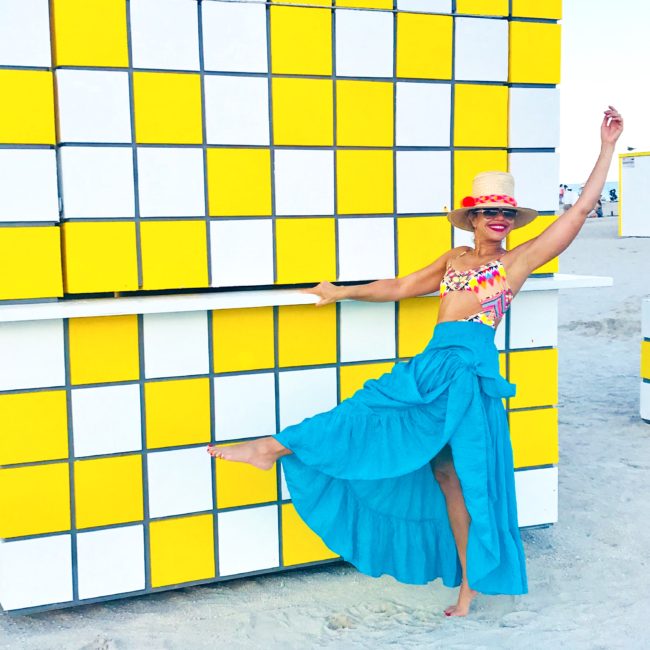 Here's the deal. Regardless of your size or shape, the whole point of putting on a swimsuit and spending the day outside in the sun with your main boo thang, girl gang or even solo is soaking up the feel good vibes. So don't go into the whole swimsuits experience feeling bad about yourself and your "sun & fun" outfit. I want you to hit the beach feeling like a badass mamma jamma.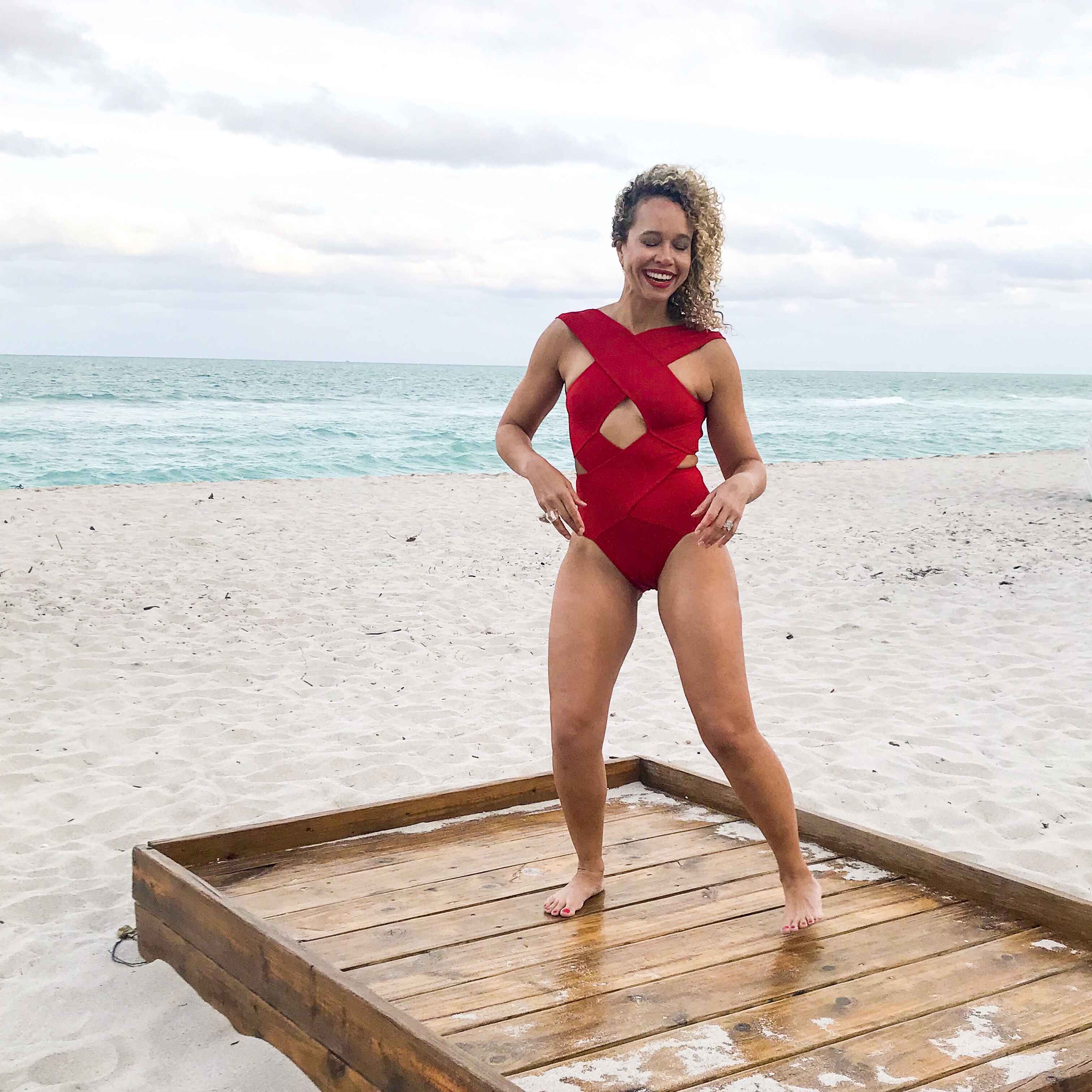 Swimsuit designers release collections year round just like everyday clothes. I personally think the swimwear available during "resort season" meaning December – February has the best designs and colors. If you are reading this while watching the snow fall then switch gears and start shopping for a new swimsuit.  Once you find the perfect 'fit, plan your next adventure. Remember what I said, "The best time to buy a swimsuit is when you don't actually need one." By the way, the same rule applies for purchasing evening wear too!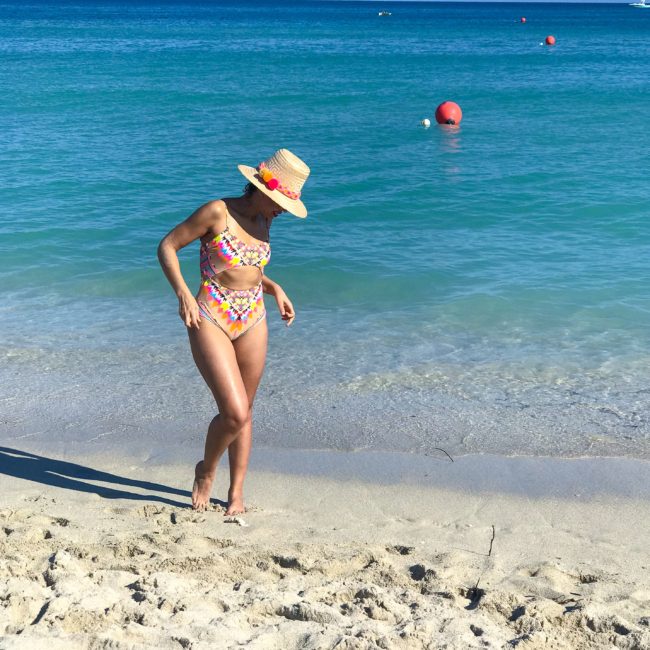 Another tip in scoring the perfect bathing suit is finding a few designers that you love and then stalking their new releases and sale racks.  If you ask my close girlfriends (and #Hubbs too), they will tell you that I love swimsuits. There is something about a day at the beach or pool with friends that fills my heart and soul. Maybe it's the vitamin D. Maybe its that feeling of time slowing down. Maybe its the golden hour sunset that I never miss. Or, to be patently honest, maybe it's the copious amount of champs and vodka consumed.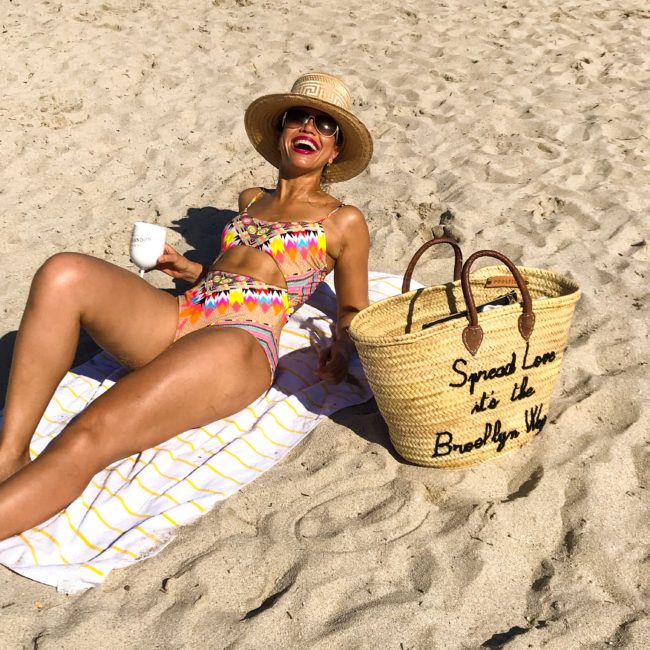 However you want to cut the mustard, I love beach days and find myself constantly on the hunt for good swimsuits to add to my collection. Yeppers, I said collection. I have swimsuits that date back 10 or 15 years. If you take care of a quality swimsuit meaning hand wash it immediately in cold water using a gentle formula and then line dry (no washing machines and harsh dryers please) then good swimwear will last you for-ev-er!!!!  Click HERE to purchase Laundress Delicate Wash which cleans and preserves delicate fabrics like swimwear (also available in travel size).
HERE ARE A FEW OF MY SIGNATURE SWIMWEAR FAVORITES.  THE LINKS ARE BELOW SO FEEL FREE TO SHOP AWAY!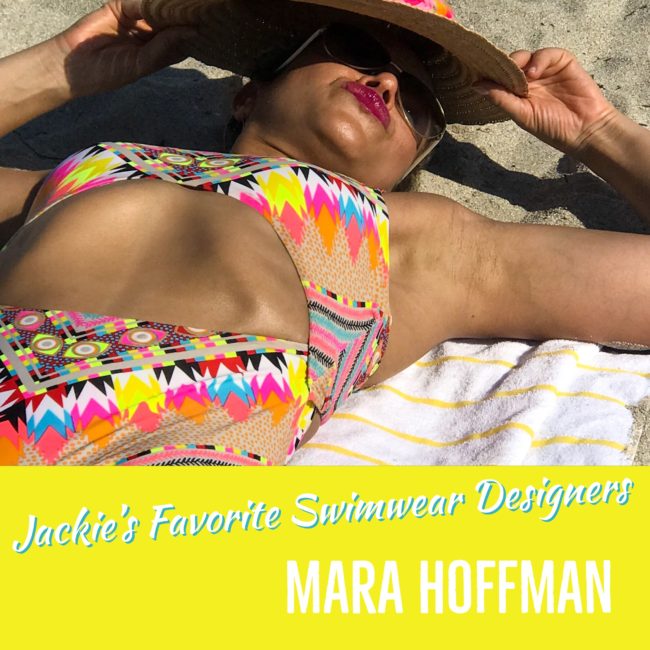 I simply adore Mara Hoffman's edgy designs and use of bold psychedelic colors. I have shapely hips and a lot of arse to cover. Mara makes a swimsuit that handles both while highlighting my best assets.  My suit is at least 5 years old but click HERE to shop a similar bathing suit.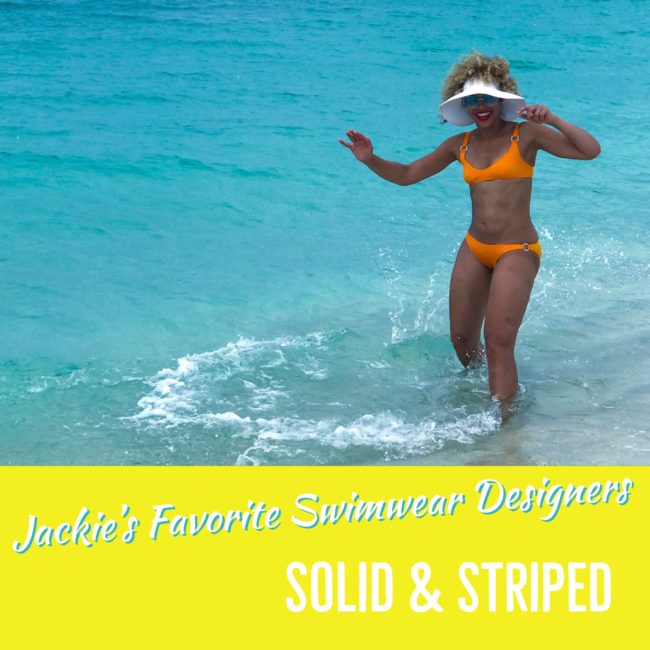 In 2017, my dearly departed "Calypso St. Barth" store introduced me to the new kids on the block swimwear designers of Solid & Striped.  I like their clean lines, rich colors and consistent cuts. Shop a similar bathing suit HERE.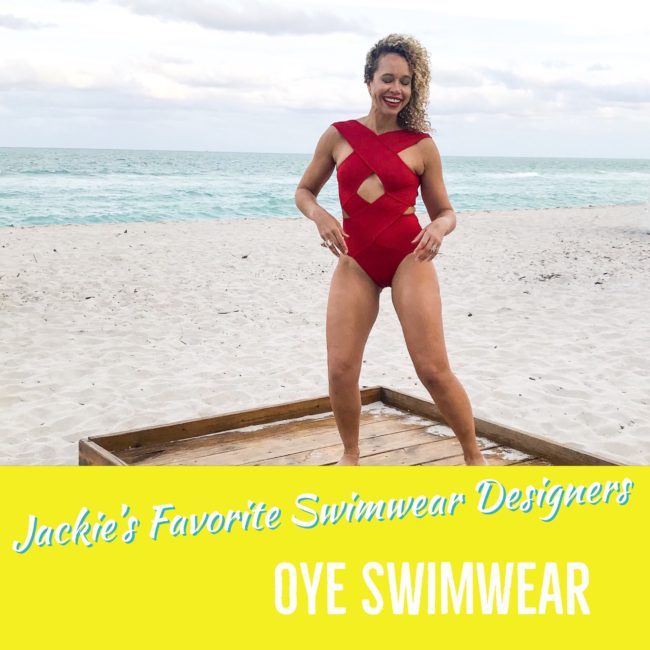 Right before my 40th blowout birthday bash in Miami last year, I found this fiery red Oye cutout maillot while meandering through Bergdorf Goodman in New York City. I already had a swimsuit selected for my birthday beach party so finding this investment suit felt like an early unexpected birthday gift. I like the heavier fabric and the strategic slits make me feel sexy, elongated and appropriate.  Again, it's enough fabric to cover my hips and arse.  Click HERE to purchase.
For similar reasons, I also treasure Eberjey's luxurious swimwear.  I have to work a little harder to find the right cut from this brand but once I do, it's always swimsuit heaven.  For example, this classic black bikini has delicate crochet (love the details) on the sides of the briefs and in the décolletage.  Although the top is a bandeau which is normally no bueno for my small "girls," the delicate neck tie lifts everything up creating a "V" which plays tricks with the eyes and elongates my shorter frame. To shop a similar Eberjey 2-piece, click HERE.
As always, thank you for stopping by Jackie Unfiltered. Happy swimwear shopping. While we're on this topic, you're probably going to need a few coverups too. Let's chat about glorious caftans next week. Surprise.  Surprise.  I collect flowy caftans as well! Please remember, whether it's the beach or the street, treat every moment in life like your personal runway because you can't buy confidence and mojo!
Xoxo,
Jackie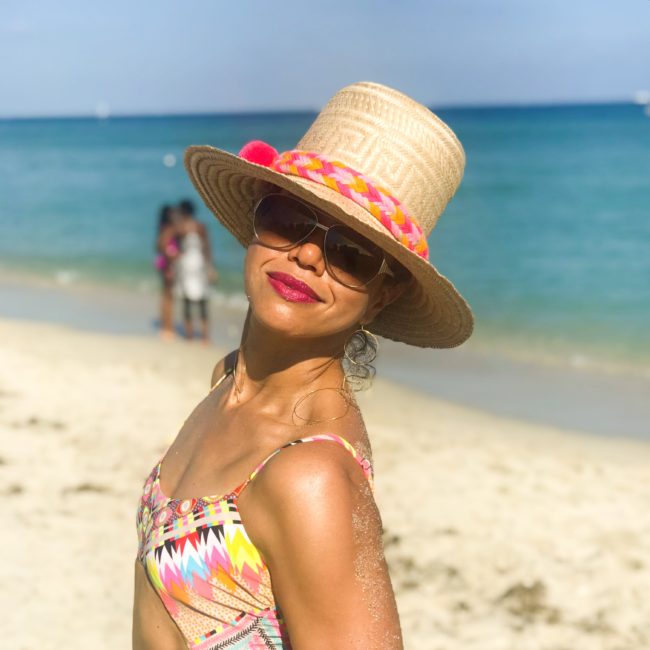 Please note that Jackie Unfiltered is paid a small percentage of sales through the links featured here.  Don't you dare be grumpy.  Even Jackie needs to make a living.