My love of the breakfast sandwich dates back to growing up in the Chicago suburbs when my father would take me to Mikkie D's for a bacon, egg & cheese biscuit before dropping me off at middle school. At 40 years old, my tastebuds have developed slightly so I lean more toward a slice of whole grain bread topped with nutrient rich avocado, hearty leafy greens like kale or spinach and protein such as fried eggs, roasted fish or even sautéed veggies like mushrooms, peppers and zucchini. The Jackie Avocado & Greens Healthy "Sammich" formula allows you to "sneak" a serving of vegetables into the meal while still serving a classic comfort food (remember that the 4×4 January 2018 Strength Training, Cardio and Veggie Eating Challenge has us eating at least 4 vegetables a day).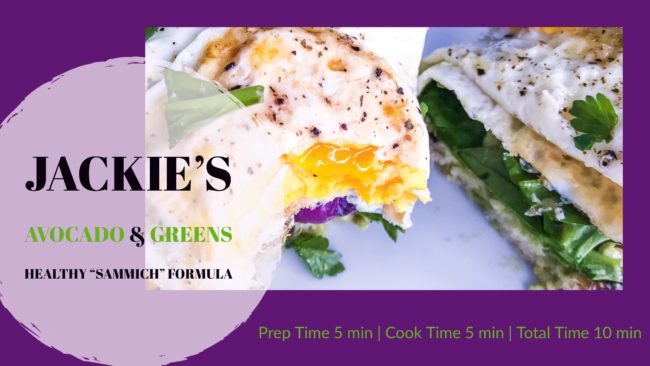 INGREDIENTS needed for a "Jackie's Open Faced Healthy Sammich"
Whole wheat bread (loaf, wrap or even a English muffin)
Avocado
Leafy Greens (spinach or kale)
"Protein" (eggs, turkey, fish or for my vegan friends, grilled tofu, roasted cauliflower or sautéed mushrooms)
Sea Salt, Pepper & Olive Oil
ASSEMBLING the "Jackie Open Faced Healthy Sammich"
Toast whatever bread you are using under the broiler or in a toaster (no oil or butter necessary)
Spread the avocado on the bread and then season with salt & pepper (the avocado acts as glue of the Sammich and replaces the need for high calorie mayonnaise)
Layer the greens on top of the avocado, drizzle with a teaspoon of olive oil and then season with salt & pepper
Top greens with the "Protein" or veggie of your choice and then season again with a little pepper or even your favorite hot sauce
Cut in half and enjoy this perfectly balanced one plate meal of whole grains, healthy fats, vegetables and protein. #OneAndDone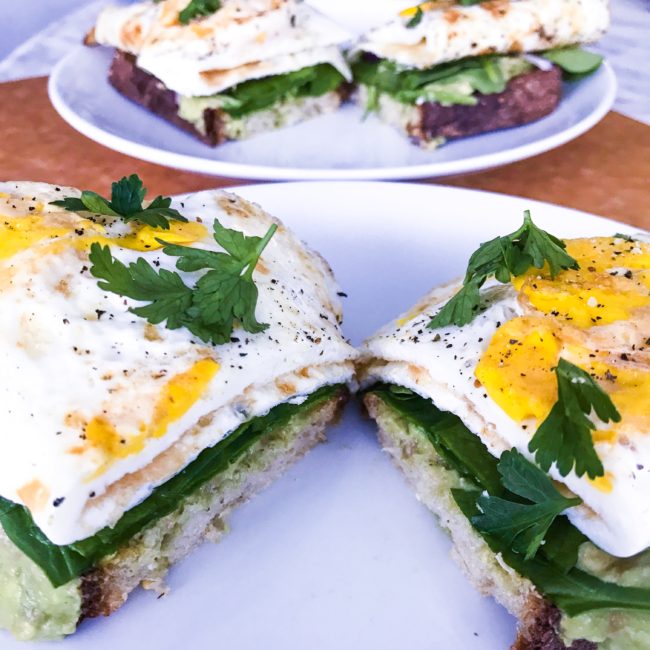 Jackie's Tip:  To achiever flavore explosion, season each layer of the sandwich with your favorite spices (salt, pepper, cumin, garlic powder, chili powder, italian seasoning, etc.)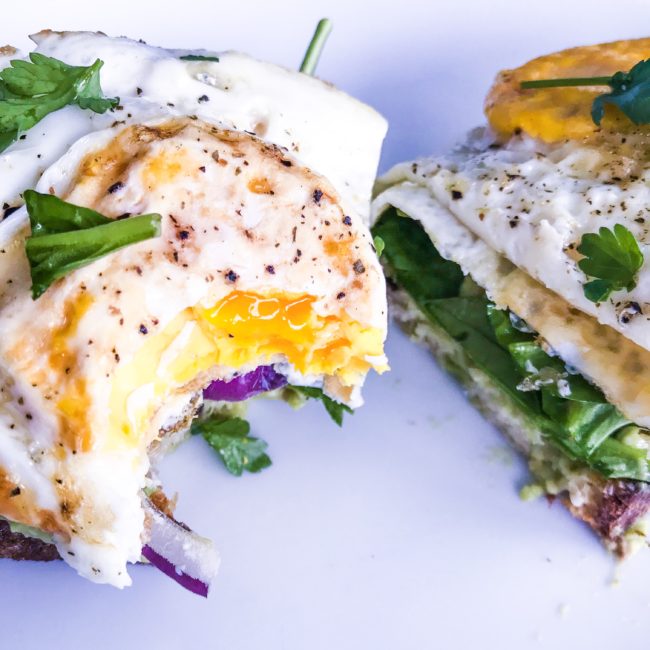 This Sammich recipe formula is customizable to your diet and tastebuds. If you like the crunch and subtle bite of red onions, throw some in between the avocado and kale.  Maybe you have a sweet tooth, pile on pomegranate seeds. Perhaps you are craving a little sodium.  I'm not mad if you top you Sammich with a slice of bacon, prosciutto or salami. If you are going Vegan in January 2018 like my Spelman College roommate Pam in Atlanta, replace the protein with a pile of vegetables like sautéed peppers, mushrooms and even beans. The possibilities are endless.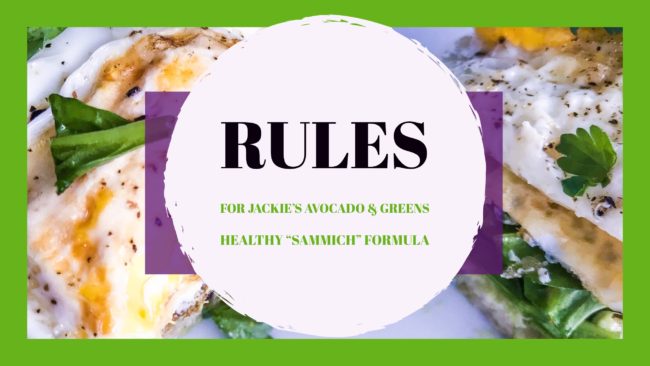 The only rules for the Jackie Avocado & Greens Sammich Formula are:
Avocado instead of high fat mayo
High fiber whole grain bread (no white stuff that's nutritionally empty)
Leafy greens (at least 1/2 cup per sammich) must be piled on
As always, thank you for stopping by Jackie Unfiltered.  Momma wasn't right about everything but she was on the money when she yelled, "Eat your vegetables."
xoxo,
Jackie