LENTIL, SAUSAGE, KALE, GARLIC STEW
I adapted this recipe from a favorite home cook, Smitten Kitchen:https://smittenkitchen.com/2013/01/lentil-soup-with-sausage-chard-and-garlic/
Servings 6| Prep Time 30 mins| Total Time 1:30
Difficulty – EASY
INGREDIENTS
2 tbsp olive oil
4 large sweet Italian turkey sausage links (casings removed) or ½ pound of fresh sausage (using a teaspoon, roll sausage into ½ balls)
1 medium yellow onion, diced
2 celery stalks, diced
2 medium carrots, sliced into half moons
4 cloves garlic, chopped
Kosher salt
Fresh ground black pepper
Crushed red pepper flakes
3 tsp fresh oregano, chopped
1 sprig fresh rosemary
¼ tsp. Ground Red Pepper Flakes
1 cup brown lentils, rinsed and sorted
2 bay leaves
1 28-ounce can of crushed tomatoes
6 cups water
6 cups kale, stems removed and chopped
[UPDATE] VEGETARIAN SUBSTITUTE:  Substitute the turkey sausage for firm tofu and 1 tbsp dried Italian seasoning.  Brown the tofu with Italian seasoning sprinkled on top in Step 1 below.
DIRECTIONS
Once the weather dips below 60 degrees, I love making a big ol' pot of hearty soup. In addition to making the house smell glorious, a pot of soup serves as a healthy lunch and/or dinner alternative. I pack my soups with tons of fresh veggies, lean proteins and complex carbohydrates. They are generally one-pot meals, meaning they stand alone and the whole meal is in one bowl (happy dance ??cause no sides are required).
This particular recipe is easy and accessible to the most novice of cooks and has minimal clean-up. The leftovers are perfect for lunch the next day. In fact, soups and stews always taste better on Day 2 once the seasonings and flavors have a chance to come together. If you have lingering leftovers or are making in advance, this recipe freezes very well so feel free to make a double batch for those busy holiday nights! In fact, this stew is perfect for a gathering in your home like book club or movie night.  To make this soup vegetarian, just remove the turkey sausage and add in a tablespoon of dried Italian Seasoning when you add your tomatoes.  If your family does not like kale, then susbsitute spinach, swiss chard or another leafy vegetable.   (Jackie's Tip?:  The smaller you cut the leafy greens, the faster they cook at the end and the less noticeable they are to picky eaters like children.  I am not beneath trickery when it comes to healthy living! ?)
With so many options, what's not to love here! Okay good looking, let's get to cooking.
Step 1: Prep all your ingredients before you begin cooking. Once you start the flame, everything moves really fast!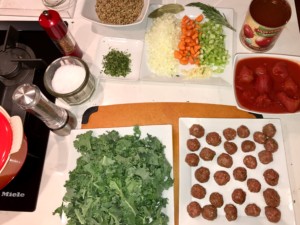 Step 2: Heat olive oil (enough to coat bottom of pan) in a large heavy pot on medium heat. I prefer to use my oval dutch oven for stews and soups. When oil is hot, add the sausage, turning occasionally with a wooden spoon until lightly brown (about 5 minutes).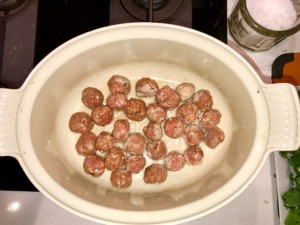 Step 3: Add the onion, celery, carrots, garlic, a couple pinches of salt and a pinch of red pepper flakes. Cook vegetables with the sausage until the they start to sweat and soften a bit (about 5 minutes).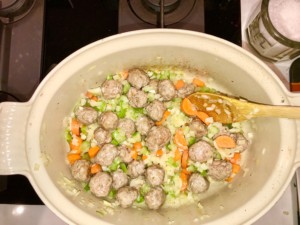 Step 4: Add the lentils, tomatoes, water (6 cups is about 2 empty 28 ounce cans which is perfect because you can get any tomato pulp you missed), bay leaves, oregano, rosemary sprig, a couple more pinches of salt and ground pepper to taste. Bring to a simmer and cook uncovered until the lentils are tender. If you are using fresh lentils, this takes about 40 minutes. If your lentils are a little older then add more cooking time. Stir using a wooden spoon every 15 minutes scraping up any bits at the bottom. (Add more water if you like a juicier stew but always adjust seasoning if adding more liquid.)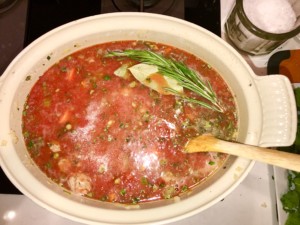 Jackie's Tip?: While the lentils cook, clean your prep dishes/utensils and tidy the kitchen. There is nothing worse than a sink/kitchen full of dirty dishes after a meal. Hate it!
Step 5: When lentils are cooked, remove and discard bay leaves and rosemary, add the kale and cook until the leaves are just tender, wilted and bright green (about 2 minutes.) Always taste and adjust the seasonings before serving.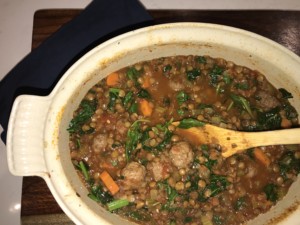 Step 6: Ladle this pot of goodness into your favorite soup bowls and get to grubbing. ?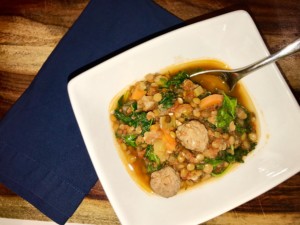 [UPDATE]  Readers have tried the recipe since the original post and sent their pictures.  It is always nice to know that the recipe works in your kitchens.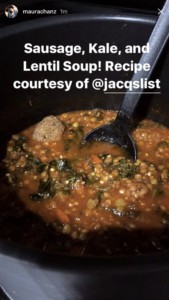 Submitted by @maurachanz on Instagram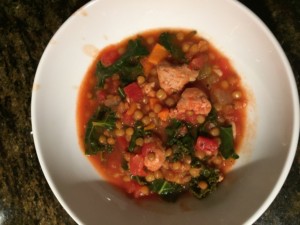 Submitted by Cass from www.ontheRoadWithCass.com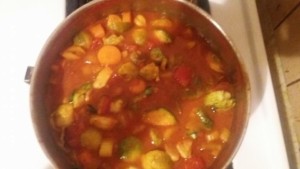 Submitted by A. Mabry on Facebook who substituted garbanzo beans, Brussels sprouts and added a heavy dose of curry powder.
Enjoy! Let me know if you have any questions and thank you for stopping by #JackieUnfiltered and cooking with me!
Xoxo,
Jackie