Using the #HolidayFitnessChallenge Calendar is EASY!!!
Are you ready to be your own fitness motivational story? Have you made the commitment to get stronger, improve health stats like blood pressure, cholesterol and resting heart rate or maybe even lose a few inches or pounds?  People start and then quickly quit fitness programs becuase they don't see fast results.   If you have committed to the #HolidayFitnessChallenge 🎄🎉🕯 and track your 20 workouts for the rest of the year, you will wake up January 1 looking back on December 2016 and feel like a #BADASS rockstar!  Results come in many forms.  In health and fitness, sometimes you win just by showing up.  Use this calendar to record how many times you showed up for YOUR health and wellness.  I promise you, there is ZERO failure here!
 2 ways to use this calendar:
1. Old Fashioned Method: Tap the calendar BELOW and SAVE to either your hard drive on your computer or images in your phone. Once saved, you can print the image/document and hand write your progress.
–OR–
2. New School Method: Tap the calendar BELOW and either screen shot or save to images to your phone or computer.  Next, open your PHOTOS icon, choose the calendar and then EDIT as you would any other photo. For example, if you completed a Cardio Workout on Day 1, choose "MARK UP" feature on the editing function and then use the TEXT feature to add 1 CARDIO like i did below on my calendar.   Always remember to press save when you are done.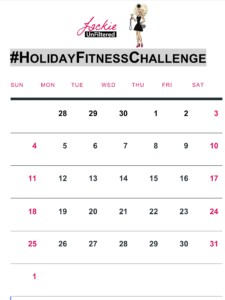 I'm psyched to see your calendars progress over the next few weeks with all the cool workouts you choose and even more excited to see what they look like on January 1!  #LetsWork
Thanks for stopping by JackieUnfiltered and have a great day!
xoxo,
Jackie