BAKED GARLIC TERIYAKI BASIL LEMON CHICKEN
Servings 5| Prep Time 15 mins| Total Time 1:15
INGREDIENTS
5 Chicken Breasts on the bone with skin
Kosher Salt
Fresh Ground Black Pepper
¼ tsp. Ground Red Pepper Flakes
4 Chopped Garlic Cloves
3 tablespoons Chiffonade Fresh Basil
2 Thinly Sliced Yellow Onions
1 Thinly Sliced Lemon (remove seeds)
5 Tablespoons Garlic Teriyaki Sauce (I like this one: http://www.schlotterbeck-foss.com/our-products/)
DIRECTIONS
Super easy recipe and makes your house smell like you are really doing something. The #Hubbs said it was one of my best chicken dishes ever. We eat a lot of chicken and he tends to speak in hyperbole but, even still, this chicken is an excellent recipe:  perfect for beginner cooks, healthy and makes great leftovers for salads or other meals.
PREHEAT OVEN TO 350
Step 1: Using tongs, put raw chicken in a heavy pan that has a lid. (Don't rinse the Chicken. Don't argue with me! Read why HERE: http://www.nhs.uk/Livewell/homehygiene/Pages/Washing-chicken-can-cause-campylobacter-food-poisoning.aspx ).
I use my 12 inch cast iron skillet because it easily goes from oven where the chicken bakes to stove where I make the pan sauce.
Season chicken on both sides with Kosher salt and freshly fround pepper. Sprinkle chop garlic and 2 tablespoons of basil all over chicken.  Pour 4 tablespoons of Garlic Teriyaki Sauce on top of seasoned chicken. Use tongs to evenly spread sauce, garlic and basil by flipping the chicken back and forth on both sides.  Place chicken skin side up. Sprinkle with red pepper flakes. Put sliced onions on top of chicken. Put lemon slices on top of onions. Cover with lid and bake in the over for 45 minutes.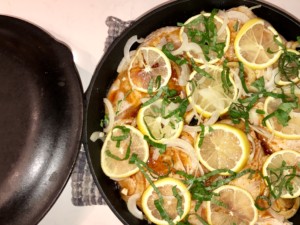 (Forget about the chicken during this time. Call a friend. Trim the tree. Light candles. Watch TV. Marvel at your skills. Prep a salad. Just don't worry about the chicken. Don't open the oven door and don't lift the lid. Let the magic happen!)
After 45 minutes, remove pan from the oven and flip chicken over so the skin is facing down. Drizzle remaining tablespoon of Garlic Teriyaki Sauce over the chicken. Place covered pan back in the oven to cook another 20 minutes.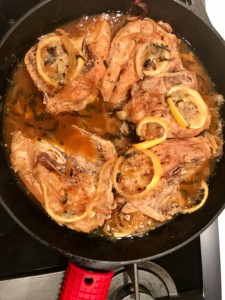 Step 2: Remove pan from the oven and carefully lift lid.  Using tongs (a fork will pierce the good juices right out the bird), remove chicken from pan to let it rest. (Super Important Step as excited chickens are dry and tasteless.)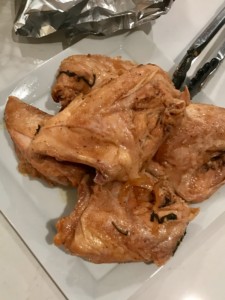 While your chicken chills out, put your pan on the stove over high heat to make a quick pan sauce. Pay close attention here or you will burn the sauce. Once the mixture comes to a boil, use a whisk to scrape up all the juicy bits that may be stuck to the bottom of the pan.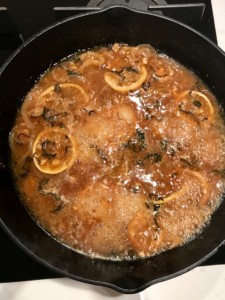 Stirring often, boil the sauce until it reduces by 2/3 and has the consistency of thick maple syrup (The real stuff and not that fake sugary substitute!). This step takes about 5 – 10 minutes.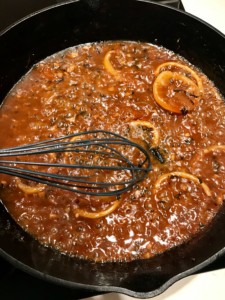 Reduce heat to low on the pan.  (You can either remove the lemon 🍋 rinds at this point or just tell everyone to avoid them when eating. I left the lemons rinds in becuase I like the way they look but #Hubbs would have preferred for me to remove them.  Cook's prerogative!). Using tongs, put the chicken back in the pan and turn to coat the chicken in the sauce.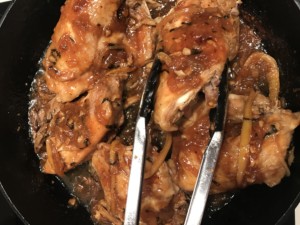 Let all the flavors come together in the pan for a couple minutes and then remove from heat. Sprinkle remaining tablespoon of basil on top. You can serve this dish directly from the pan with some extra lemon on the side.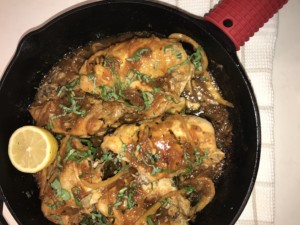 After we trimmed our tree 🎄 last night, I served this chicken with a fresh salad, 1/4 cup brown & wild rice and sautéed garlic brocolli.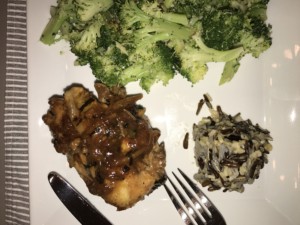 PS: As an FYI, #Hubbs made the salad (he would want you to know that!) and I whipped up some of my famous Shallot Mustard Red-Wine Vinaigrette. See recipe here: Fish, Grits, Sautéed Okra and Kale Salad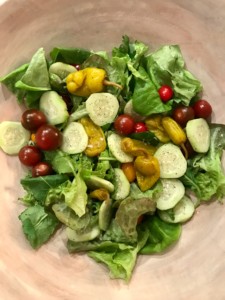 PSS: I plan to use the leftover chicken for tonight's dinner with sautéed Kale and for tomorrow's lunch as a healthy stir-fry using the leftover Brown/Wild Rice mixture and Brocolli.
Enjoy! Let me know if you have any questions and thank you for stopping by and cooking with me!
Xoxo,
Jackie