Ok, let's talk #Fashion.  I have tooled over how to approach this subject of fashion and style for quite some time. I am torn because who am I to tell you how to dress? How to present yourself to colleagues, family and the world? For me, style is so individual.
If you follow me on social media, you might wonder why discussing style is so awkward. It's clear I love everything about getting dressed: clothes, accessories, hats, sequins, bold lipsticks, deep v-necks, bold patterns, ball gown skirts, leather pants, fur, texture, cashmere.  Just to name a few. 😉  But that's just it. These are the things I love. The items that speak to me, make my heart sing and get me super excited for a night out on the town. But why should my style resonate with you as it is so specific to my likes and dislikes?
Style is not copying another individual but rather finding the color, accessories or silhouette that makes you feel comfortably fierce.  For example, my friend Yetta wears these oversized round eyeglasses that look traffic-stopping chic.  We all admire how she rocks the bold frames so effortlessly fabulous from the boardroom to the beach.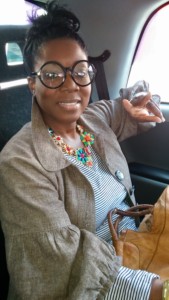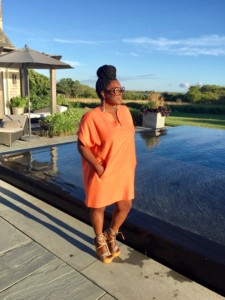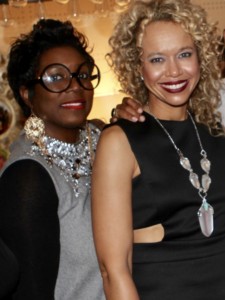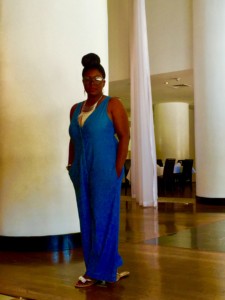 On me, these same glasses look like I'm trying to hard and just don't create the same vibe.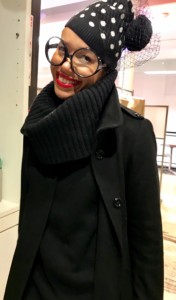 Then there is Jeanine. She can literally wear a Tar-Jay-white-wife-beater EVERYWHERE: walking in the park with leggings, to a board meeting or to a black-tie affair. No matter the situation, Jeanine bleeds effortlessly chic. I can't pull this look off for a variety of reasons; and you know what, I don't even try.   In the picture below from the recent Alvin Ailey Gala, Jeanine wears her signature white tank, fresh hair-cut and a little lip gloss while I have on enough glitter and hairspray to cover a Rose Bowl float. Both looks work because we each own the moment.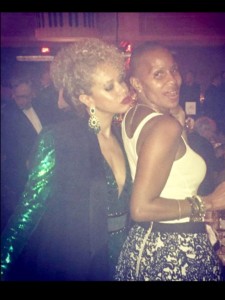 So that leads me to the question, "If style is so personal, how do I meaningfully contribute to the conversation?" Over the last 10 years, I have taught myself how to pull looks together. I put myself through self-taught "style" school. Before screen shots and Pinterest, I created look-books every season.  Every month I purchased fashion magazines, including international labels out of UK and Australia.  I soaked up each magazine cover to cover, tearing out photos, articles or styling ideas that spoke to me and/or I thought I could wear. I would organize these tear sheets into a look book every season by activity: casual, evening, work and weekend. When I dressed for either day or night, I referred to my look book and would try to recreate these magazine looks with what I already owned. While I don't have the time to create the books anymore, I still have thousands of images saved on my Ipad in labeled folders whenever I get that dreaded feeling, "I have nothing to wear." In fact, my outfit at the recent Ailey Gala was inspired by one of Bergdorf Goodman's 2016 Christmas windows. Do you see any resemblances here?
My fashion partner-in-crime Billy Hendrix reminded me recently, it's not about the clothes and accessories, its about the stories and woman behind everything. Many bloggers and influencers report what's on trend, what's in stores and what items you must have in your closet. I plan to tell you the "stories" behind what I wear meaning the where and why I bought that piece. My closest girlfriends will tell you I am attached to my clothes and accessories.  I am not attached to the thing itself but rather to the stories behind everything. This is what I want to share with you. Why I love what I wear. Who was with me when I purchased it. Maybe a quick trip down memory lane on when I wore it last or the spectacular deal I stumbled upon. I will break down why the look works and what I was trying to achieve, such as mystery, contradictions or the unexpected.  Universal themes when I dress are impeccable fit, inspiring details, the best quality I can afford when quality matters (more on that later), silhouettes highlighting my best features, color stories that work with my skin tone and always that certain je ne sais quoi which screams, "Effortless."  I hope my stories inspire you to create your own fashion moments and that we can ultimately have a back-and-forth conversation about 'style' here at Jackie Unfiltered.
Check back next week for our very first "Style File!"  I am bursting at the seams to talk #Fashion with you, a topic that is certainly near and dear to my ❤️️.
As always, thank you for stopping by Jackie Unfiltered.
Xoxo and Stylishly Yours,
Jackie