From Thanksgiving to New Year's Eve, the New York Times reports that people gain between 1 – 5 pounds depending on their current fitness and health level.   For most adults, this is weight we never lose.   I don't know about you but the thought of gaining a couple pounds every December really dampens my Holiday cheer! 😖😔😡
No worries!  Jackie Unfiltered has a plan to beat the merriment bulge: the "Holiday Fitness Challenge."   We have 35 days from the Monday after Thanksgiving, November 28th, until the end of the year.  The Challenge is to workout at least 20 of these 35 days.  You choose the activity and duration depending on your personal fitness level, preferences and lifestyle.  You can ride the stationary 🚲 bike for 30 minutes.   Swim 🏊🏽 laps for an hour.  🏋🏽 Lift weights with your significant other or take a group fitness class with a group of friends.  The choice is yours.  The point here is to get off our butts and #MOVE!!!   Don't wait until January 1 to focus on fitness and health.  New Year's resolutions never happen so let's start NOW!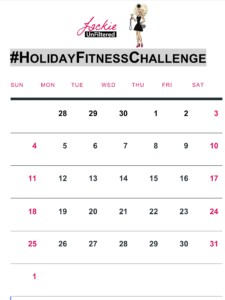 If you have never participated in one of our fitness challenges, you are missing out on the most supportive virtual #SweatyParty in the 🌎.   We make fitness easy and fun! In Spring 2016, we completed #SweatyIn30 👊🏽💪🏽 .  Folks worked out for 30 straight days for at least 30 minutes a day.  Many #SweatyIn30 participants started long-term fitness programs as a result of the challenge.  One participant says she is #StillSweaty!  Cracks me Up 😂.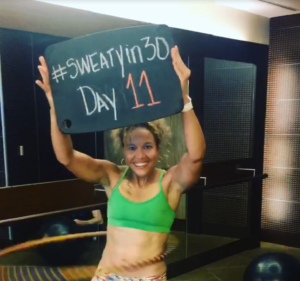 To kick off Fall, we completed the  #5in5 Fitness Challenge.  Over 100 participants in Los Angeles, Boston, Miami, New York, London, Chicago, Dallas, New Jersey, Houston, Washington D.C. and Atlanta worked out for 5 consecutive weeks.  Each week, they completed 5 workouts (2 Cardio, 2 Strength & 1 workout of choice ).   The commitment, solidarity and positive energy over those 5 weeks brought me to tears daily.  It was humanity in its best form.    In fact, at the beginning of Week 5, my father got seriously sick with pneumonia for 3 weeks.   The group lifted me up and carried me over the finish line with their support and ❤️!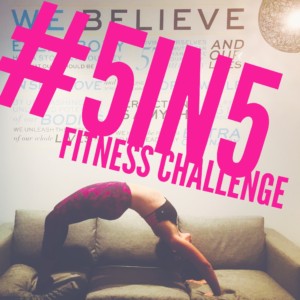 One of my dad's doctors at the Univerisity of Chicago Medical Center recently shared with me that studies show people with similar habits hang together.  Golfers ⛳️ spend time, on and off the course, with other golfers.  Smokers are friends with smokers.    Car 🚗 enthusiasts hang with those who love cars.   This same logic applies to healthy living.   People committed to working out, eating healthy and living their best life hang with those who share these common goals.  So c'mon, join our #SweatyParty and make some new friends.
I am looking forward to working out with you and getting to know you, your family and friends during the #HolidayFitnessChallenge.   You can follow our progress on Instagram or Facebook.  See the buttons above ☝🏼 & below 👇🏼.  Thanks for stopping by JackieUnfiltered and have a great day!
xoxo,
Jackie