For a tough workout, I need fuel to push through each rep, especially if my workout is scheduled for later in the day.  This satisfying smoothie provides the perfect energy boost.  The protein in the peanut butter and cashews combined with the complex carbohydrates and fiber in the apple and bananas work together to give long lasting energy.  Athletes have long eaten bananas with water to decrease recovery times and bodybuilders use peanut butter as sports food to keep them satiated.  The spinach we added has no impact on the taste but gives a boost of vitamins, antioxidants and minerals such a mangnesium, folate, iron, calcium and potassium.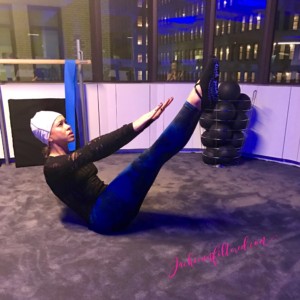 If you are drinking sugary sports drinks or pre-packed mixes to get through your workouts then STOP.   These empty calorie drinks can have up to 2/3 the sugar found in soda and are loaded with artificial flavorings and sodium. Sugar is a "legalized drug" causing insulin spikes, sugar crashes and weight gain.  (Great article written here by Self Magazine on "What Happens to Your Body When you Eat a Ton of Sugar.")  If you are planning to say to me, "Hey Jackie, I can afford a little more sugar because I am going to sweat it out."  My answer to you is, "No, you can't."  Most of us don't work out hard enough or long enough to burn the extra calories and sugar found in sports drinks.
This smoothie is also a great breakfast option, meal replacement or recovery drink for after a tough workout.  I often drink half before my workout and the other half afterwards.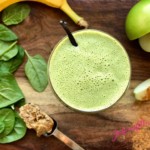 Non-Dairy Pre/Post Workout Smoothie Recipe with Peanut Butter, Apple, Spinach and Banana
Loaded with protein, complex carbohydrates and fiber, this smoothie the ideal way to fuel your workout or recover from a tough #SweatSesh. You can also drink this a meal replacement.
Ingredients
1

Cup

Unsweetened Almond Milk or Water

1

Cup

Packed Baby Spinach Leaves

1

Banana

1

Chopped Green Apple

1

Tbsp

Peanut Buter

Sugar Free, Organic

1

Tbsp

Raw Cashews

1/4

Tsp

Cinnamon

1/2

Tsp

Vanilla Extract

Pinch

Sea Salt

1

Cup

Ice
Instructions
Place ingredients in order listed in Vitamix or other high-powered blender. If using a Vitamix, choose 'Frozen Desserts' setting. Once blender stops, add more water for a thinner smoothie and more ice if you prefer it frothier. Enjoy!
As always, thank you for stopping by Jackie Unfiltered.  Have an awesome day filled with some laughter, some sweat and some colorful food.  Remember, eat to live!
xoxo,
Jackie