I can't remember the last time I bought bottled salad dressing.  My salad dressing tastes better than anything on the market.  I am not being high and mighty.  It is honestly that good!  I can't tell you the number of times people eat a salad at my house and then send me a text for this recipe.  My godmother, who is a tough critic from Mississippi and excellent cook by the way, says it's the best salad dressing she has ever had.  My stepmother says I should enter it into a contest becuase it got my dad to eat kale and spinach salad.  Ssshhhh…don't tell him.  Best dear old dad keeps thinking it was some rare type of dark iceburg lettuce.  As for the #Hubbs, he could eat a salad with this dressing everyday and be a happy man.  If you try no other recipe here at Jackie Unfiltered, try this one.  Life changing.  Promise!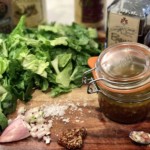 Jackie's Famous Red Wine, Shallot, Mustard Vinaigrette Recipe
This dressing tastes fricking good on just about everything from vegetables to pasta, chicken and any assortment of lettuces. Adjust the flavors to your family's taste preferences. The only musts are the acid to oil ratio, the shallot and the mustard. The shallot and mustard is what give it that finger licking good "aha" taste. Also, make sure you don't skimp on salt and pepper here. Salad dressing must be well seasoned!
Ingredients
1

Minced

Shallot

1/2

Minced

Garlic Clove

2

Tbsp

Red-Wine Vinegar

1/2

Tsp

Maldon Sea Salt

1

Tsp

Whole Grain Mustard

1

Tsp

Honey

1

Tsp

Herbs

Any kind will do. Mix it up!

6

Tbsp

Extra Virgin Olive Oil

Couple squirts of your favorite hot sauce

Freshly Ground Black Pepper

To Taste
Instructions
In a small bowl, whisk together shallot, garlic, vinegar, salt, several turns of freshly ground pepper, honey, mustard and herbs.

While whisking, slowly drizzle in olive oil to create an aioli. Gently turn in fresh herbs and hot sauce.

Taste and adjust seasonings. If I am serving salad, I always make the salad dressing first and set aside to let the flavors come together at room temperature. This dressing will keep several days in a sealed container in the refrigerator.
As always, thank you for stopping by Jackie Unfiltered.  Now don't be mad at Jackie if your kids start asking for salad everyday!  #GoodProblems
Xoxo,
Jackie