As my readers and followers know, I L.O.V.E. chicken wings.  ?  It's my favorite piece of the bird and my first choice if the whole chicken is being served.  Wings are the perfect bite sized piece of protein.  The right mix of skin, meat and flavor from the bone.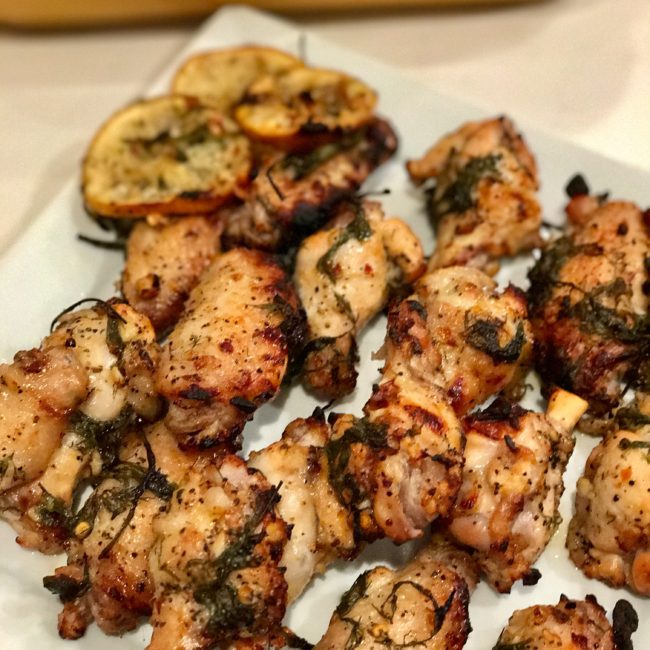 In all honesty, I like wings any kind of way you want to serve them.  Fried.  Baked.  Grilled.  Slow-cooked.  Boiled.  Stewed.  Smothered and covered.  However, in this recipe, to satisfy both my tastebuds and "waistline," I mix up a quick and simple marinade using kitchen staples of chopped herbs, garlic, citrus and seasonings.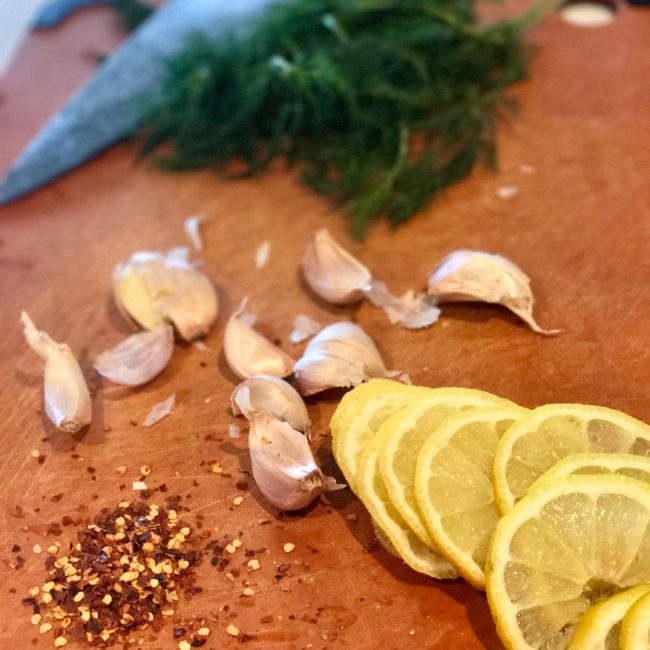 This marinade injects so much flavor that you can serve the wings "dry" without any high-calorie or high sugar sauce.   Actually, the wings are so bright from the citrus, tangy from the dill and seasoned from the garlic and spices that you wont even consider adding anything else.
As for cooking, because I live in NYC without a grill, I roasted these wings for 15 mins in a 425 degree oven on a baking grid atop an aluminum foil lined roasting pan.  The raised grid mimics an outdoor girl by allowing heat to circulate around the wings so they cook faster and achieve a pretty brown color.  It also makes the chicken even more healthy because, as the chicken cooks, the fat drips off to the pan below.
That being said, if you want to fire up your grill, please do! These wings would taste delish with a little bit of smoke on 'em.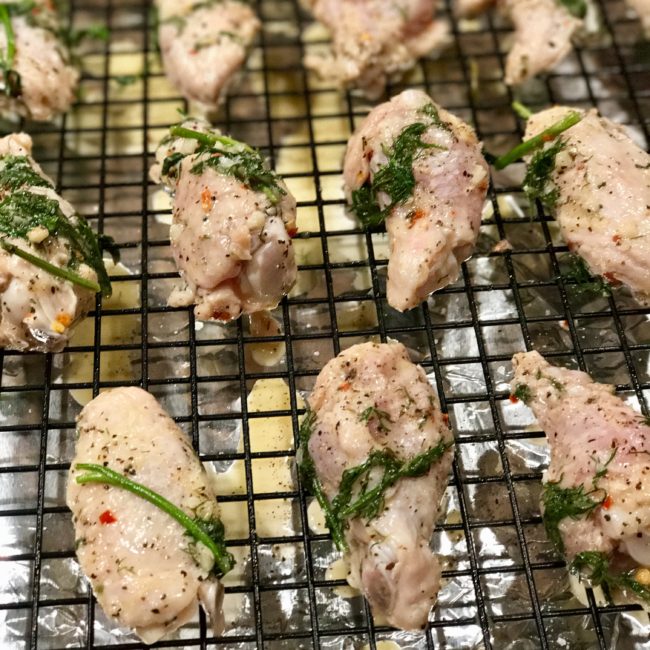 I first posted this recipe a few days ago on social media and several followers have already tried their hand at this dish.  Based on your pictures and comments, you have had great results.  In fact, according to Mommy Martina down in Atlanta, these wings are #KidApproved and #YummyInMyTummy.  Hey kiddos, Aunti Jackie and Uncle #Hubbs could not agree more!
Check out these kitchen photos from Martina, one of our dear Facebook (and real life) Friends!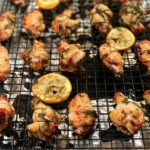 Roasted (or Grilled) Marinated Lemon, Dill & Garlic Chicken Wings
Chicken wings are one of the best kept secrets for eating healthy without sacrificing flavor. After marinating and soaking up the flavors of lemon, garlic, fresh dill and red pepper flakes, these chicken wings are either roasted or grilled on high heat. They are seasoned to the bone so you don't you DARE think about tossing them in some calorie laden sauce.
Ingredients
2

Lbs

Chicken Wings

Do Not Rinse Chicken!

1/2

Head

Garlic Clove

Smashed & Peeled

1

Bunch

Fresh Dill

Washed & Chopped

1

Lemon

Washed & Thinly Sliced

1/2

Cup

Seasoned Rice Wine Vinegar

1/4

Cup

Grape Seed Oil

1/4

Cup

Olive Oil

1

Tbsp

Italian Seasoning

2

Tsp

Red Pepper Flakes

2

Tbsp

Kosher Salt

1

Tsp

Ground Black Pepper

1

Tbsp

Sugar

Sea Salt & Freshly Ground Pepper for cooking
Instructions
For the Marinade
Place chicken in a sealable container or zip lock bag.

Throw garlic, vinegar, oils, italian seasoning, red pepper flakes, kosher salt, ground black pepper and sugar into a Vitamix or other blender. Set the speed on 3 and pulse several times until the garlic is chopped but still chunky.

Pour marinade over chicken. Using tongs, gently turn chicken in the marinade to thoroughly coat each piece. Add sliced lemons and chopped dill, gently turn chicken again. Cover container or seal bags and refrigerate chicken for at least 6 hours or up to 24 hours.
Cooking Chicken
Preheat Oven to 425 degrees or prepare grill if grilling (I don't grill so grill chicken accordingly!)

Remove chicken from referigerator 30 minutes before you want to cook.

Prepare your roasting drip tray by lining a roasting pan with foil (minimizes cleanup). Place a baking grid on top of the lined roasted pan. Using a paper towel dipped in grape seed oil, thoroughly grease the baking grid to prevent the chicken from sticking.

Using tongs, gently remove the chicken from the marinade letting extra marinade drip off and place on pre-oiled baking grid. Space chicken at least 1/2 inch apart to avoid overcrowding.

Using a pastry brush, lightly brush top of chicken with grape seed oil and then season chicken with sea salt and freshly ground black pepper.

Roast chicken for 15 minutes until golden brown and lightly charred. Enjoy!