Roasted spaghetti squash's stringy pasta-like strands scream Fall and provide the perfect low calorie and low carbohydrate healthy base for a whole host of recipes that we plan to cook up this season!  The air is getting crisp.  The leaves are beginning to turn shades of auburn and gold and our tastebuds are searching for rich, spicy and comforting flavors.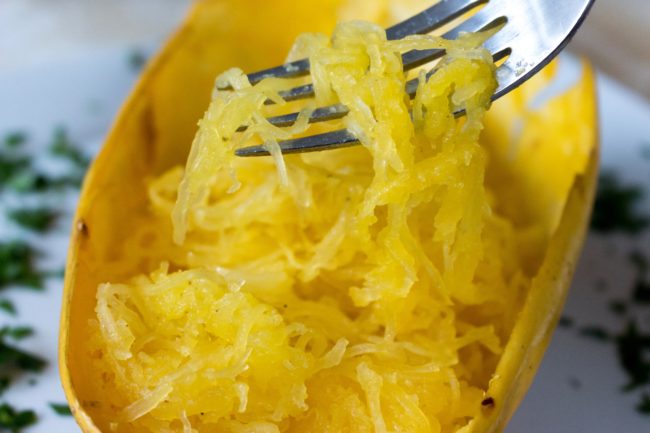 Roasted with a touch of coconut oil, a little sea salt and freshly cracked black pepper, the mild flavor of spaghetti squash is insanely good piping hot right out the oven.  How-so-eva, if you are feeling frisky and adventurous and looking for Italian then toss it with sautéed garlic, red pepper flakes and lemon juice.  Maybe one night you feel like taking a trip to Greece, throw the spaghetti squash with feta, parsley, oregano and olives.  For those cold nights where you crave comfort food that won't make your leather pants feel tight the next day, toss the spaghetti squash with 1 tsp of melted grass fed butter and then finish with capers and some freshly grated Parmesan Reggiano cheese.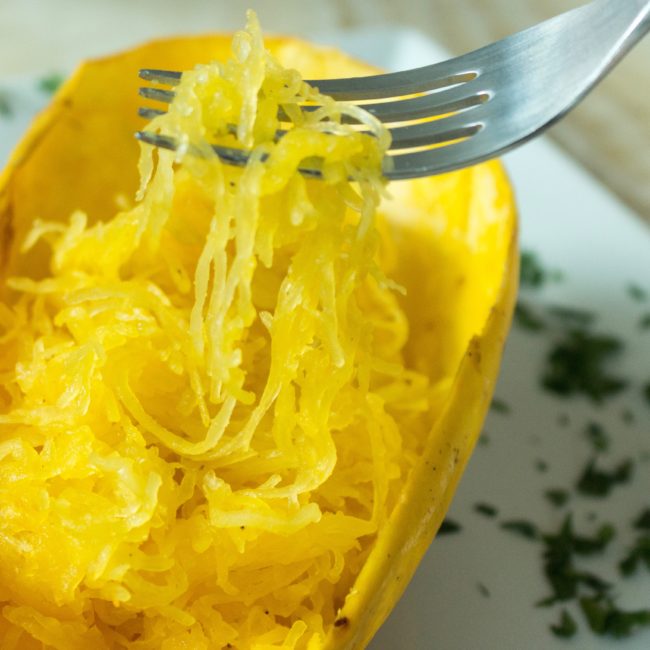 Why is spaghetti squash so good for you?  Live Strong tells us that it has only 42 calories per cup and is made up of about 92% water which makes it good for weight loss or weight management as it "fills you up without adding a lot of calories or fat to your" daily diet.  While Spaghetti Squash is low in carbohydrates and high in fiber, it also has trace amounts of Vitamin C and B-6, antioxidants supporting the immune system and metabolism, and minerals like Potassium which builds muscle and helps your recover post-workout.  What's not to love about the dear old Spaghetti Squash?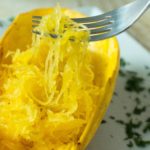 Easy Roasted Spaghetti Squash Recipe
Roasted with a touch of coconut oil, a little maldon sea salt and freshly cracked black pepper, you can eat this Spaghetti Squash piping hot right out the oven just standing around in your birthday suit. If you have a desire to be a little fancier, this low carb and mild tasting stringy vegetable pairs wonderfully with sauces like pesto and marinara or sweeter spices like nutmeg and cinnamon. The possibilities are simply endless!
Ingredients
1

Spaghetti Squash

1

Tsp

Coconut Oil

Sea Salt & Black Pepper

1/4

Cup

Water
Instructions
Preheat Oven to 375 degrees. Cut squash in half using a sharp knife. A tip is to first make a small shallow slice down the middle and then, following that shallow cut, use a larger knife with more force to split the squash in half. Scoop out the flesh and seeds using a spoon.

Rub coconut oil into the cavity of the squash. Season with sea salt and pepper.

On a parchment lined baking sheet, place seasoned squash cut side down. Sprinkle the top with water. Bake in the oven for 30-40 minutes. You want al dente squash (slightly firm and crunchy squash), not mush. Don't blame me if you don't listen!

Remove from oven and, using an oven mitt, gently turn squash over. Let cool for a few minutes. Use a fork to gently pull the delicate squash away from skin of the squash to form pasta like strands.

Serve right away or store in the refrigerator in an airtight container for several days. I like to roast a couple Spaghetti Squashes on meal prep days as this low carb, low calorie vegetable provides the perfect base for quick, healthy and delicious meals.

Jackie's Tip: Save the empty skin to use as a serving bowl for whatever dish you prepare with the Spaghetti Squash. Sit back and let everyone marvel at your genius creativity. This natural "bowl" makes an especially good presentation when entertaining.
As always, thank you for stopping by Jackie Unfiltered.  Don't forget to sign up for our mailing list so you can receive news about the exciting things we are creating and producing at Jackie Unfiltered.  Ayn Rand was right on the money when she said, "The question isn't who is going to let me.  The question is who is going to stop me."  Let's Go!
xoxo,
Jackie