Any fashionista worth her salt will tell you that she shops for clothes off-season.  This means that while every magazine and store is currently promoting plush Fall layers and knockout Winter coats, she is scouring the internet looking for deals on summer items.  She is currently scooping easy and bold summer dresses, fun accessories and comfy shoes at bargain basement prices.  Next Spring, she pulls these treasures out of storage and starts the season looking fresh and spiffy.  Sorry fashion forward ladies, your secret is out!
To purchase any part of this look, click the link HERE.  

Let's start with the blue dress and pom-pom fedora look I donned in July at a Brooklyn summer barbecue.  Well the hat which is has taken me from New York City to Amsterdam in style was originally $58.00.  This statement fedora is now marked down to $39.95 with an additional $25% off.  Don't laugh, but I call this "Free" type prices.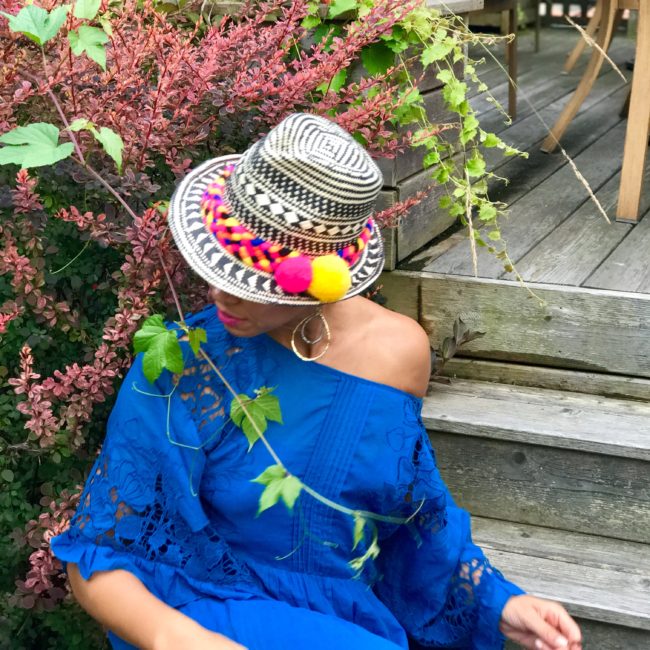 This royal blue dress with flutter sleeves and hem was originally $188.00 and is now marked down to $49.95 with an additional 25% off at checkout.  Again, I really call this FREE.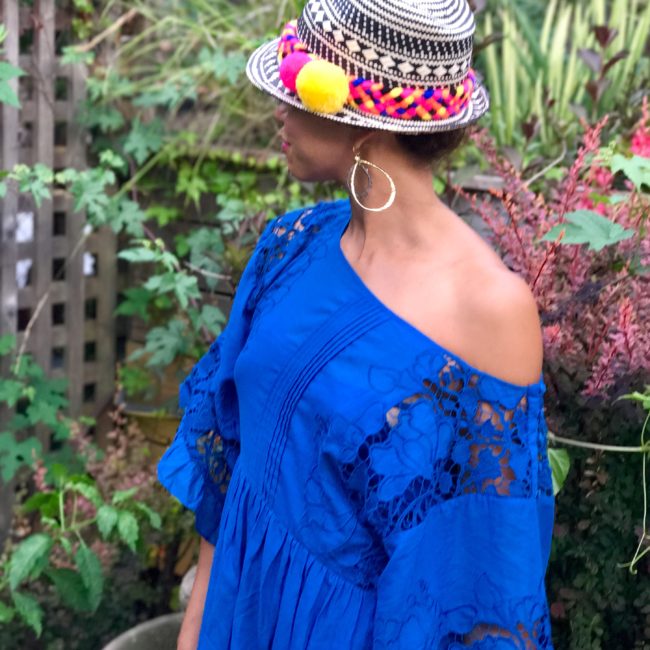 (Jackie's Tip:  The dress is not meant to be off-the-shoulder but it make the dress a little sexier and flatters my body type better.  I stretched the neckline a bit and viola, "off-the-shoulder."  The moral of the story is that few clothes fit off the rack exactly the way we want.  Feel free to play with hems, necklines and fit to personalize clothing to your body type!)
Okay, I have to run!  More sale shopping to do and deals to find.  As always, thank you for stopping by Jackie Unfiltered.  Tag us in your outfits and especially let us know if you run across a good bargain!
xoxo,
Jackie