Written by Chelsea Roberts and edited by Jackie
I'm thrilled to share my super buttery and perfectly flaky pastry crust recipe with you!  I've used this recipe during the holiday season when baking pies for family and friends. Apple pies have always been a dessert staple in my family during Thanksgiving and Christmas meals.  As a young girl, I'd look forward to my aunts, uncles, and cousins filling our home with laughter, love and always a loud debate.  Our home would smell of firewood and caramelized apples.  My grandmother Cecilia would bake, my mom Pat would cook and I'd have best job of setting the table and taste-testing dinner throughout the day.  For years, those roles were properly assigned. Each generation knew their holiday duty and rarely crossed territory.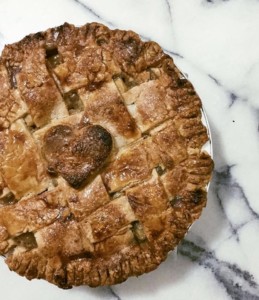 Sadly, my grandmother Cecilia passed away and years went by that my family did without homemade apple pies.   Last year, I revived the recipe and got to baking.  Marie Callender has nothing on Cecilia Roberts!!!
When I bake, I spend hours coring, peeling, and slicing apples. I have gotten into the rhythm of baking during the latter part of the year.  It's the same dance that my grandmother and mother used to do in the kitchen…seamlessly switching spaces, opening and closing the oven, reaching over and under, gliding across the black and white marbled floor, as if they'd rehearsed.
In the spirit of the holidays, I hope that you'll spend time baking a new pie or even resurrecting an old family recipe as I did last year!  It's in these dishes that we are able to commemorate our history and also create new memories made around the table.  Happy Baking!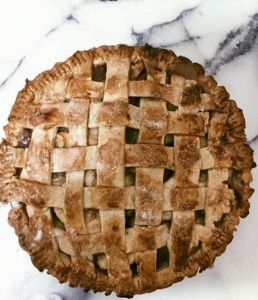 (Jackie's Tip ?: Use this crust recipe instead of store bought in Dickey's Grandmother's Peach Cobbler Recipe.)
Grandma Cecilia's Flaky Pie and Pastry Crust Recipe
Servings: 1 9-inch Pie Crust |Prep Time: 10 minutes |Total Time: 20| Difficulty – Medium (easy if you have baked before)
Double this recipe if you are using a recipe that requires a top and bottom crust.
Ingredients:
1 ¼ cups all-purpose flour (150 grams)
¼ tsp fine sea salt
10 tbsp unsalted butter, very cold and cut into cubes
2 to 4 tbsp ice water, as needed
Directions:
In a large bowl, mix together the flour and salt.  Add butter to flour mixture and combine using either a fork or pastry blender until the mixture forms bean-size pieces.  Slowly add ice water, 1 tablespoon at a time, and mix until the dough comes together. It should be moist, but not wet.
Place dough onto a lightly floured surface and form into a ball. Flatten into a disk with the heel of your hand.  Cover tightly with plastic wrap and refrigerate for at least 1 hour and up to 2 days.
As always, thank you for stopping by Jackie Unfiltered.  These two Spelman Women wish you a happy and healthy holiday season!
xoxo,
Chelsea & Jackie