Create a beautiful holiday table using aromatic herbs, fruits laying around your kitchen and a little imagination mixing and matching old plates and everyday items.  Similar to a good fashion moment, a great tabletop has layers of texture, unexpected colors, bold patterns and a mix of high/low wares.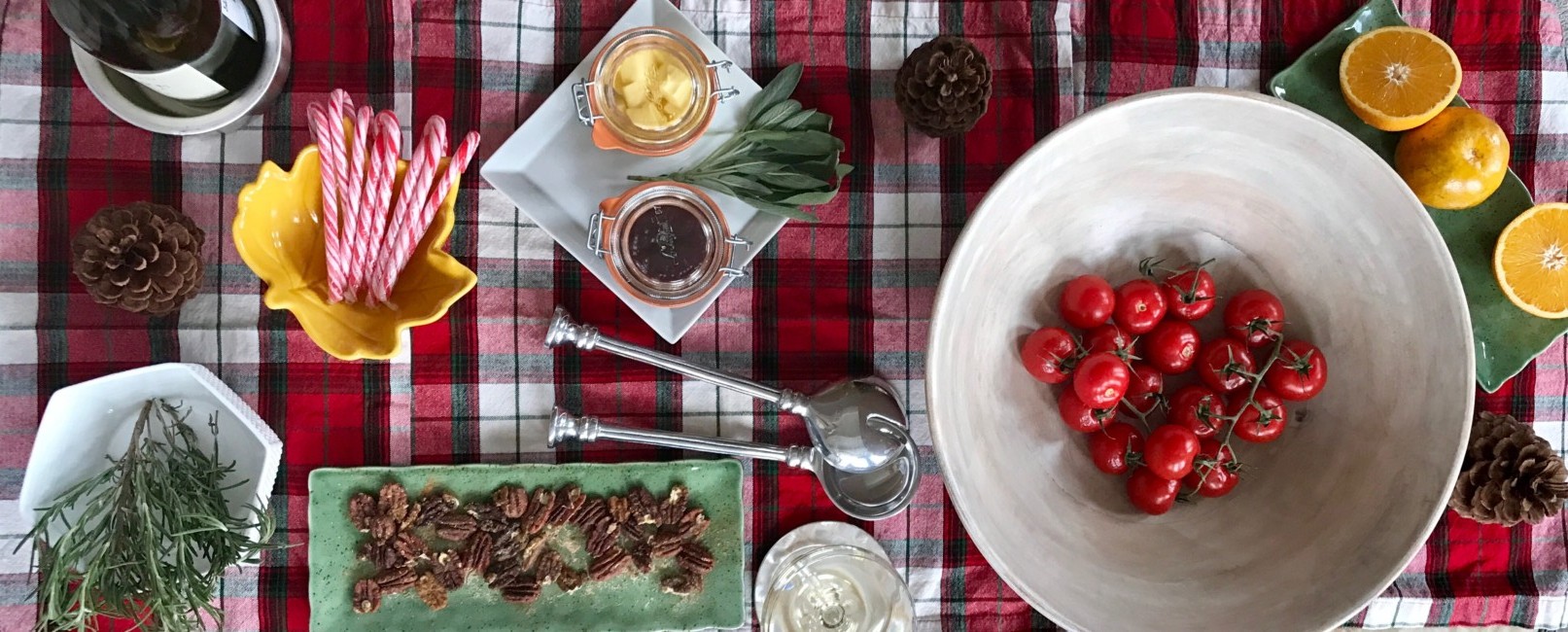 Include pops of orange, honey and softer shades of greens to an otherwise traditional holiday table. Notice, there are no greenery or flowers on this table other than leftover rosemary, sage and pine cones. The final result is festive, fun and a little whimsical.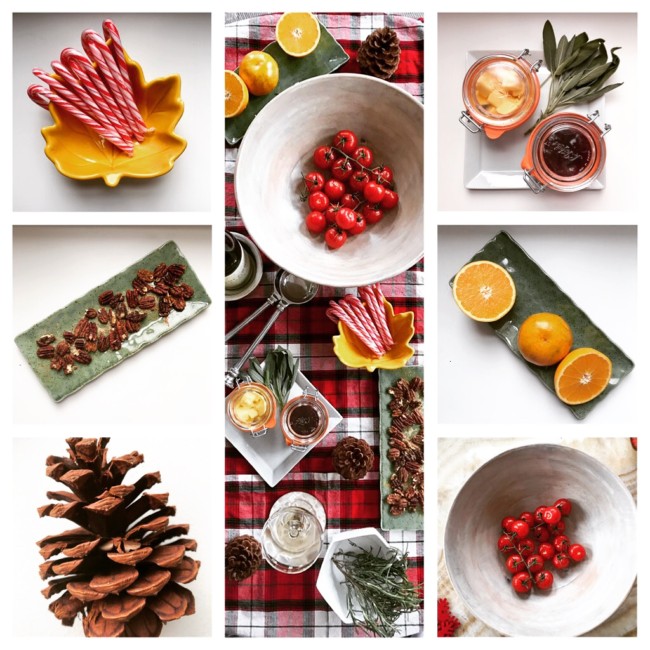 Since reading celebrity stylist Pamela Watson's blog post on Fash.Fam.Foo last holiday season about injecting plaid patterns into winter wardrobes, I am obsessed with this tartan fabric.  Instead of a traditional runner, lay down inexpensive tartan plaid cloth napkins and use various objects to cover any obvious seams.   As Pamela says, "plaid brings an effortlessly adorable look."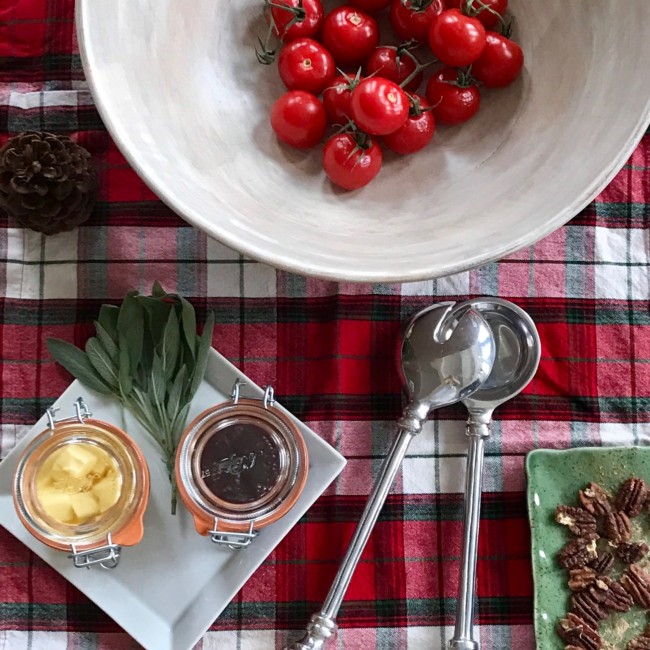 Red and Green for Christmas every year can get a little blah and predictable.  Include the vibrant flesh of an orange to add an unusual color to an otherwise traditional holiday table. The oranges look organically beautiful and a touch unexpected when just casually arranged on a marbled-green sushi plate.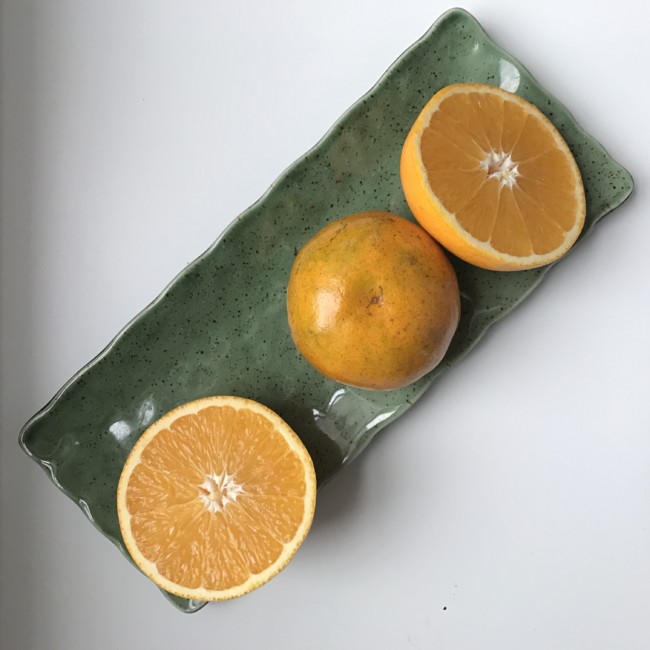 If you introduce a pop of color to your tabletop, include at least two more items in the same hue to create visual balance.  You don't want eyes drawn to the orange, you want the eyes constantly moving.  Here, I added a honey hued leaf bowl which I found one year in Sur La Table's Thanksigiving clearance section for $3.99.  A steal!  The red and white candy canes cohesively fuse the color scheme together and continue the whimsical theme.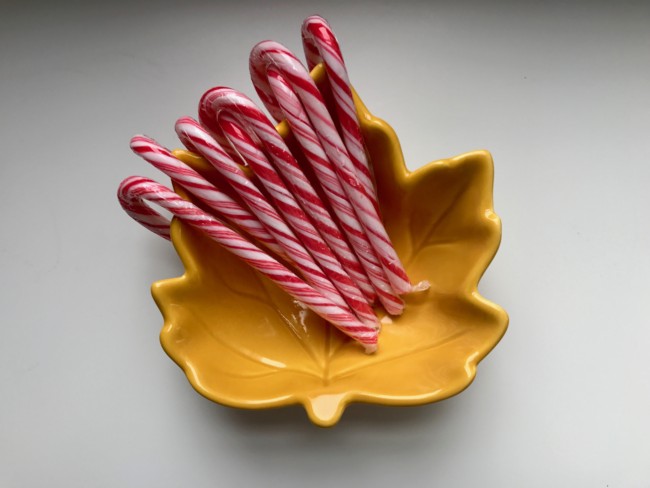 Create a beautifully simple organic moment by throwing leftover rosemary in a bone china Tiffany weave hexagonal bowl.  The aromatic herb smells divine and the soft green looks ethereal against the white china.   The hue of the rosemary also adds additional balance to this busy table by referring back to the green hue in the marbled-green rectangular sushi plates.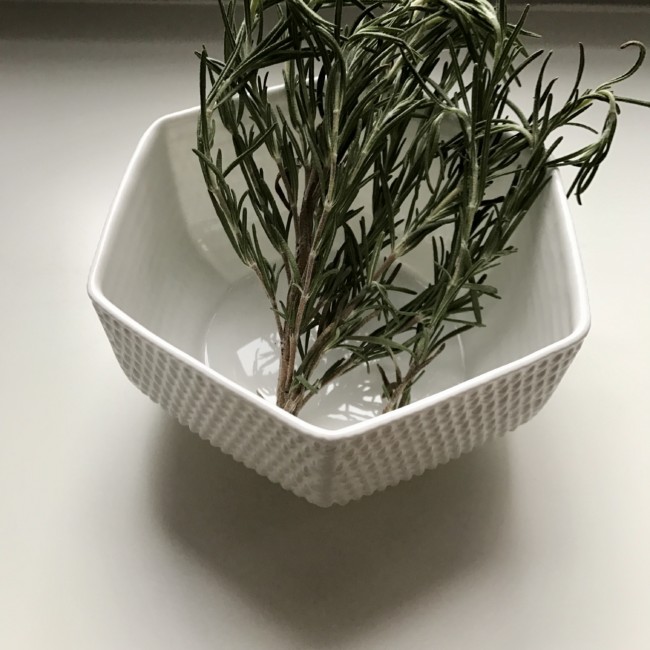 Add unexpected twists by mixing in everyday items like this wooden bowl with bright cherry red tomatoes.  (similar bowl here) Place little bowls of Maldon sea salt, cracked pepper and olive oil nearby to encourage guests to pop these delicious beauties in their mouth.    The cherry tomatoes with their green stems naturally whisper, "Merry Christmas."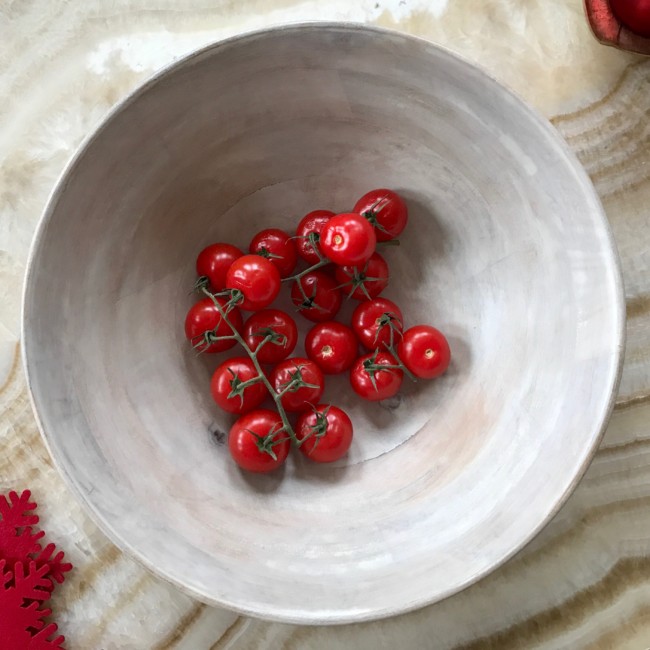 Include homemade candied pecans as another edible part of your tabletop.  Again, we plated the pecans on the matching sushi green plate to create balance and cohesiveness.   The toasted pecans naturally introduce a rich, neutral caramel color to contrast the bold colors, textures and patterns already in play.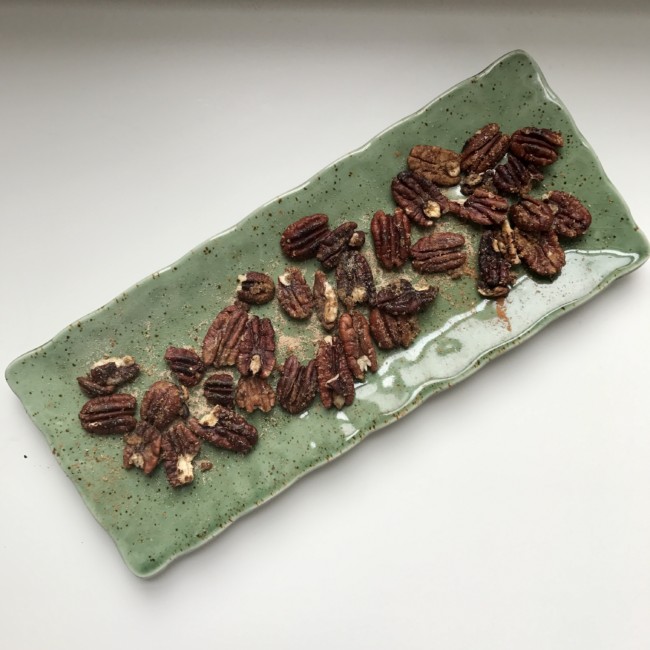 Toasted Pecan Recipe: Toast 1 cup of raw pecans over medium-low heat until slightly brown (watch closely!).  Remove pan from heat and immediately throw a couple tablespoons of brown sugar, a few pinches of cinnamon, nutmeg and vanilla powder into pan.  Stir constantly until sugar liquifies.  Cool pecans on a plate.
A favorite table setting tip is serving condiments in unique dishes! For Christmas morning brunch, use 2.8 oz. canning jars for cubed butter and strawberry jam.  The butter and jam conveniently compliment the color scheme.  Love it when that happens!  If you're serving dinner, use the terrines for gravy and cranberry sauce.  They also make for quick clean-up.  You just fasten the lid and throw any unused condiments right in the fridge.  C'mon, don't you love that?!?  Casually place sage  as decoration on the plate.  Again, the sage speaks to the soft green in the rosemary and sushi plates.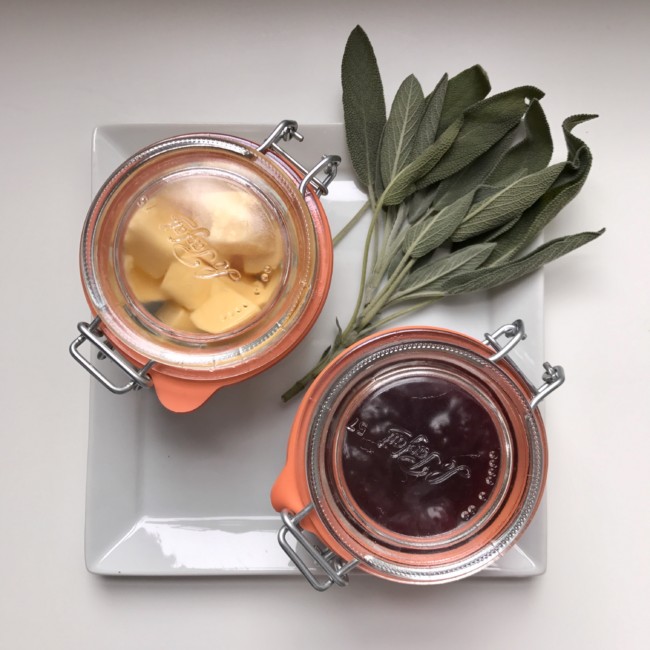 Every table needs a touch of glam and bling.  Add silver metallic by using a wine holder and serving utensils.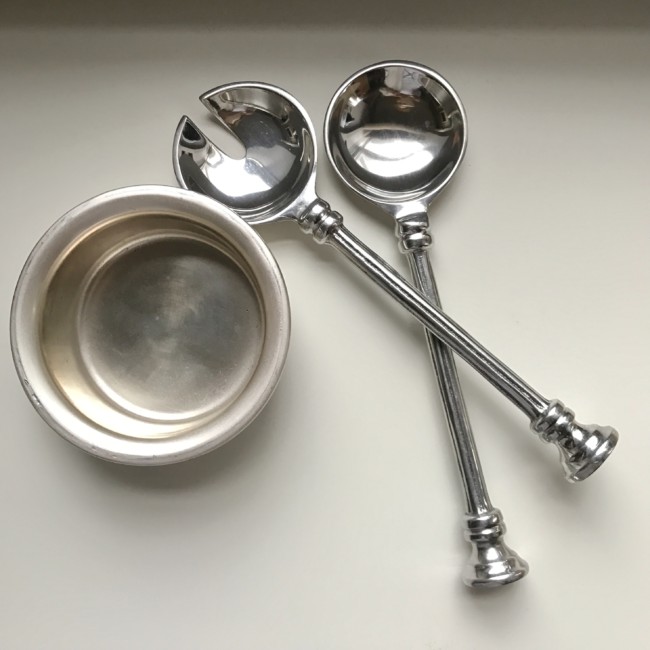 Finally, randomly place a few pine cones on the table to fill the gaps.  I love the shape, color and durability of natural pine cones.  The speckled caramel and brown tones speak to the pecans and, again, contrast with the bold colors.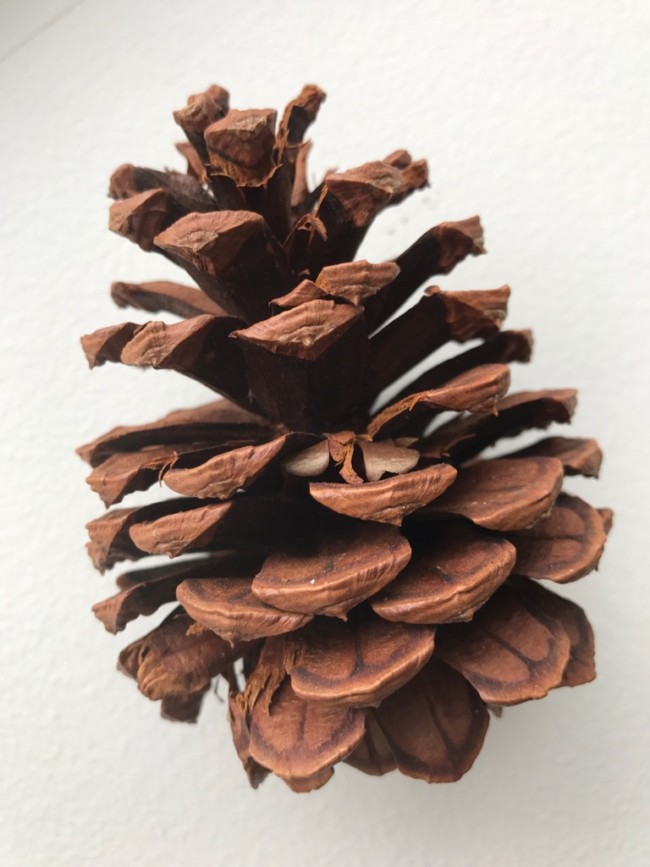 Plain white everyday plates, silverware and simple glassware will complete this table.
With all the holiday parties, shopping and gift wrapping, you can easily create a beautiful table using everyday items around the house.  All you need is a little creativity, good friends, loving family, laughter and, of course, a glass of bubbly or two!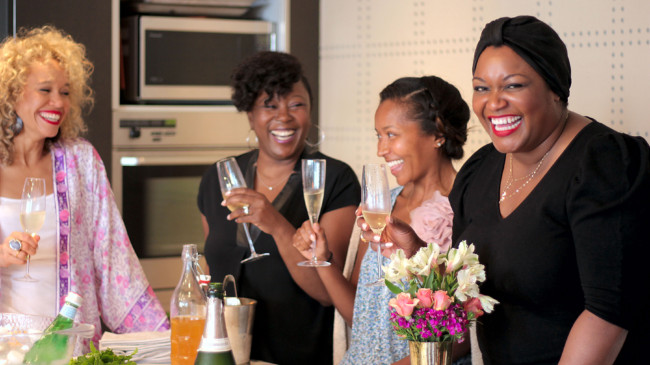 Easy Shopping Guide for this Holiday Decor Blog Post
Click the Links/Pictures Below to Purchase
100% Cotton, Oversized Basic Holiday 20x 20″ Napkin, Set of 6, Tartan Holly Plaid Napkins – Purchase Here
Miya Kosui Sushi Set, Green – Purchase Here
24 Pack Candy Canes – Purchase Here
As always, thank you for stopping by Jackie Unfiltered.  We wish you a chic holiday season.  Please tag #JackieUnfilteredStyle in your fabulous tabletop images so we can see your creations.  I just know it will be breathtakingly beautiful.
xoxo,
Jackie