Originally posted January 20, 2017. Updated November 20, 2017 to honor the life and artistry of Mr. Azzedine Alaia (26 February 1940 – 18 November 2017).
When Michelle Obama erupted on the international scene in early 2007, I was a mere 30 years old, had just met the love of my life and was honing my personal style by reading every US, British and Australian fashion magazine I could get my hands on.  Like every other woman on the planet, I was mesmerized by how easily Michelle Obama walked in her skin.  We were in awe of the way she effortlessly mixed affordable brands such as J.Crew and Gap with high fashion like Narcisco Rodriquez, Vera Wang and Jimmy Choo.    Michelle Obama introduced me to designers I had never heard of:  Sophie Theallet, Jason Wu, Junya Watanabe and Azzedine Alaia ("Alaia") to name a few.  Just like me, Michelle was a girl born on the South side of Chicago to middle class parents.  She went to the same public high school on the Northwest side of Chicago that my brother and hundreds of friends attended.  So if she could wear high fashion, it kind of gave me permission to at least go look at it in Bergdorf Goodman, Saks and designer boutiques.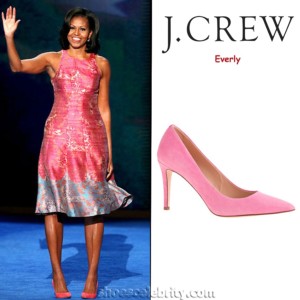 Who can forget that historic night in June 2008 when Barack Obama clinched the Democratic nomination for President and Michelle Obama walked on stage with those famously toned arms dressed in that purple Maria Pinto sheath dress perfectly cinched with the black leather Alaia belt.  In that moment, Michelle became a fashion icon and I started my love affair with Alaia.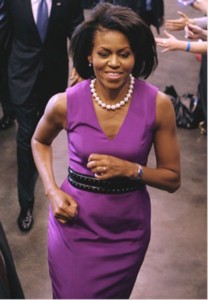 Vogue describes Mr. Alaia, who was born in Tunisia, as one of the world's "most respected fashion designers" "known for his signature body conscious silhouette, accentuating the bust and cinching in waists."  He produces "discreet luxury" that is immediately recognizable to those that know.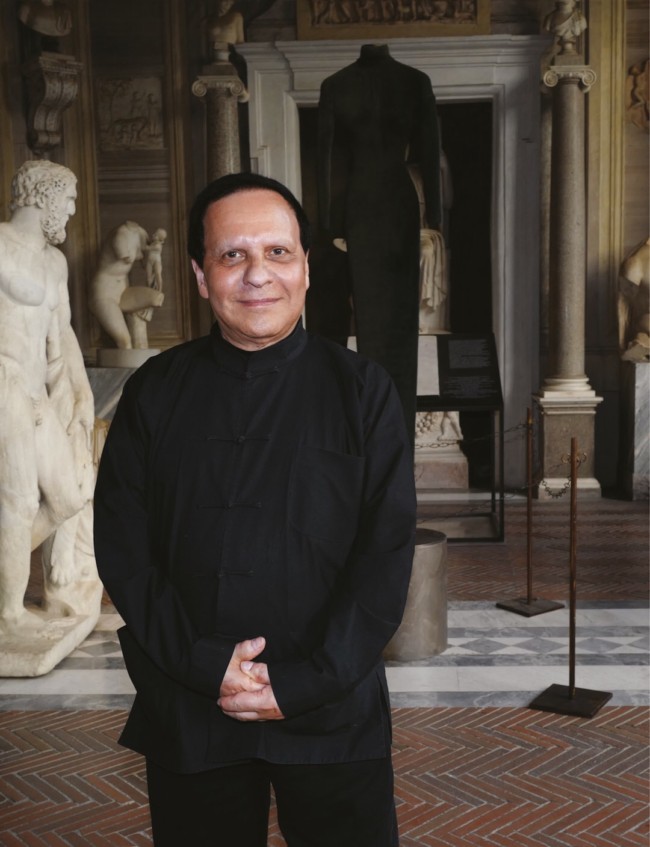 Less than 9 months after being sworn in as the 44th President of the United States of America, President Obama received the Nobel Peace Prize.  When Michelle stepped out of the limo on the red carpet in this black Alaia dress, I was mesmerized by the meticulous fit and how it elegantly hugged her curves.  The deep V and cinched waist elongated her torso and the layers of crinoline proivided that perfect touch of whimsy.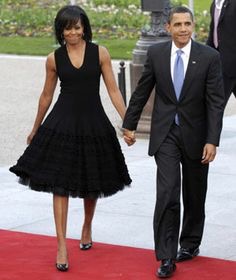 Then, in 2009, President Obama whisked his wife to the Theater in New York City to make good on a promise he made on the campaign trail.  Again, Michelle steps off Marine One, the presidential helicopter, in another black Alaia dress.  This one had flirty ruffles and hugged her curves in all the right places.  She looked luxurious and appropriate but ready to hit the town with the President as his sexy First Lady.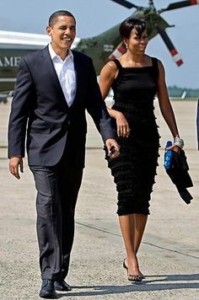 In my study of fashion, every magazine and book spoke of the investment little black dress ("LBD"). The dress you can wear either black-tie, with flat boots or even white leather tennis shoes.  The right LBD can effortlessly take you from the White House to an intimate dinner party or a date night at the theater.   The LBD is well made and neither trendy or flashy. I have to be honest, at the time, this perfect LBD sounded a little bit like the purple unicorn. How could one piece of clothing do all this for you at the same damn time?
Well, if Michelle could decide that Alaia fit the bill for her LBD, I at least needed to go uptown and check it out.  I remember walking timidly up to Sam Goldstein, legendary personal shopper at Bergdorf Goodman ("BG"). Sam is a petite Jewish woman who is always perfectly coiffed in decreet luxury wear.  I remember timidly introducing myself in a quiet voice (this expensive luxury clothing seemed to deserve respect!) and asking if she could show me where Alaia was located.  (Please note that I pronounced it wrong that day.  She politely corrected me and said, "You mean, Uh-lie-uh!")  Sam quickly assessed me, determined I was a size 36 and whisked me to a fitting room.  Aside from my wedding dress, I had never tried on a full-priced dress in the designer section of any department store ever so I was nervous as hell!  I surely did not want to tear this dress or spill anything on it (The old adage popped into my mind, "You break it; you own it!).   Well, Sam zipped up this black dress, I turned to the mirror and was speechless.  Michelle had it so right, this dress is the purple unicorn of LBDs.  It fit perfectly everywhere, particularly in the torso and made me feel feminine and sexy at the same time.  I wanted this dress so badly, maybe partly becuase I thought it would give me a little bit of that #MichelleMagic.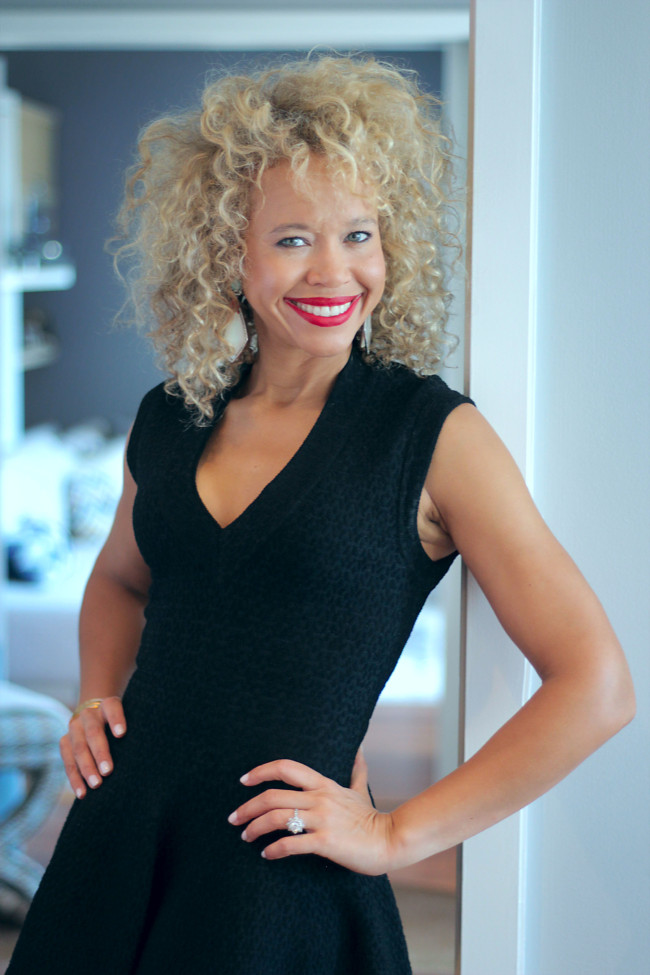 I didn't buy the dress that day.  I brought back my friend Michal to get her opinion.  Michal is an excellent seamstress (and pretty fricking good at everything else) so she explained the structure of the dress.  The skirt is lined with horsehair which gives the skirt structure and flounce while also creating the allusion of a tinier waist.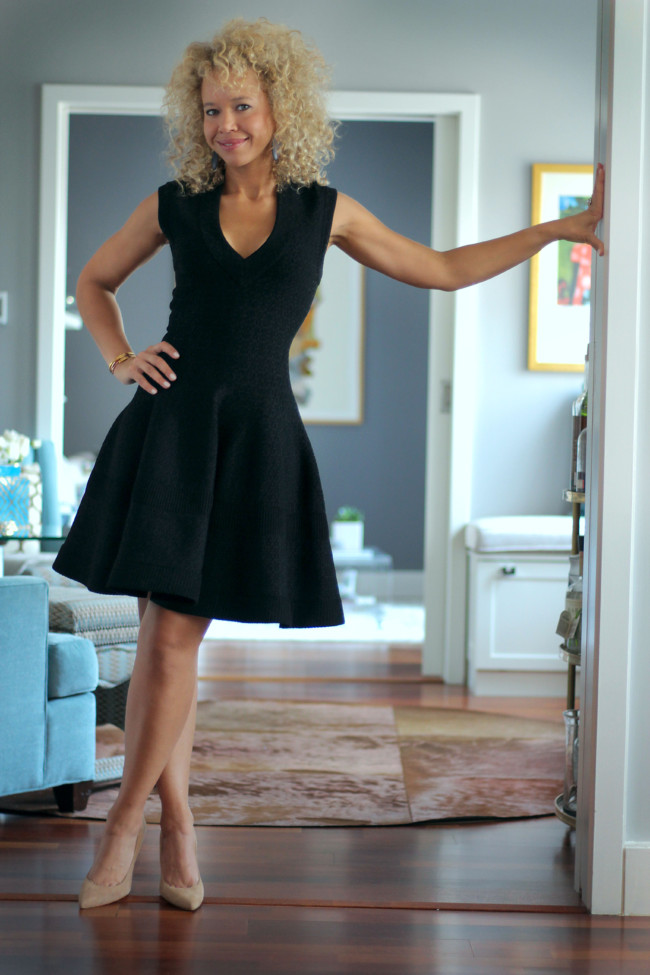 I also called my fashion ace Renee Billy for her advice.  She asked me several questions: Is it black?  Is it classic looking meaning could I see myself wearing it in 10 years? Do I love it?  All the my answers were a resounding YES!  She said, "Buy the dress."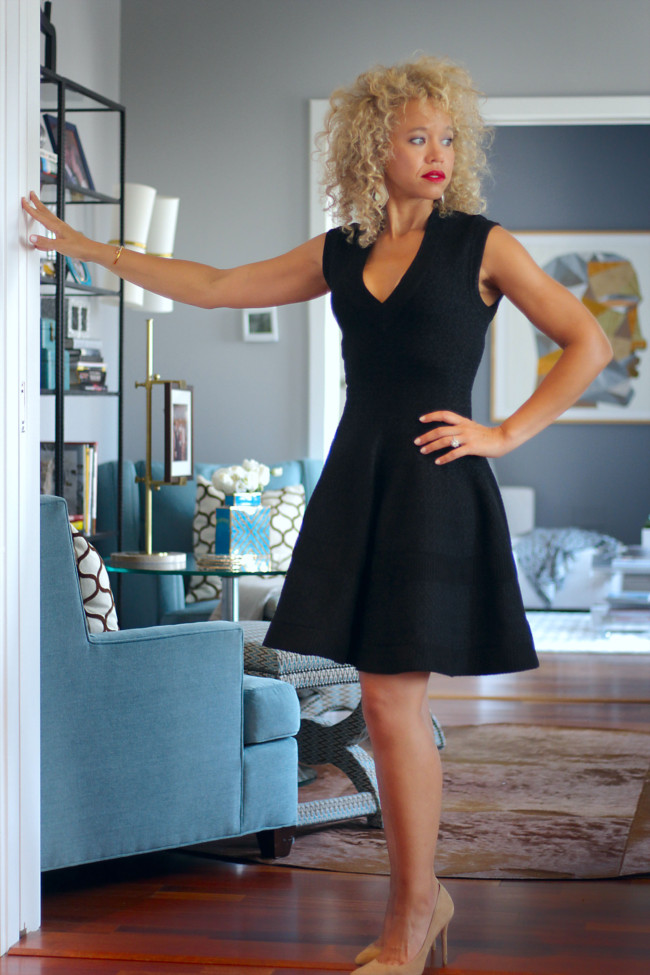 I bought my first Alaia dress in October 2012 and hid it from my husband in the back of the closet (Don't we all do that?).  I wore it for the first time to the Annual Apollo Divas Luncheon on February 14, 2013.  I cringe looking back at this picture becuase the shoe is all wrong and the stockings are too sheer.  However, I felt like the belle of the ball that day and still feel that way every time I zip up my LBD.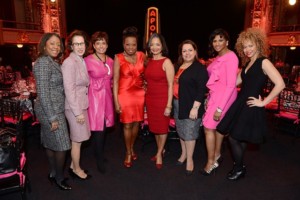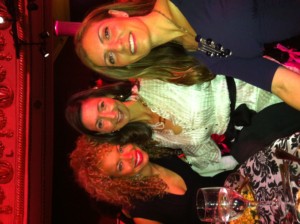 Later this week, my fashion ace Renee Billy will spill the tea on why my Alaia dress still looks fresh 5 years later and some tips on how you can find your perfect LBD.
As always, thank you for stopping by Jackie Unfiltered.  And thank you "Michelle Levaughn Robinson from the South Side" for showing us South Side women that we can be smart, fit, elegant, cool, graceful, madly in love and fashionable….all at once.  It is my sincerest hope that Jackie Unfiltered passes these lessons on to the next generation.
Xoxo,
Jackie