I LOVE KALE!  Like really love it.  I love it in smoothies like our Kale, Lemon Energizer Smoothie Recipe, thrown in stir frys or soups and simply sautéed with red onions, garlic and a little salt & pepper.  Kale is a superfood and extremely high in Vitamin K which helps our blood clot and supports good cardiovascular health.  It's low in fat, has a long refrigerator life and is easy to cook.  There is basically nothing wrong and everything good with kale.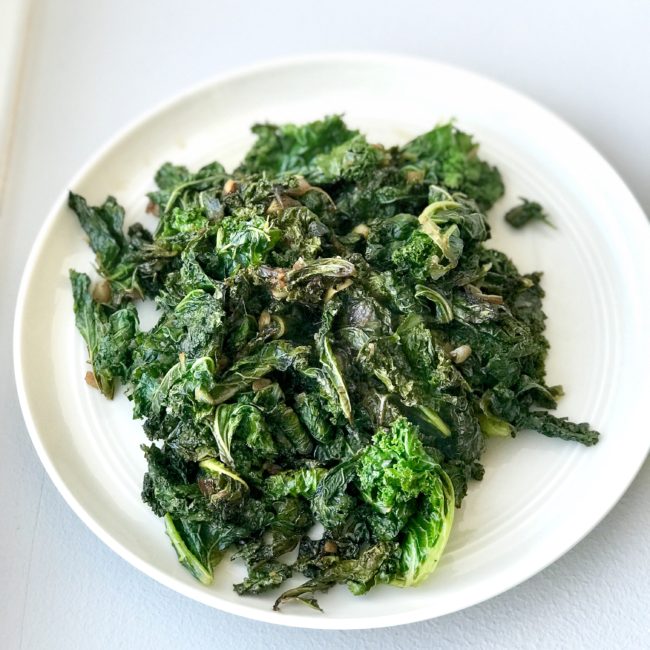 In this easy recipe, the sauteed red onions and garlic flavor the kale as it cooks but balsamic vinegar is the real star of the dish.  You finish the sautéed kale with a couple tablespoons of balsamic vinegar at the very end which provides a sweet and slightly tart finish.  I love this as a side dish with scrambled eggs or other proteins such as roasted meats or even by itself for a late dinner or light lunch.
I prepared this recipe today during a Facebook live presentation which you can watch HERE.  As you can see, this recipe takes 15 minutes at most from start to finish so there is absolutely no reason for you not to eat your vegetables!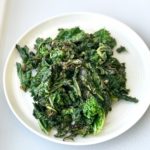 Easy Sautéed Kale Recipe with Onions, Garlic & Balsamic Vinegar
Your tastebuds will throw a "vegetable party" following one bite of this delicious kale quickly sautéed with red onions and garlic and then finished with balsamic vinegar. It's hard to believe that you can create such big flavors using just 4 ingredients. The star of this show is definitely the balsamic vinegar so don't skip this step!
Ingredients
1

Tbsp

Olive Oil

1/4

Red Onion (about 2 tbsp)

Chopped

1

Garlic Cloves

Smashed and Diced

4-6

Cups

Raw Kale

Chopped

Maldon Sea Salt & Cracked Black Pepper

2

Tbsp

Balsamic Vinegar
Instructions
Heat oil in non-stick pan over medium to medium-low heat. Once hot, add onion and season with salt & pepper until onion is softened and begins to sweat (3-4 mins)

Reduce heat to low and add diced garlic, season with salt & pepper and saute (stirring constantly to prevent burning) until frangrant (30 secs - 1 min)

Add chopped kale and season with salt and pepper. Using tongs, gently turn the kale into the onion & garlic mixture. Turn the heat back up to medium and cook until kale has completely wilted but is a mixture of dark and bright green (4 - 6 minutes). Don't kill the kale and cook it for hours as you ruin the texture and disrupt the nutrients. Also, it's important to note that you only need to stir the kale occasionally, not constantly. Keep a close eye on the pan as garlic burns quickly.

Once the kale has wilted, pour in vinegar. Turn the heat to high and saute until the moisture evaporates (Don't skip this step as the vinegar is the star of the dish)! Remove from pan and serve immediately.

Taste and adjust the seasonings. If you seasoned during each step as directed above then you should not need to add more salt & pepper. Basically, what I'm saying is "follow directions and there won't be NO problems!"
As always, thank you for stopping by Jackie Unfiltered.  Again, momma and poppa were right once again, "Eat your vegetables."
Xoxo,
Jackie