Winters are dry and long here in the American Northeast so I am loving this all natural DIY body scrub made with coffee, brown sugar, oatmeal, coconut oil, vanilla and lemon oil.  Use it all over the body to exfoliate dead skin, rejuvenate cell growth and soften everything from your heels to the back.  My mother would have said, "From the roota to the toota."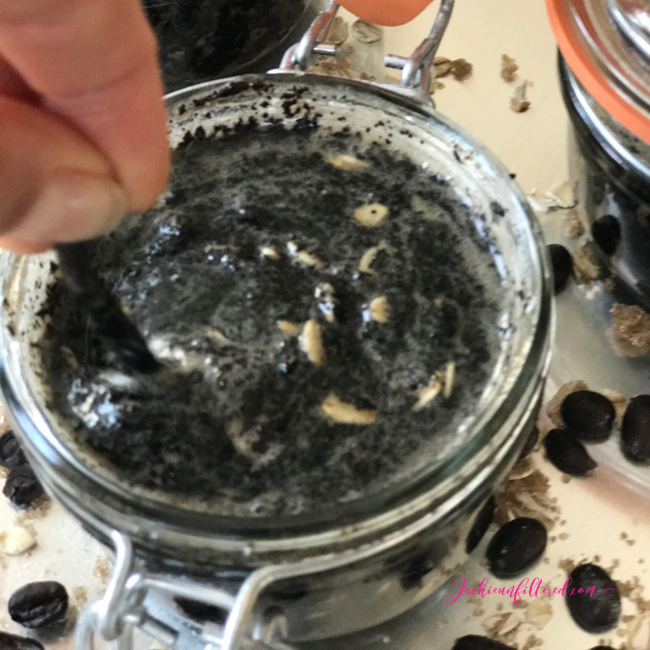 Skin takes on a natural glow after sloughing off that top layer of dusty old cells.   I usually buy a scrub from a retailer but lately I have been seeing recipes for DIY natural scrubs all over the internet.   After doing some research, I found that, in about 5 minutes, we can make a decadent and luxurious body scrub at home with ingredients just lying around the house for a fraction of the price we pay for retail scrubs.  The best part is that we know exactly what's in our homemade scrub.  No preservatives or processed ingredients on our bodies.
Coffee Grounds – long hailed for smoothing out the skin, increasing circulation and even reducing the appearance of cellulite
Brown Sugar – while not good to eat too much of, brown sugar's soft crystals are the perfect gentle exfoliant for even the most sensitive skin
Oatmeal – elders have medicinally used oatmeal pastes and scrubs to soothe skin irritated by itches, sunburn and rashes
Coconut Oil – skin's natural superfood moisturizer which is also antibacterial and antifungal
Lemon Oil – acts as a astringent, brightens dull and tired skin and has detoxifying properties as well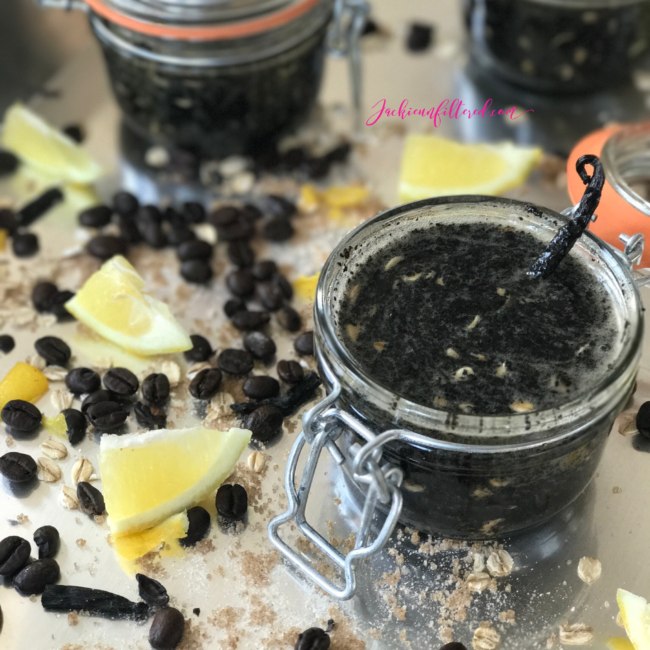 My husband says I can't make anything without adding a little vanilla.  After some thought, I think he may be on to something.  I love the smell and taste of a vanilla bean when cooking (great way to add complex flavor without increasing the fat or calories in a recipe).    In this body scrub, it perfectly compliments the coffee, coconut, lemon and brown sugar.
As always, thank you for stopping by Jackie Unfiltered.   I am off to take a long shower and slough this skin to perfection.
Xoxo,
Jackie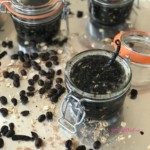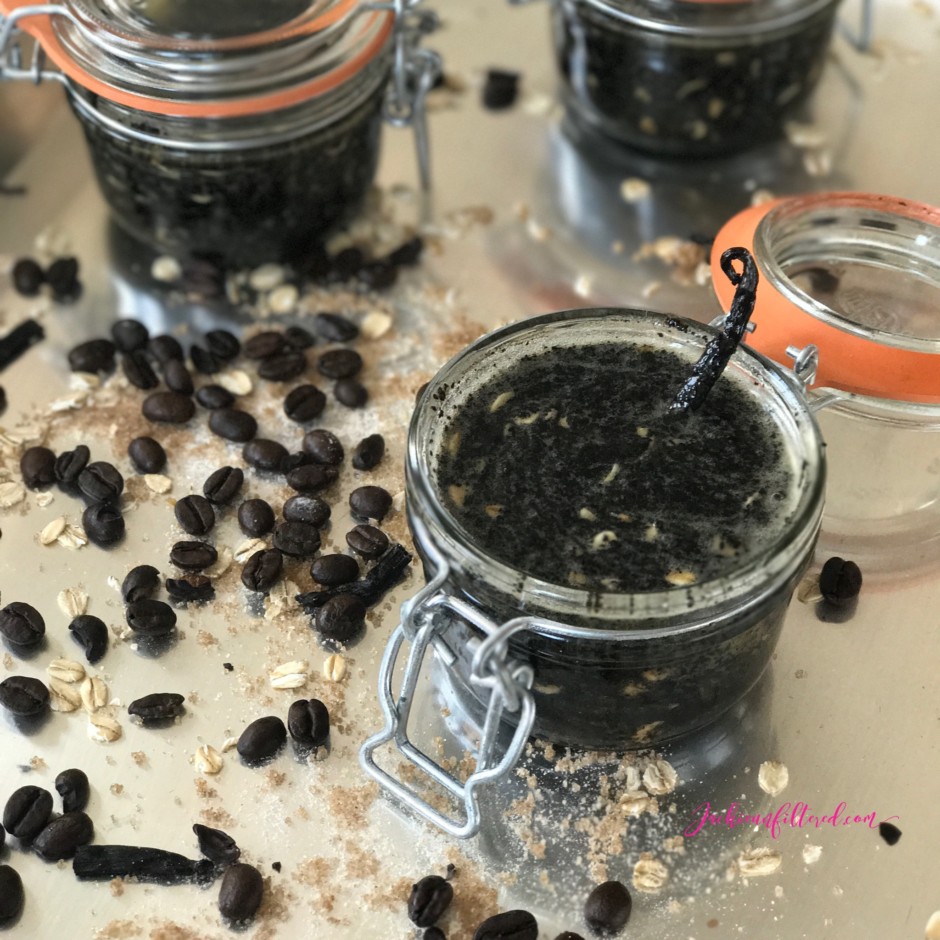 DIY Natural Coffee, Brown Sugar Coconut Oil with Vanilla Exfoliating Body Scrub Recipe
In 5 minutes, you can make a natural body scrub that exfoliates, detoxifies, refreshes and moisturizes the skin. The best part is that this all natural recipe will cost you a fraction of what you would pay for similar products at major retailers.
Ingredients
1

Cup

Ground Coffee Beans

Fine Texture

1

Cup

Brown Sugar

1/2

Cup

Oatmeal

Old Fashioned

1/2

Cup

Coconut Oil

1/4

Cup

Olive Oil

1

Tsp

Pure Vanilla Extract

1

Vanilla Bean

Cut to fit the jar that will hold your scrub

Peels from 1 lemon

Avoid the pith
Instructions
Mixture: In a wide bowl, mix together coffee, sugar, oatmeal, oils, vanilla extract.

Jarring: If using mutiple jars, divide mixture equally. Add a vanilla bean to each jar. Squeeze several lemon peels over each jar to release the lemon oil. Stir to combine. Store tightly sealed jars in the refrigerator until ready to use. Enjoy!