Every August, with friends near and far, we make a pilgrimage to Martha's Vineyard, a charming Massachusetts island just south of Cape Cod.   We spend several weeks "on island" with family and friends using the time to reconnect, recharge and rebirth our souls.  Many days are spent at the beach sipping champagne while watching the kids throw the football, run into the surf and jump the "bridge."  Evenings are long and lazy dinners with friends, maybe a limbo contest under the stars and always a few backyard fish frys.  At least once during every stay, we drive up-island to watch the sun dip into the Atlantic ocean for a famous "Menemsha" sunset.  We eat copious amounts of freshly caught lobster often while sitting on sandy towels and drinking homemade cocktails from plastic cups.  As the vacation clock ticks, each of us await for the special moment during our visit on "the rock" where optimism replaces our general pessimistic malaise.  The moment where we exhale saying to ourselves, "all is right with the world" as we look around at the sunkissed faces of people we love and souls that reflect who and what we are.  We each bottle that moment and carry the feeling inside until next August.
I created this smoothie during this year's annual trip becuase I wanted a flavor that would take me back to an island so many of us call "our happy place."  The sweet peaches, creamy avocado and tart yoghurt instantly transport me to those long summer days and subtle island breezes.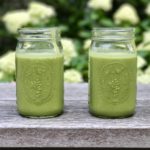 Martha's Vineyard Green Machine ReBooster Smoothie
The potassium found in the superfood of avocado combined with the vitamin, anti-oxidant spinach leaves and natural sweetness of peaches will leave you feeling revitalized and ready to take on the world. Welcome to the sweet taste of of Martha's Vineyard island life.
Ingredients
1 1/4

Cup

Water

2

Cups

Packed Spinach

3

Peaches

Fresh or frozen

Cup

Greek Yoghurt

Whole Fat

1

Avocado

Pinch of Sea Salt

1

Cup

Ice (omit ice if using frozen peaches)
Instructions
Place all ingredients as listed in a Vitamix or other high-powered blender. If using the Vitamix, choose 'frozen desserts' setting. For a thinner consistency, add more water and for more froth, add more ice. Enjoy!
As always, thank you for stopping by Jackie Unfiltered.  We hope you are enjoying our new logo, poppy chartreuse color and general website face lift.  Stay tuned because it only gets better from here!
xoxo,
Jackie