My girlfriend Chelsea (pronounced "Chell-sea-uh") and I were supposed to meet for cocktails tonight at the swanky cocktail lounge located at The Beekman Hotel in downtown New York City.  The wait was long for a table so I quickly decided to host cocktails at home.  Y'all know Jackie can entertain on a moments' notice because I keep the fridge stocked with citrus and fresh fruit, the pantry ready with mixers and the bar primed with a mixture of premium liquors.    I handed Chelsea #Hubbs' favorite cocktail book and told her to pick a cocktail for us to make together.
She choose the French 75.  The Essential Cocktail: The Art of Mixing Perfect Drinks describes this classic cocktail as follows:
The French 75 started as a gin drink in the Tom Collins style, with Champagne in place of club soda, but now is much more often made with brandy or cognac.  Harry's New York Bar in Paris is often credited as the originator. … [T]his is an ad lib drink, not something carefully invented by a mixologist using the best ingredients to create the ideal cocktail.  It was improvised at its inception, and I think it's open season for you to improvise it today.  I do.
As you know, I ALWAYS try to follow directions (what, don't look at me like that, I really do) so we improvised by cutting the sugar in a simple syrup recipe by 3/4 and topping off the cocktail with a touch more champagne.  The result was the rich flavor of cognac paired with the tartness of lemon and finished with the decadent bubbles of champagne.  It was an absolutely perfect way to usher in Fall and catch up with a gal pal on everything from blogging and photography to business and beauty.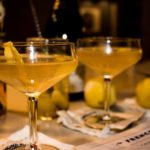 French 75 Cocktail Recipe
The classic cocktail marries the richness of cognac with the tartness of lemon and the bubbles of champagne. It will impress guests, earn you some extra points with your significant other or just make a random Tuesday night "less boring." It's easy to throw together with kitchen essentials and is the perfect drink to usher in Fall and the holiday season. (Recipe adapted from "The Essential Cocktail: The Art of Mixing Perfect Drinks")
Ingredients
1

Ounce

Cognac (or gin if you must)

3/4

Ounce

Simple Syrup

Mix 1 cup boiling water with 1 tablespoons raw sugar for a low sugar version of regular simple syrup

1/2

Ounce

Fresh Squeezed Lemon Juice

3 - 4

Ounces

Champagne

Spiral Lemon Peel for Garnish
Instructions
Combine cognac, lemon juice and simple syrup in a shaker or mixing glass with ice (cut the sugar as directed above please because your tastebuds will not notice the difference but your waistline and diabetes will). Strain into your prettiest glass. Top with Champagne and garnish with the spiral lemon peel. Admire your handiwork, snap a pic for social media, tag #JackieUnfiltered and then enjoy (in that order please)!
As always, thank you for stopping by Jackie Unfiltered.  We hope you are somewhere sipping decadent cocktails and enjoying this Fall weather.
xoxo,
Jackie